What is the Coronation Choir and who is singing in it?
7 May 2023, 20:16 | Updated: 7 May 2023, 22:20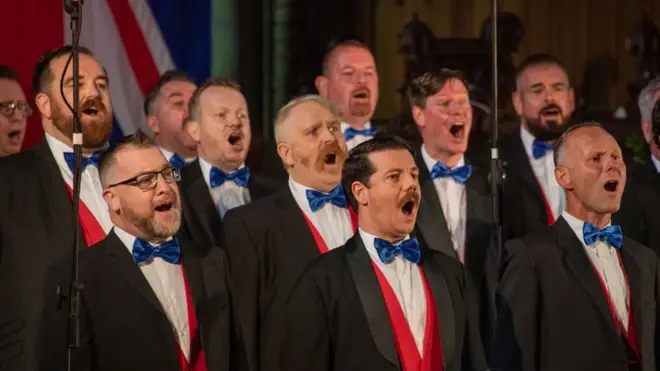 Prepped to sing at the Coronation Concert at Windsor Castle on 7th May, meet the 18 choirs who have formed the specially created Coronation Choir. From Yorkshire's first all-female South Asian choir to an ensemble of sea shanty-singing RNLI volunteers...
In celebration of the crowning of King Charles III, a specially formed Coronation Choir will sing at Windsor Castle in a concert for the new British monarch.
The 300-voice strong Coronation Choir will perform at the high-profile Coronation Concert which takes place on Sunday 7 May on the East Lawn of the royal residence.
At the start of this year, a search began to find the keenest community and amateur choirs around the UK who would form the basis of this new Coronation Choir.
The result is an ensemble made up of refugee choirs, NHS choirs, LGBTQ+ singing groups and deaf signing choirs, who have been coached by choirmaster Gareth Malone in preparation for their high-profile performance.
Here are all of the 18 diverse choirs who will make up this historic ensemble. Meet the singers and learn more about their musical journeys below...
Read more: Coronation Concert: who is performing, what time it starts and how to watch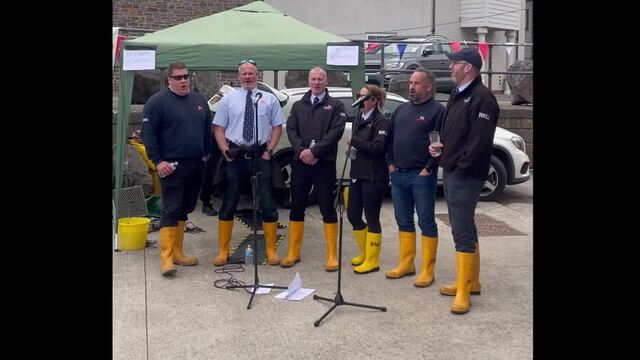 The 85ers, who are part of the Coronation Choir, sing a sea shanty
Who is singing in the Coronation Choir?
Actually Gay Men's Chorus

The Actually Gay Men's Chorus are one of the choirs taking part in the Coronation Concert.

Picture: Nick Ford Photography

The Actually Gay Men's Chorus is a choir based in Brighton which was set up in 2005 to provide a place where gay men could socialise, have fun and develop their social skills in a unique environment.

Photographer, Nick Ford, who took the above photograph told Classic FM about his excitement at the Actually's involvement in the Coronation.

"Singing has played a major part in strengthening our LGBTQIA community in Brighton," he said, "and what a way to celebrate the Kings Coronation!

"The Actually's are a lovely group of men, and it's been my privilege to photograph them. I am so thrilled that our City and Community are represented by such a fantastic singers! Their presence will hopefully inspire others across the Commonwealth and the World, to be proud and sing out."

Read more: How choirs can welcome trans singers: 'It's about creating a place of belonging'

Basingstoke Filipino Choir

Open the eyes of my heart live cover (Paul Baloche)

This Basingstoke-based ensemble have been the serving choir at St Bedes parish church for over 20 years, as well as at St Joseph and Sacred Heart Hook.

The choir was formed after one of its members decided they wanted to recreate the kind of church choir she grew up with in the Philippines.

Binneas Choir

Caidir-ciùil

Abair bliadhna! What a year we have had! Tapadh leibh uile airson a h-uile sìon. Thank you to everyone who has helped us on our journey this year. Bliadhn' ùr mhath dhuibh nuair a thig i! Happy New Year to you all when it comes. We want to leave you with these words: Teannaibh dlùth an caidir-ciùil, Dlùth an gràdh a chèile, Togaibh às ùr na sèistean, Teannaibh dlùth an caidir-ciùil. 😍 Written and arranged by Mary Ann Kennedy & Sileas Sinclair. ❤️ You can watch back the Binneas concert - Dàin Ùra by following this link - https://youtu.be/mpXSNPuyhyo. Stay tuned for 2023 - we have some very exciting projects ahead! 🥳🎉

Posted by Binneas on Saturday, December 31, 2022

Binneas Choir is one of the ensembles representing Scotland in the Coronation Choir.

Formed from young people across Scotland, the choir mostly sings a programme of Gaelic songs with the intention of keeping the language alive through music.

Read more: Girl choristers make history singing at the coronation of King Charles III at Westminster Abbey

Caerphilly Male Voice Choir

Caerphilly Male Voice Choir - The Rhythm of Life

One of the oldest choirs to join the coronation ensemble is the Caerphilly Male Voice Choir, which was founded over 100 years ago in 1906.

Members of the choir range between the ages of 17 to 96 and the ensemble have performed in a variety of high-profile venues including the Royal Albert Hall.

Read more: Classic FM Live 2023 at the Royal Albert Hall: photos from our night of operatic hits

Farmer's Choir

Nine members of the Farmer's Choir will take part in the King's Coronation Choir, making up the 300-strong ensemble.

The singing farmers include William Montgomery, Andrew Mackey, Valerie Cubitt, Dawn Stewart, Mary Lou Richmond, Mervyn Kelson, Ruth Kelso and Carol Hill, plus their Musical Director Barkley Thompson.

The choir was founded in 2018 by the Northern Health and Social Care Trust as a way to address rural isolation and encourage people to meet and socialise together.

Ferguslie Park Community Choir

Here's a video of the concert we performed Last Year in the Tannahill Centre with The Rays of Hope Choir from Elderslie and The Shettleston Community Choir. Keep an eye out for our next concert date.

Posted by Ferguslie Park Community Choir on Friday, May 5, 2023

Another choir representing Scotland is the Ferguslie Park Community Choir from Paisley.

Founded in 2018, the choir, based just west of Glasgow, was established with the intention of promoting good mental health and physical well-being.

In 2022, one of the choir member's Ann, told the Daily Record: "Singing lifts my spirits. I don't work on a Monday and often the choir is the only thing that gets me out of the house.

"Every week, after we've practised I note that each one of us is smiling. You just can't help it – it's so uplifting!"

Hull NHS Choir

Hull NHS Choir performing at a music festival.

Picture: INTERKULTUR

25 members of the Hull NHS Choir will also join the Coronation Choir over the weekend of 6 May.

In a statement released by the NHS, one of the choir's members Carol Clark, a Specialist Safeguarding Practitioner, said: "Being chosen to be part of the Coronation Choir is an honour and a privilege. It is a real pinch me moment.

"We are all very excited to be part of the celebration concert on Sunday, the 300 strong choir sounds incredible."

Just Sing Ladies

Based in Portadown, Northern Ireland, Just Sing Ladies is a community choir open to all residents of the local and surrounding community.

In an interview with What to Watch, choirmaster Gareth Malone said the ladies from Just Sing "have an energy and resilience born out of the struggles of their community".

Choir manager Tori Hannath told the Daily Mail that she started the choir during the pandemic because "things were stressful but when we put on some songs and all the family sang along to them, everyone seemed happier".

London Cabbie Choir

TW.

Picture: Alamy

The London Cabbie Choir is a newly formed ensemble by famed Cabbie, Tony Walker, who moved the experts choosing the Coronation Choir with his story of how the moarchy and the taxi industry are connected.

London Fire Brigade Choir

Formed of current serving and retired London fire fighters, the London Fire Brigade Choir was founded with an aim of improving mental health of fire service employees.

Oasis One World

The Oasis One World Choir project brings together members of the Oasis Cardiff centre for asylum seekers and refugees.

On the choir's website, the musical organisation shares: "One participant, a young woman who had recently arrived in the UK, became quite emotional during a women's dance improvisation session.

"She later mentioned to one participant that she cried because she realised how long it had been since she last felt happy."

Only Boys Aloud Academi

This Welsh choir is open to boys aged 11-19 and has over 180 members.

The ensemble is perhaps best known for having appeared on Britain's Got Talent in 2012, where they placed third.

Read more: 13-year-old Malakai Bayoh blows Britain's Got Talent judges away: 'One of the best voices I've ever heard'

Pink Singers

Founded in 1983, The Pink Singers is London's LGBT+ community choir.

It is now the longest-running LGBT choir in Europe.

Read more: 12 of the best LGBTQ+ classical music ensembles around the world

Reggae Roots

Reggae Roots is the the UK's first reggae youth choir.

Based in Leeds the ensemble provides young people with space outside of school to be creative, perform and improve their mental health and wellbeing through music.

In a statement, Selina McGonagle, Director of the Geraldine Connor Foundation said, "This is a once in a lifetime opportunity for are young people. To be given this chance to perform to a live audience of thousands, set to be seen by a UK and global audience of millions, will be life changing.

"Taking part in this momentous celebration, will give the young members of the choir a real-world experience of large-scale performance events. Many members of Reggae Roots will hope to one day have a career in the performing arts, and this experience will be a great catalyst."

SongGeet

SongGeet is Yorkshire's first all-female South Asian choir who sing in Urdu, Punjabi, Gujarati, Pashto and Bengali.

The 85ers

The 85ers are made up of six Portishead RNLI sea-going volunteers.

Picture: RNLI/Helen Lazenby

The 85ers are a sea shanty band made up of RNLI volunteers from Portishead.

Named after the RNLI's Atlantic 85 lifeboat, the vocal group consists of Chris Wade, Jake Bacon, Jem Smale, Lu Shephard, Nick Williams and Paul Weston.

Weston said in a statement, "I've loved performing as part of The 85ers and I'm so delighted to be part of such a huge group of fellow singers and performers.

"To think that a little group of singers from Somerset could be part of such a momentous event is mind blowing, we can hardly believe it."

Read more: Musically, what is a sea shanty? The history behind the songs flooding TikTok

The Reggae Choir

Helping celebrate the music of the Trojan Record label, the Reggae Choir is a community choir based in Birmingham.

Unify Choir

The Rose - In BSL - by Unify

The all-deaf signing choir, Unify, were formed in the summer of 2022 for a performance at the National Lottery's Jubilee Street Party.
Join us for a 12-hour celebration of British classical music on Monday 8 May, 9am-9pm – it's Classic FM's Great British Classics!