The 20 best piano concertos of all time
22 March 2023, 10:01 | Updated: 22 March 2023, 16:49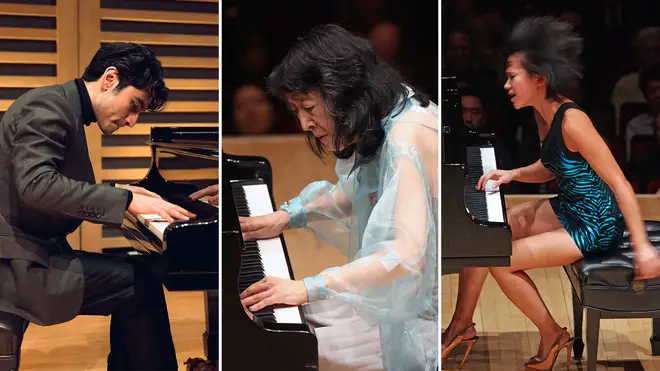 From the J.S. Bach keyboard works of the Baroque era to Bartók's note-splitting masterpiece of the 20th century, here are some of the greatest piano concertos ever to have been written.
Piano concertos are the ultimate showcase of the magnificent instrument's range and power. They have the ability to move even the most stony-hearted listener and are a feather in every pianist's cap.
From the devilishly challenging to the simply beautiful, here are 20 piano concertos that we think everyone should hear...
Rachmaninov – Piano Concerto No.2

This colossus of the piano repertoire topped the annual Classic FM Hall of Fame for the first time in 2001 and hasn't strayed far since, reaching that No.1 spot an impressive eight times so far, since the chart began in 1996.

Rachmaninov wrote the piece in 1900 after recovering from a bout of depression and writer's block, and it has become one of his best known and best loved pieces. It's even earned him a songwriter credit on Eric Carmen's power ballad 'All By Myself', and featured prominently in the 1945 film, Brief Encounter.

Vote for your favourite music in the Classic FM Hall of Fame 2023 >

Rachmaninov Piano Concerto No. 2… for solo piano! | Arsha Kaviani

Beethoven – Piano Concerto No.5 ('Emperor')

We all know you shouldn't judge a book by its cover, but in this case you absolutely can: Beethoven's Piano Concerto No.5 absolutely lives up to its imperial nickname. Although it received its premiere in 1811 in the thick of the Napoleonic Wars, it has no relation to the infamous military commander. In fact, Beethoven was increasingly disapproving of Napoleon, having retracted the dedication of his third symphony after Napoleon became Emperor of France seven years earlier.

Read more: The 20 greatest Beethoven works of all time

Beethoven: 5. Klavierkonzert ∙ hr-Sinfonieorchester ∙ Pierre-Laurent Aimard ∙ David Afkham

Grieg – Piano Concerto in A minor

The great Norwegian composer Edvard Grieg only completed one piano concerto during his lifetime, and it has become one of the most recognised in the world (thanks, in part, to the iconic comedy sketch by Morecambe and Wise, and the late André Previn).

It was written in 1868 when the composer was just 24, and opens with a dramatic timpani roll followed by one of the most famous flourishes in classical music. Hold on to your hats...

Elisabeth Leonskaja: Grieg - Piano Concerto in A minor, Op. 16 (Orchestre de Paris, Paavo Järvi)

Shostakovich – Piano Concerto No.2

Shostakovich himself downplayed this concerto, saying it had "no redeeming artistic merits", but audiences have always begged to differ. It was written in 1957 for his son Maxim's 19th birthday, and it would be fair to say the work is one of the composer's jollier pieces. It even includes a tongue-in-cheek reference to young Maxim's piano practice – listen out for the scales in the final movement at around 15:35.

Read more: The 16 best classical piano pieces of all time

Yuja Wang: Shostakovich Piano Concerto No. 2 in F major, Op. 102(Carnegie Hall, 2021)

Tchaikovsky – Piano Concerto No.1

This is one of those pieces of music that everyone knows, even if they don't realise it – like Beethoven's Fifth Symphony or Vivaldi's The Four Seasons. So it's all the more astounding that when Tchaikovsky proudly displayed his sparkling new concerto to his close friend Nikolai Rubinstein, the pianist absolutely tore it to shreds.

Tchaikovsky later recalled: "R. pointed out many places where it would have to be completely revised and said that if I reworked the concerto according to his demands, then he would do me the honour playing my thing at his concert. 'I shall not alter a single note,' I answered, 'I shall publish the work exactly as it is!' This I did."

And we are so glad you did, Pyotr.

Read more: The 15 most famous tunes in classical music

Tchaikovsky: Piano Concerto No. 1, Op. 23 - Anna Fedorova - Live Concert HD

Mozart – Piano Concerto No.21 (Elvira Madigan)

Heading into the height of the classical era, Mozart's utterly delightful Piano Concerto No.21 was written in 1785. He premiered this piece himself, before treating his captive audience to some of his famous improvisations. The second movement of this piece, titled 'Andante', gained wide renown following its use in the 1967 Swedish film, Elvira Madigan, which also often lends its name to Mozart's masterpiece.

Read more: 10 life-changing pieces of music by Wolfgang Amadeus Mozart

Lang Lang - Mozart Piano Concerto No.21 K467 with Bavarian Symphony Orchestra; Conductor: M Jansons

Clara Schumann – Piano Concerto

Clara Wieck, later and more widely known as Clara Schumann following her marriage to fellow composer Robert Schumann, was a brilliant concert pianist of the 19th century. Her virtuosity lent itself greatly to composition, and she began composing this exquisite piano concerto aged just 13. Wieck performed it in various stages of composition over the following years, as her then-tutor Robert Schumann revised her orchestrations.

On 1 September 1835, just weeks before her 16th birthday, Wieck completed her work having reversed Schumann's interventions, and premiered it herself in November that year, conducted by Felix Mendelssohn.

Read more: 9 of Clara Schumann's all-time best pieces of music

Beatrice Rana plays Clara Wieck-Schumann: Piano Concerto in A minor, Op. 7: II. Romanze

Rachmaninov – Piano Concerto No.3

Another titan of the piano concerto repertoire from a Romantic great. Rachmaninov's Third Piano Concerto is one of the most technically difficult concertos ever written (which is quite something). It is both feared and revered by many of the world's greatest musicians, and even the pianist to whom it was dedicated, Josef Hofmann, never publicly performed the work. It was left to the composer himself to give the premiere, in 1909 in New York, and it was apparently Rachmaninov's favourite of all his piano concertos.

Yunchan Lim performs Rachmaninov Piano Concerto No.3 for the Cliburn Competition

Chopin – Piano Concerto No.1

Chopin wrote his Piano Concerto No.1 in 1830... immediately after the premiere of his Piano Concerto No.2. Confusingly. But this is the first Piano Concerto the famous pianist and composer published. Chopin wrote of the second movement: "It is a Romance, calm and melancholy, giving the impression of someone looking gently towards a spot that calls to mind a thousand happy memories."

So without further ado, here it is...

Read more: Blind 13-year-old pianist's stunning Chopin nocturne performance leaves Lang Lang speechless

Chopin: Piano Concerto No. 1 | Martha Argerich, Sinfonia Varsovia Orchestra & Jacek Kaspszyk

Brahms – Piano Concerto No.2

Brahms wrote his first piano concerto in 1858. Just over two decades later, he completed his second, and gave the premiere himself in Budapest in 1881. Standing at almost an hour long, it's one of the longest concertos ever written – although Brahms wryly called it a "tiny, tiny piano concerto". It's a musical thrill from start to finish, with a particularly virtuosic showcase of a finale.

Brahms – Piano Concerto No. 2. Marc-André Hamelin & Jacek Kaspszyk, Warsaw Philharmonic

Beethoven – Piano Concerto No.4

Beethoven's sublime Fourth Piano Concerto was premiered at a historic concert on 22 December 1808 as part of a bumper programme which also included his Fifth and Sixth Symphonies as well as the Choral Fantasy. A review at the time called the work 'singular, artistic and complex', and apart from being utterly gorgeous, this concerto was also revolutionary in that the soloist opens the entire performance.

Mitsuko Uchida - Beethoven - Piano Concerto No 4 in G major, Op 58

Nigel Hess – Concerto for Piano and Orchestra

British composer Nigel Hess is best known for his film music, in particular his score for Ladies in Lavender. Then, in the early 2000s, Hess was commissioned by His Majesty King Charles, then Prince of Wales, to write a piano concerto in memory of the late Queen Mother, after her death in 2001. Each movement pays homage to one of her great qualities: 'The Smile', 'The Love', and 'The Duty'. Hess' Concerto for Piano and Orchestra was premiered in 2007 by international star pianist Lang Lang.

Read more: Lang Lang stuns London train station with impromptu piano duet with wife Gina Alice

Hess: Concerto For Piano & Orchestra - Movement 1 - The Smile

Beethoven – Piano Concerto No.3

Sitting right at the centre of Beethoven's series of piano concertos, the Third is a sort of bridge between the Classical style of the earlier two, and the virtuosic Romanticism of the final two. There are influences from Mozart, but plenty of famous Beethoven's signature solo piano material, too – particularly at the end of the first movement.

Yunchan Lim 임윤찬 – BEETHOVEN Piano Concerto No. 3 in C Minor, op. 37 – 2022 Cliburn Competition

Mozart – Piano Concerto No.20

Mozart wrote his first full piano concerto in 1773, at the age of 17. Over the remaining 18 years of he life, he was to write a further 22 – averaging around 1.2 piano concertos a year. On top of his 800 other compositions, that is.

While Beethoven only wrote five piano concertos, it would be fair to say that Mozart's were generally smaller and slighter. In fact, Mozart said of three of them: "In order to win applause one must write stuff which is so inane that a coachman could sing it". His 20th concerto, far from being inane, is one of the composer's most beautiful works.

Mozart Piano Concerto No 20 K 466 D minor Maria João Pires Daniel Harding Swedish Radio Symphony Orc

J.S. Bach – Keyboard Concerto in D minor

Bach's keyboard concertos are among the first ever written – and they were written not for piano, but for harpsichord. In fact, this concerto, composed around 1738, was probably written originally for the violin before Bach decided to arrange it for harpsichord, possibly as a training piece for his own sons.

The result? An exquisite example of Baroque ensemble music-making. See for yourself:

J.S.Bach Concerto no.1 in D Minor BWV 1052 Polina Osetinskaya Anton Gakkel

Florence Price – Piano Concerto in One Movement

In 1934, Florence Price premiered her own piano concerto, with a twist: it consisted of only one movement. Within it lie three distinct sections, though played straight through without a break. And so Price gifted us 18 minutes of extraordinary musicality full of lush orchestrations and sweeping piano melody.

Tragically, Price's piano concerto was lost for the best part of a century, disappearing from public record after its premiere until it was revived in 2012 by composer Trevor Weston. And, in 2023, it featured on an album that won the Grammy Award for Best Orchestral Performance, recorded by the New York Youth Symphony and pianist Michelle Cann.

Read more: 10 of Florence Price's all-time best pieces of music

Piano Concerto in One Movement

Robert Schumann – Piano Concerto

Robert Schumann's only piano concerto was a long time in the making, and it's thanks to his wife and fellow composer Clara that we can still hear it today. Schumann sat down in 1837 to write what he said would be 'a compromise between a symphony, a concerto and a huge sonata', but despite his great ambition and best intentions, it would be another eight years before the piece was ready for its premiere. Clara Schumann performed its debut on 1 January 1846, and was a proud champion of the work throughout her husband's declining mental health and untimely death in 1856.

Schumann: Klavierkonzert ∙ hr-Sinfonieorchester ∙ Khatia Buniatishvili ∙ Paavo Järvi

Paderewski – Piano Concerto

Ignacy Jan Paderewski is a fascinating figure in 20th-century history. Born in Poland, he began life as a pianist and composer, was appointed Polish Prime Minister in 1919, signed the Treaty of Versailles, hung up his political hat to return to music in 1922, before about-turning to become the head of the National Council of Poland in 1940. Yet before his political life even began, Paderewski found the time to write a thrilling piano concerto whilst in his 20s.

On its completion, Paderewski took the concerto to his friend Camille Saint-Saëns, who assuaged his doubts and told him: "There is nothing to be changed... It will please the people. It's quite ready. You needn't be afraid of it, I assure you".

Ignacy Jan Paderewski Koncert fortepianowy a-moll op. 17 / Piano Concerto in A minor Op. 17

Ravel – Piano Concerto in G

Maurice Ravel claimed that he came up with the theme for this enchanting piano concerto on a train between Oxford and London. In fact, he was aiming for a light-hearted piece "in the spirit of Mozart and Saint-Saëns". But as it turned out, he agonised over the work when he was writing it – particularly one melody in the slow movement. "That flowing phrase!", he said, "How I worked over it bar by bar! It nearly killed me!"

Martha Argerich: Ravel - Piano Concerto in G Major | Nobel Prize Concert 2009

Bartók – Piano Concerto No.2

The acclaimed pianist András Schiff said of this piece: "For the piano player, it's a finger-breaking piece. It is probably the single most difficult piece that I have ever played." The Hungarian composer Béla Bartók wrote the concerto in 1930 – and it's not just the solo part that's tricky. The New York Philharmonic had to delay the premiere as they couldn't master the music in time.

Here's Yuja Wang making it look impossibly easy:

Yuja Wang: Bartók Piano Concerto No. 1