Trumpeter Wynton Marsalis on music and social upheaval: 'jazz teaches you to create the change'
15 June 2020, 16:33 | Updated: 21 January 2022, 16:45
We have to remember and trust music's power to affect change, says jazz trumpeter Wynton Marsalis
Legendary jazz musician Wynton Marsalis has spoken about music's power to affect change, and the role of jazz in moments of conflict and injustice.
Speaking to Andrea Mitchell on MSNBC following anti-racism protests around the US, the nine-time Grammy winner said: "The blues teaches you that sometimes things don't work out. And you have to use your will to create the change you want to see."
On 12 June, Marsalis put on a virtual version of the International 'Essentially Ellington' High School Jazz Band Festival which had been planned for this month at the Lincoln Center, US – but was called off due to coronavirus measures. 23 bands were involved, with musicians from all over the world.
Marsalis, the Center's artist director of Jazz, explained how he's encouraging his own students to join the conversation on civil rights: "Jazz students are always on top of civil and social issues because of the nature of our music and the great figures in it. It's a worldwide community of people who are always interested in civil rights and we're happy to see them activated."
Read more: 'We cannot remain silent' – musicians protest against George Floyd's death >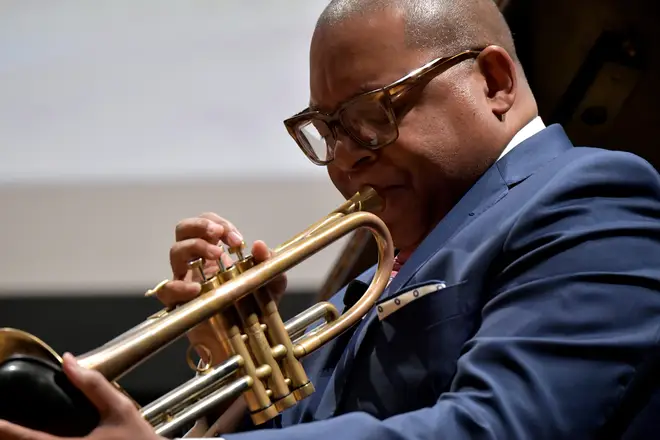 "We don't tell them what their perspective should be. We free them to express their power and we embrace that energy. And we focus it with intelligence like we do in our music."
Marsalis comes from a dynasty of notable jazz musicians, including its patriarch the late, great Ellis Marsalis. And both his music and his activism have received international acclaim: he has won the National Medal of Arts and the National Humanities Medal, and he has been named an NEA Jazz Master.
Speaking to MSNBC (watch below), Marsalis said: "We are a stronger country when we embrace our most fundamental and sacred ideals together, and when those people who believe in them, form themselves in alliance against those who don't believe in them.
"We are not an empire, we're a republic. We have to make the choice at a certain point," he said. "And jazz music has always said we are a republic. I don't have to change my rhetoric at this time."
America is living through a divided time. Protests up and down the country – and globally – fight for civil rights and police reform following the death of George Floyd under police custody, many under the banner of Black Lives Matter.
Marsalis continued: "My rhetoric comes from all jazz musicians, black and white. It could be John Lewis [the pianist], Gerry Mulligan [the saxophonist], Dizzy Gillespie [the trumpeter]… their vision, and their vibration, was really all the same about what it takes to protect American freedoms in the struggle to achieve democratic values."
Read more: Ellis Marsalis, jazz legend, dies of suspected coronavirus aged 85 >
Is there something democratic about jazz, compared to other musical genres? "It's unbelievably democratic. It's our mythic art form. First of all, we have improvisation which is about your personal freedom and you express yourself and we prize that.
"Second, it's about swinging. And that means you recognise that freedom in others and you try to achieve a balance with them, and it forces you to listen as hard and unprejudiced as you speak."