Nicola Benedetti & Wynton Marsalis give us some classical/jazz pro tips
30 October 2015, 17:33 | Updated: 5 January 2017, 16:26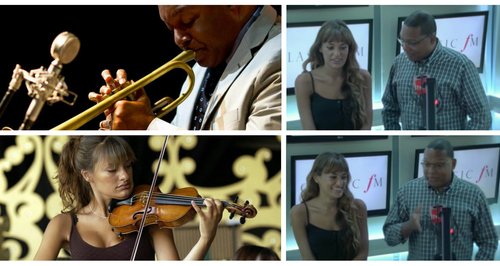 There's a new violin concerto on the block, to be premiered shortly at London's Barbican Centre. We put some questions to the composer and soloist, because they're both marvellous.
These are two musicians who will probably need no introduction at all. But we want to. Any excuse play some of their music.
Wynton Marsalis: trumpet jazz legend, arranger, bandleader, Pulitzer Prize-winning composer, general music maestro/idol.
Here he is with a massive solo on a tune by his dad, Ellis Marsalis:
From the Archives Thursday:"Twelve's It"Wynton Marsalis Sextet at Jazz in Marciac (August 10, 2015)Sidemen: Wynton Marsalis (trumpet), Walter Blanding (sax), Victor Goines (sax), Dan Nimmer (piano), Carlos Henriquez (bass), Jason Marsalis (drums).

Posted by Wynton Marsalis on Thursday, 10 September 2015
Nicola Benedetti: violin virtuoso, teacher, classical spokesperson, tireless education advocate, general musical national treasure.
And here she is with a little of Mendelssohn's masterpiece:
They're coming together atLondon's Barbican for the world premiere of a new violin concerto. Wynton's written it for Nicola - and she's giving the premiere with our Orchestra in the City of London, the London Symphony Orchestra. With the ink still wet on the score, the duo popped into Classic FM to tell us all about it. You can hear their interview with John Suchet in Charlotte Green's Culture Club at 3pm on Sunday 1 November.
Having two great maestros in the studio one afternoon, we thought we'd also take the opportunity to put a few questions to them about playing, performing, practising and composing. Because, you know, they're terrific, and inspirations to so many players.
First question to Wynton - what's his advice for conquering those performance nerves?
Next we asked Nicola about how she overcomes stage fright.
We then asked Nicola for some tips on practising - how does she recommend players' keep their focus?
Same question, but now from a composer's point of view. How do you stay in the zone while writing music for long periods?
We also ask Nicola about the new concerto, and what it's like to play
The new concerto - like much of Marsalis' music - fuses many musical elements and traditions, with drawing on classical, baroque, jazz, African American spiritual, and with nods to the musical heritage of the soloist's native Scotland. It's being premiered at the Barbican with the London Symphony Orchestra, on 6 November 2015. More about the performance here.