Phoebe Waller-Bridge and her composer sister, Isobel, duet on ukulele while Olivia Colman sings
31 October 2019, 14:24 | Updated: 17 February 2020, 10:32
The Waller-Bridges bring joy and musicality to national treasure Colman's cover of Portishead.
Olivia Colman, The Crown actor and national treasure supreme, has been joined by Phoebe Waller-Bridge and her composer sister, Isobel Waller-Bridge – who contributed to the Fleabag soundtrack magnificently, FYI – in the studio.
And yes, that's recording studio, not TV or film. Olivia Colman is giving us a cover of Portishead's 'Glory Box' for charity.
The Internet is calling it the Fleabag reunion we didn't know we needed (v true), but it's also just darn cool to see composer Isobel Waller-Bridge duet on the ukulele with her sister Phoebe Waller-Bridge (watch above).
Read more: Phoebe Waller-Bridge's real-life sister, Isobel, wrote the Fleabag soundtrack >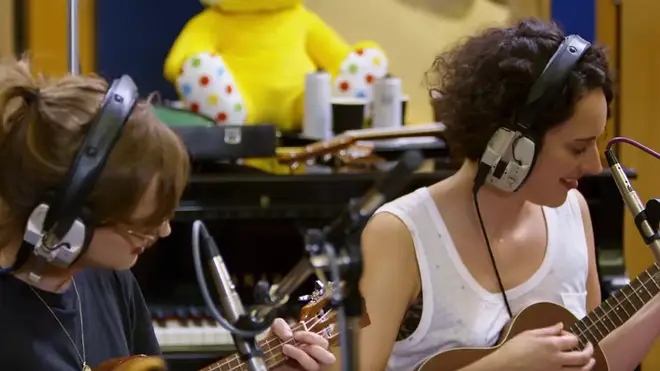 Phoebe Waller-Bridge was first seen strumming the ukulele in her first TV sitcom, Crashing.
Now, her and Isobel have provided a steadfast accompaniment to Colman's fine cover of Portishead's 'Glory Box'. They strum rhythmic downbeats – with the occasional flick of an upbeat for texture – that ground Colman's syncopated vocals.
Colman's voice is totally on point, and we LOVE watching the Waller-Bridges duetting like pros on those ukes.
Read more: Miloš performs Sour Times for Classic FM's Live Music Month >
The recording session begins all hugs and reunion-joy. And it definitely feels like a bit of a "moment".
We reckon she handles the whole thing like a pro, no doubt helped hugely by having the Waller-Bridge sisters with her for strong musical backup. Bravo!
Want to hear more from Classic FM? Click here to sign up to our newsletter, Notes.