This adorable video of an old man and a jazz singer dancing together has gone viral
18 September 2019, 15:55 | Updated: 21 January 2022, 16:43
The heartwarming clip shows an elderly gentleman join in with a busker as she performs the 1957 jazz classic. There appears to be something in my eye...
An old man has been filmed dancing along to a busker singing jazz in the street.
The sweet footage (watch above) was captured by Carlos Asperilla as he wandered down Gran Via in Madrid, Spain, and has already touched the hearts of seven million people since being shared online.
Singer DanDann had been belting out the words to Nina Simone's version of 'My Baby Just Cares For Me', which was released in late 1957 for her debut album, Little Girl Blue.
And while there were several onlookers enjoying the music on the pavement of the Spanish capital, this elderly gentleman was particularly inspired by the woman's performance.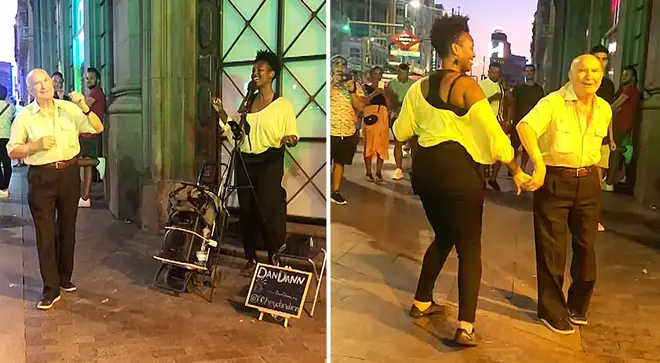 Originally written by Walter Donaldson and with lyrics by Gus Kahn, the song's riff is unmistakably catchy, so we can see why he felt the need to move.
As he begins to dance, DanDann leaves her microphone and joins the man as they waltz around together, with the music still playing in the background.
*No, YOU'RE crying.*