Homeless opera singer Emily Zamourka gives first performance since LA subway video went viral
7 October 2019, 14:58
The soprano who gained online fame for her rendition of 'O mio babbino caro' in an LA Metro station has given her first official public performance.
Emily Zamourka has given her first performance, since a video of her singing Puccini in the LA subway went viral.
The 52-year-old soprano performed at the unveiling of the Little Italy sign in San Pedro on Saturday, once again singing the well-known aria 'O mio babbino caro'.
Emily, who has been homeless in Los Angeles for two years, had the support of thousands of fans at the event. They had no doubt seen the much-viewed video of her, posted by an LAPD officer, in which she can be heard singing at a Metro Purple Line station in Koreatown.
After the performance, she thanked the audience for listening and spoke about the homelessness crisis in California, saying "I'm so glad I could touch your hearts with my voice. thank you so much for all this that's happening right now, I really thank you, I'm so overwhelmed."
Read more: Emily Zamourka 'offered record deal' after Puccini video goes viral >
After her performance, she told NBC: "I'm not a professional singer, but I'm very critical to how I'm going to sound or how I'm going to perform.
"It has to be delivered right. It's not easy, so that's why today I will apologise in front of everybody, because they probably thought I'm going to bring a [bigger] repertoire or something. It's going to be the same song that they know me [for] from the subway."
Zamourka was offered the gig by LA City Councilman Joe Buscaino, in her first job since the video went viral. Mr Buscaino's office has said they are currently trying to find her housing.
Last week, Grammy-nominated producer Joel Diamond said he wanted to sign her for a classical-EDM crossover album called Paradise. Diamond is the CEO and president of Silver Blue Records and helped launch David Hasselhoff's career.
"I actually wrote a deal memo to her and I don't even know her," he told Good Morning America. "I've never done that my entire life. It's crazy."
"I have two tracks ready to go that I've been holding. I didn't have an artist so that's like the perfect fit," he said.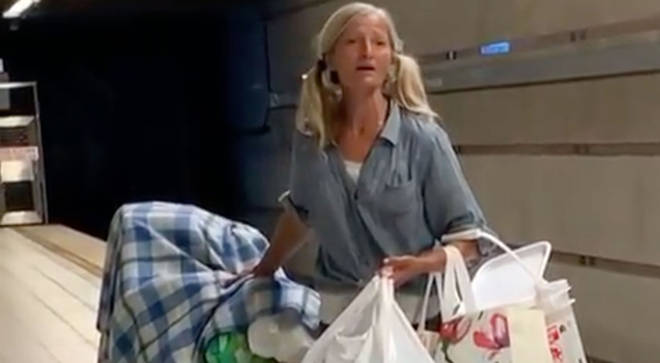 Emily, who emigrated from Moldova to LA three years ago, became homeless when a man stole her $10,000 violin, on which she played on the streets for money. Bystanders reportedly ran after the thief, but he threw the violin on the ground, destroying it.
After her instrument was gone, Emily could no longer pay her bills and was evicted from her apartment.
On the man who damaged her violin, she said "I hope he watches this now and he sees. If you only knew how much you destroyed me. You didn't just destroy my violin – you destroyed my entire life."
Since going viral, Emily's online support has been huge. A GoFundMe page to get her off the streets and give her a new violin has surpassed $72,000.
Zamourka has said that the record deal is still in the works, with nothing officially signed yet. But she says the warm support from fans has helped her: "If it's God's will for my life to change, then I will praise him and I will be so grateful to anyone who is trying to help me to get off of the streets.
"And to have my own place and to have my instrument. Somehow, I love to be still in music."