Mystery woman singing Puccini in viral subway video has been identified
30 September 2019, 17:59 | Updated: 30 September 2019, 18:01
A woman in LA went viral for singing 'O mio babbino caro' in the subway, after she was filmed by an LAPD officer. Now, she's been identified.
A video of a woman singing Puccini's 'O mio babbino caro' in an LA Metro station has been viewed over 200,000 times on Twitter, since it was posted on Thursday.
Filmed by an LAPD (Los Angeles Police Department) officer, the video was captioned: "4 million people call LA home. 4 million stories. 4 million voices… sometimes you just have to stop and listen to one, to hear something beautiful."
Read more: South African Uber driver sings Verdi on a ride, and obviously goes viral >
Since the clip was uploaded, people started speculating about the woman's identity, with many suggesting she is homeless because of the loaded cart and many bags she is carrying.
"I've seen her for years on the Metro," one Twitter user replied to the video. "I heard her once singing 'Ave Maria' and thought it was a radio at first. Everyone has a story...this woman does too. I don't know why she's been homeless all these years, but she's a human being... that's all that matters."
Another user said: "Me and my wife know her. Her name is Emily and she plays the violin as well as she sings."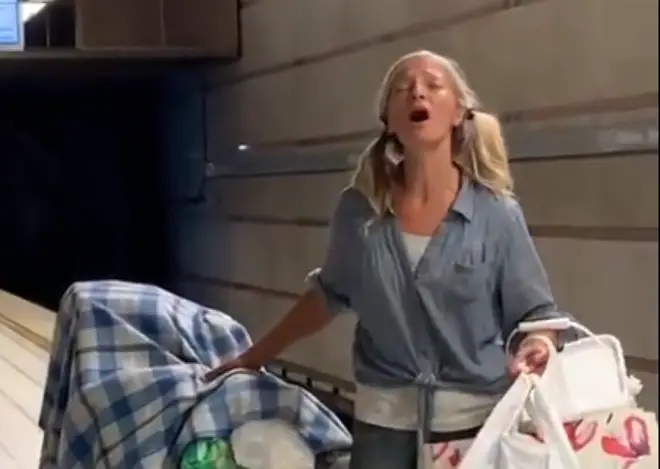 The mystery woman has turned out to be Emily Zamourka, a woman who grew up in Russia and dreamed of becoming a singer.
"You know why I do it in the subway?" she told NBC. "Because it sounds so great."
As a trained violinist and pianist, Zamourka worked as a music teacher but started experiencing serious health problems. She says she used to busk on her violin, but her $10,000 instrument was recently stolen.
"That's when I became homeless. When I could not actually pay any of my bills and could not pay anymore of my rent," she said. "[The violin] was my income," she said. "It was my everything to me."
On Thursday, an LAPD officer filmed her singing at a Metro Purple Line station in Koreatown. The video, which he posted that night, has been viewed over 200,000 times on Twitter.
Zamourka says she had no idea she was on television and going viral online, until friends told her.
"Thank you for that," she told local media. "I don't know what to say. I've been praying really hard."