21 classical music TikToks to distract you from all the practice you should be doing
9 November 2020, 15:43 | Updated: 3 March 2022, 20:51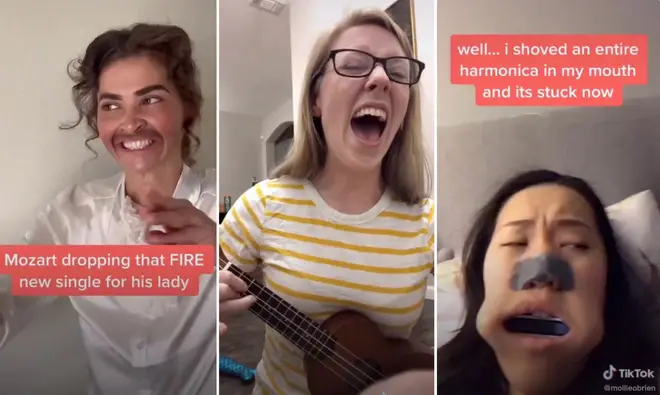 We've done the scrolling so you don't have to. Put your instrument down and get ready to digest some top-tier classical TikTok content.
If you've ever been on TikTok, you might have felt a tad overwhelmed by the constant stream of videos.
No fear: we've trawled through the torrent of TikToks and handpicked the most iconic classical music videos, just for you: the person who should really be practising right now.
When you try to Google classical music...

This quarantine-inspired song is exactly what you'd expect...

Read more: Music teacher creates unexpected yet relatable quarantine-inspired TikTok song >

Bro-zart.

Andrew Lloyd Webber is on TikTok. Make of this what you will...

Read more: Andrew Lloyd Webber's 'Phantom of the WAPera' TikTok mashup confuses the world >

Warning: turn your volume down before you watch this masterpiece...

When you *literally* play Mario.

Read more: 5-year-old pianist plays Super Mario Theme and it's super cute >

One cat instantly regrets its decision to step on a piano...

But don't worry – we have more cats! And this one loves the piano.

The Harry Potter theme, but played on a washing machine.

This TikTok is 100% historically accurate.

One hand playing the piano, the other solving a Rubik's Cube. Casual.

When practice gets hard, the Wii Theme is here to comfort you.

Low brass is where it's at.

Hans Zimmer's Pirates of the Caribbean theme, played by Jack Sparrow himself

When scale practice results in Britney Spears' 'Toxic'. Anyone else?

Read more: Someone's leaked the audio of Britney Spears singing Toxic before it was auto-tuned >

Catto, but there's harmony.

Music teachers are heroes...

'Come Get Her' on violin is a VIBE

There it goes again

Pure evil.

When piano practice gets a little out of… hand