Clerical cat drinks Dean of Canterbury's milk during online prayer service
8 July 2020, 10:46 | Updated: 8 July 2020, 10:59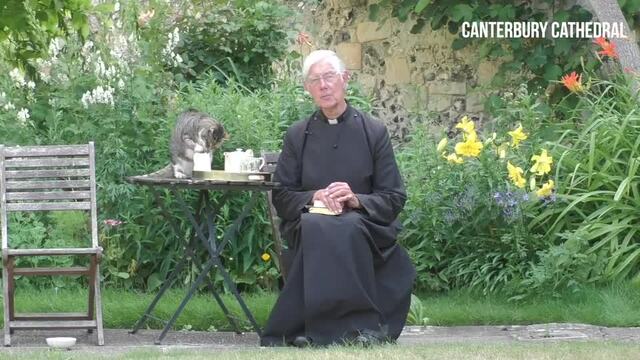 Canterbury Cathedral cat steals milk during morning prayers
A cat residing at Canterbury Cathedral noticed a jug of milk among the vicar's tea set – and decided to investigate.
A cat has been caught on camera drinking from a clergyman's milk jug, during one of his online prayer videos.
Dr Robert Willis, Dean of Canterbury, had been leading a virtual service for Canterbury Cathedral when his cat, Tiger, decided to join.
Tiger sits serenely on the chair next to the Dean, who does an almost imperceptible side-eye at Tiger.
But after a few seconds, the feline spots a jug of milk on the outdoor table, and prowls over to investigate.
Read more: Confused cat steps on piano, has a meltdown as paws hit the keys >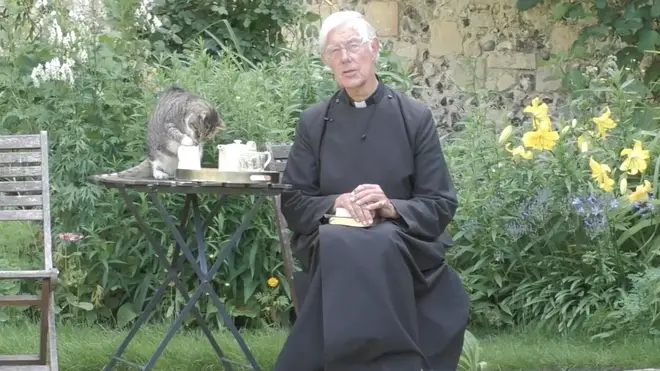 Realising his face is too big to drink directly from the jug, Tiger starts dunking his paw into the milk and licking it clean, continuing that way for a few seconds.
After a while, the Dean pauses to acknowledge and stroke the cat, before apologising to viewers:
"Sorry, we've acquired a friend this morning."
Tiger is one of four cats at the Deanery.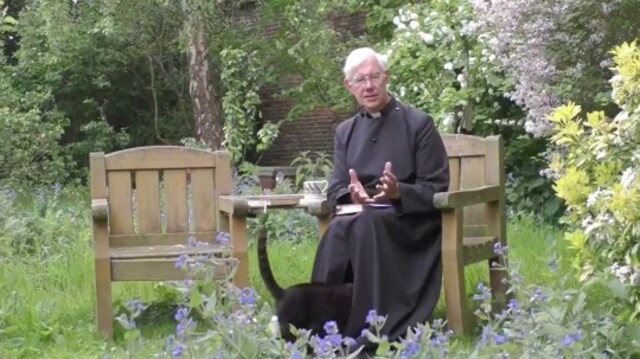 Cat disappears in vicar robes during live Morning Prayer
The video follows a recent viral episode from fellow naughty cat, Leo, who strode into a virtual sermon at the end of May, and famously slipped beneath the Very Revd's robes (watch in the video above).
Canterbury Cathedral, widely considered the first English cathedral, has been delivering virtual services for worshippers since the UK went into lockdown in March. It reopened on Saturday 4 July along with other places of worship.
In difficult times, Revd Robert's brazen felines appear to be providing some welcome exposure for the 6th-century edifice.