Cat disappears inside vicar's cassock during online sermon
28 May 2020, 15:17 | Updated: 28 May 2020, 15:21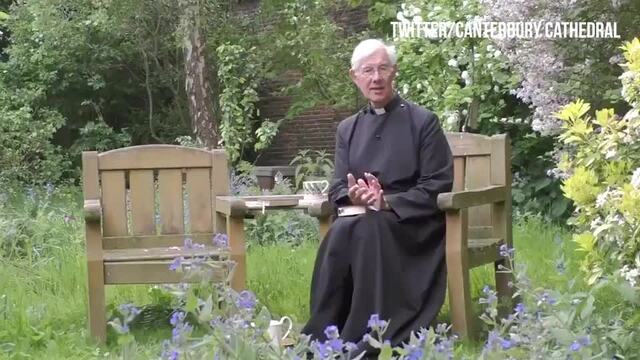 Cat disappears in vicar robes during live Morning Prayer
This brazen feline knows exactly who's boss at Cat-erbury Cat-edral.
A naughty cat has turned one of Canterbury Cathedral's morning sermon videos into a viral hit.
The Dean of Canterbury was delivering his morning prayer, when in strode his pet cat, Leo.
In one incredible vanishing act cat, Leo prowled with purpose towards the Very Revd Dr Robert Willis's legs, and slipped beneath his robes.
"Now that's a Canterbury tail!" one Twitter user quipped, in a comment under the video. Another suggested the Very Revd's garments might actually be the "Portal to Narnia (or secret land of dreamies!)".
There was even a reply from Larry the cat, Downing Street's famous feline, who commented: "Please pass on my regards to Leo".
Read more: Canterbury Cathedral now has a Girls' Choir – hear their first album >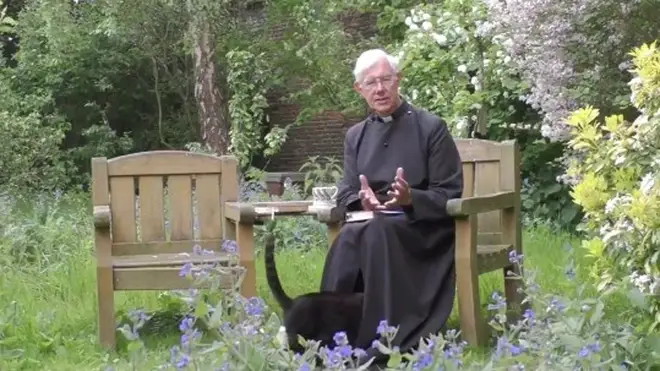 Leo the cat has provided some welcome exposure for the great 6th-century edifice, widely considered the first English cathedral. The video sermon was posted to Canterbury Cathedral's Twitter account on 23 May and now has over 130,000 views.
In their tweet, the cathedral added: "Leo the cat has been getting up to mischief again! Did you spot this moment in Morning Prayer last week? #Caturday"
Staff at the cathedral said that while Leo is "undoubtedly the comedian" of the Dean's clutter of cats, he takes his duties as ambassador "very seriously".
Read more: Naughty cat disrupts live orchestra concert and steals the show >
They said: "He has been enjoying making our daily broadcasts since March and, whilst he would be happy to be in every one, we have tried to include the others to prevent them getting jealous.
"With over 20,000 visitors to the Deanery and its gardens each year – and over 1.5 million to the cathedral – he is used to being on show and, having been born in the Deanery and growing up here, he is very used to company and is a very friendly and happy little cat (if not the brightest of the four).
"He loves to socialise with the cathedral's many pilgrims and visitors and takes his role as ambassador very seriously," they continued.
"In calmer times he finds a cosy place in the house or sunny spot in the gardens to sleep."
Canterbury Cathedral was closed to the public in March, along with all Church of England church buildings, to contain the spread of coronavirus.
Since its closure, Dean has been delivering daily prayers for Twitter users. The Cathedral also put on an Easter Day Eucharist, which featured recorded readings from the Prince of Wales and the Archbishop of Canterbury and was viewed 11,000 times online.