Airline seriously damages precious viol after charging musicians $240 at check-in
4 November 2019, 12:38 | Updated: 4 November 2019, 17:16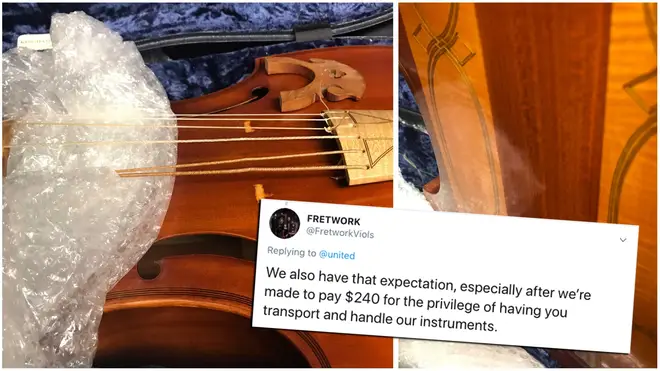 After being charged $240 to check in an 'oversized' instrument, this early music group was furious to find one of their period instruments had arrived in pieces.
A precious string instrument has been seriously damaged, after being taken aboard a United Airlines flight.
Fretwork, a UK-based viol consort, took to Twitter to share photos of the tenor viol, which arrived at its destination in an "unplayable" state.
The musicians claim that when they arrived at the airport, they were charged $240 to check in their 'oversized' instrument.
"Three weeks of touring the US & Canada and United Airlines are the only ones who've charged us outsized baggage fees for one of our two identical bass viols. $240!!! Outrageous," they wrote on Twitter. "Musicians with instruments – avoid this airline like the plague."
United Airlines saw their tweet and encouraged the musicians to send the airline a direct message, adding, "We apologize for the inconvenience this has caused".
Read more: Distraught cellist suffers £3,150 worth of damage to his instrument >
Fretwork – 'Balancing the Books' (Michael Nyman)
On arrival at their destination, Fretwork discovered that one of their instruments – a tenor viol – had been seriously damaged onboard the flight.
"When we arrived at Tucson [Arizona], we discovered that one of the tenor viols had been dropped somewhere during the flight between Vancouver and Tucson," they told Classic FM.
"The bridge had fallen and the soundpost was loose, and a seam on the back of the instrument had opened up. It was unplayable – so we had to borrow an instrument."
Fretwork also tweeted about the incident, urging musicians, "do not fly United".
So, in addition to charging us $240 to check one (but not both) of our bass viols, @united, on the same trip, also seriously damaged one of our tenors. Well done, United. Well done. As we said: Musicians, DO NOT FLY UNITED. pic.twitter.com/KM1xZXQKYu

— FRETWORK (@FretworkViols) November 2, 2019
The airline replied to Fretwork on Twitter just 25 minutes later, saying: "We never want your instruments to arrive in a condition different than the one they were in when they were checked. Have you been able to speak to a baggage agent at the airport about this?"
Watch more: Fretwork play Picforth's 'In Nomine' in Classic FM Session >
The musicians responded: "We also have that expectation, especially after we're made to pay $240 for the privilege of having you transport and handle our instruments."
Richard, one of the musicians from Fretwork, has since reported that United Airlines has offered to refund $30, and to pay for the repair of the instrument.
In an email to Classic FM, United Airlines said: "Our goal is to provide the best travel experience for all of our customers. We recommend customers bring their high-value items, such as musical instruments, as carry-on items whenever possible."