United Airlines staff 'wrestled' violin from musician in airport altercation
6 June 2017, 11:23 | Updated: 6 June 2017, 16:00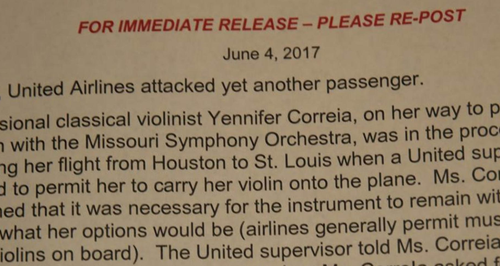 According to a statement from violinist Yennifer Correia's lawyer, a United Airlines supervisor attempted to use physical force to remove her instrument from her.
Violinist Croreia was attempting to travel from Houston George Bush Intercontinental Airport to a concert with the Missouri Symphony Orchestra when the alleged incident took place.

In the statement, written by lawyer Philip A. McNaughton, it is said that Correia was "in the process of boarding her flight from Houston to St. Louis when a United supervisor refused to permit her to carry her violin onto the plane."

After explaining that she needed to carry the violin with her into the cabin, the supervisor "told her there were 'no options' and became belligerent… Without provocation, the supervisor lunged for Ms. Correia's case and, incredibly, tried to wrestle it away from the musician."

The full statement was posted to McNaughton's Facebook page:
It concludes by saying that Correia was not able to board her intended flight as a result of the altercation, and that she missed her first rehearsal with the Missouri Symphony. Concern was also expressed for a possible injury to her hand.

United Airlines' carry-on baggage information states that violins, guitars and other small instruments are permitted on board:

Musicians in recent years have had difficulty with many airlines, with the myriad regulations from company to company often causing instruments either to be damaged or musicians to be denied travel.