Thief steals from nine-year-old chorister during service at Northampton church
1 October 2019, 16:21 | Updated: 1 October 2019, 16:45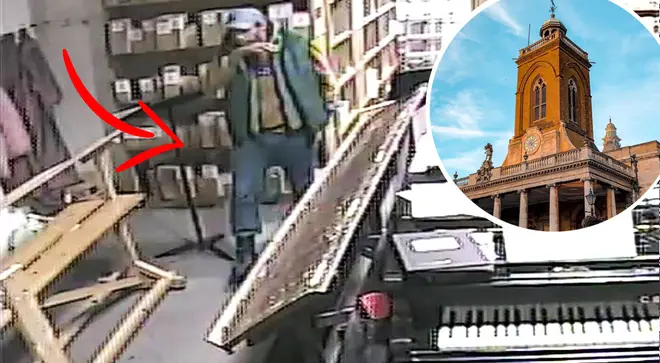 The young girl had been singing with her choir in the Grade I listed building, when the thief broke in and stole their belongings.
A man has been captured on CCTV footage stealing from a nine-year-old chorister while she performed in her Sunday church service.
The thief forced an entry into the locked choir room at Northampton's All Saints' Church – but according to the rector, had been sitting among the congregation and "accepted a hymnbook and a warm welcome" only moments before.
As the young girl sang, the man stole a number of valuable items from both herself and four other choir members – including money, mobile phones, bank cards and a laptop.
Sharing details about the incident on the All Saints' Church Facebook page, Father Oliver Coss said: "The effect has been no small amount of distress, and I'm indebted to staff, volunteers, and other choristers, who were on hand to support and comfort them."
However, he admits the devastating incident has only strengthened his faith: "We have a commitment to being an open church and do not shut our doors simply because of incidents like this.
"Our general experience is, in any case, that locked doors do not deter the determined and desperate criminal.
"And so, as Christians called and sent we must get on with the business of loving our neighbour, and praying for those who persecute us."
All Saints' Church Northampton has been serving the parishioners of the town since medieval times, and is renown for its beautiful interior, impressive organ and memorial chapel.
The burglary, which took place on September 29 at around 10:30am, is currently being investigated by Northamptonshire Police and Scene of Crime officers have taken prints.