Radiohead's Jonny Greenwood has been composing for orchestra – now, he's launching a classical music label
17 September 2019, 17:56 | Updated: 17 September 2019, 18:01
Radiohead's lead guitarist and keyboardist, Jonny Greenwood is branching out into classical music – and his debut composition is hauntingly beautiful.
Radiohead's lead guitarist and keyboardist, Jonny Greenwood, has just launched his own classical music label.
The 47-year-old English composer has chosen the name Octatonic for the label, which he set up to capture the "remarkable musicians" he met while working as a film composer, "playing the pieces they love, both contemporary and ancient".
On Octatonic's website, Greenwood explains that he will be championing contemporary classical records from soloists and small groups, and "as it's [his] party", he'll include "some of [his] own small ideas that have never been recorded, like '88' (for solo piano), and 'Miniatures from Water' for piano, violin, string drone and tanpura."
The Radiohead co-founder continues: "I stand in awe of classically trained UK musicians: a 20-something carrying a cello case will always be more impressive than someone with a guitar.
Read 'Radiohead's A Moon Shaped Pool is actually a stunning work of classical music' >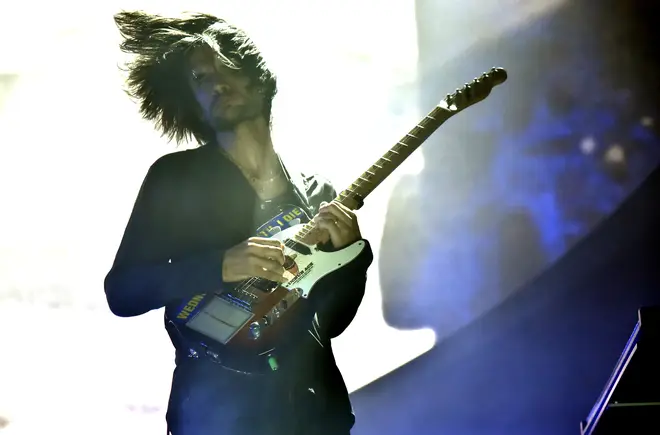 "It's just harder to do. It takes more commitment, and the sounds they make are so limitless – for all that the instruments they play are 'traditional'."
So far, two new releases have been announced: violinist Daniel Pioro playing Bach's 'Partita No. 2' on the first, and another featuring Michael Gordon's 'Industry' on the A-side and Greenwood's 'Water' on the B-side, which are available to stream from 24 September.
And it seems Greenwood has been particularly busy lately, after premiering his 27-minute classical composition, Horror vacui, to TV audiences last weekend:
An excerpt of 'Horror Vacui' by Radiohead's Jonny Greenwood (Proms 2019)
Written for solo violin and a 68-piece string section, the enchanting performance was led by conductor Hugh Brunt and featured a full symphony orchestra and youth ensemble.
But this isn't the first time Greenwood has experimented with classical music – the talented musician has previously admitted: "I'm always happiest trying new instruments – and honestly enjoy playing, say, the glockenspiel with Radiohead as much as I do the guitar... I enjoy struggling with instruments I can't really play."
Since Horror vacui made its debut, Greenwood's fans have been sharing their excitement about the new piece on Twitter:
Greenwood also confesses to being a fan of Messiaen's Turangalîla Symphony, which he first heard aged 15 and became "round-the-bend-obsessed with it" as it was his first connection to classical music.
The star says Messiaen still influences his work today: "He was still alive when I was 15, and for whatever reason I felt I could equate him with my other favourite bands – there was no big posthumous reputation to put me off. So I'm still very fond of writing things in the same modes of limited transposition that he used."