Radiohead's A Moon Shaped Pool is actually a stunning work of classical music
9 May 2016, 11:43 | Updated: 6 January 2017, 14:45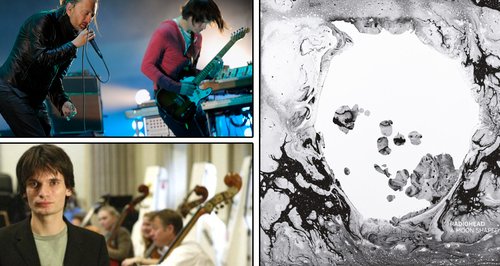 The experimental rock legends' surprise-release new album A Moon Shaped Pool takes its cues from Stravinsky, Debussy and a whole host of classical denizens. Even John Williams.
We've already waxed lyrical on the subject of the album's opening track 'Burn The Witch', with its impeccable and inventive string arrangements reminiscent of Stravinsky's most fiercely percussive moments (col legno FTW). But on Sunday night the band dropped an entire album (sort-of) unexpectedly, and it's full of the kind of classical techniques and influences that pique our interest.
Even as early as the second track, 'Daydreaming', the band are aligning themselves with a new breed of minimalists. Incidentally, we're going to coin a term now: nu-minimalism. You know, Hauschka, Olafur Arnalds, Einaudi, Johann Johannsson etc. We've got dibs on that. So, with that in mind, 'Daydreaming' sounds like Johann Johannsson playing the Game Of Thrones theme. Jonny Greenwood's strings also make an appearance towards the end, slipping and tripping quite unnervingly until they die out in a John Williams-esque Jaws-y series of smooshy double bass noises mingled with Thom Yorke's voice. Really.
The classical fun continues on 'Decks Dark', which begins as a plaintive piano ding-about, but gradually becomes dominated by a haunting choral arrangement. Even when those extra arrangements are sparse and unobtrusive, they're crafted with wit and sensitivity. Jonny Greenwood has a collaborative history with the London Contemporary Orchestra, so it's no surprise to hear them all over A Moon Shaped Pool. It's at those moments when the record feels far more alive.

'Glass Eyes' is rammed to bursting with lush, Debussy-esque washes of strings, never quite resolving or connecting with Thom Yorke's vocals, but dancing around them. There are great moments for the cello in particular, but this tiny album centrepiece is possibly the most obvious place to look for those classical influences. More and more, you get the impression that A Moon Shaped Pool is Jonny Greenwood's album rather than anyone else in the band.

Those nu-minimalist (See? It's sticking!) tendencies flood back in with the opening of 'The Numbers' with widdling piano arpeggios aplenty, but they daintily flirt with blues scales, flattened thirds and sevenths. The final third of the song is one of the more explicit 'classical' moments, with a towering string arrangement that takes in choppy Stravinsky stabs, swirling glissandi and perhaps even a hint of Bernard Herrmann's more angular Hitchcock soundtracks. It is *extremely* fit.

Elsewhere, as the album closes, those strings become ever more angular and exploratory: at the end of 'Tinker Tailor Soldier Sailor Rich Man Poor Man Beggar Man Thief', they initially cling harmoniously to Thom Yorke's vocals but soon detach and flop about all over the place most entertainingly. Eventually, there's nothing left but some rather delicious and nervy Shostakovich-esque chromatic runs, which dissolve into nothing.

The final track on the album, a fan favourite and 22-year-old item of Radiohead lore entitled 'True Love Waits'. Weirdly, it has about it the air of (again) those nu-minimalist composers, specifically the rattly piano of Hauschka. It's something of a departure from the bootlegs and live recordings that already exist, a far more serene and interesting experience in this intimate new version.
So there we have it: Radiohead owe the success of their new album to Jonny Greenwood's arrangements, nu-minimalism and the lasting influence of Stravinsky, Debussy and John Williams. Not all the years of enigmatic post-Britpop guerrilla marketing and the ability to merge the mainstream with the experimental in a commercially viable manner. Not that.