One in four professional musicians are skipping meals due to the cost of living crisis, survey reveals
14 March 2023, 17:43 | Updated: 14 March 2023, 18:35
66 percent of musicians have had a decrease in concert bookings due to the current economy, as the hoped-for 'bounce back' post-lockdown hasn't yet arrived for freelance performers.
The cost of living crisis has seen people from all walks of life paying extra attention to their finances over the past 12 months, from energy bills and housing costs to the price of food. And a recent study by the booking platform, Encore, has found that professional musicians are not exempt from these concerns.
Over the last year, an astonishing 26 percent of artists have skipped meals due to rising costs. This figure is almost double the percentage of the general population who are reportedly skipping meals (14 percent) according to a recent survey by the Trades Union Congress last October.
66 percent of the 301 musicians surveyed by Encore said they had seen a fall in paid work, caused by the current climate. Separately, 39 percent said they had witnessed customers cancelling their bookings as a direct result of the rising cost of living crisis.
Musicians are unsurprisingly concerned about the sustainability of a music industry career. One opera singer surveyed by the musical booking company said she will "have to leave the industry" due to rising costs and other factors.
"10 years of training, a passion that is burning in me to perform, and communicate," she wrote. "I need to get a job that pays well so I'm able to keep a roof over my head. I want children, and at the moment it is just not possible.
"If so many of us with so much passion and talent leave the industry, where will the world get their music, entertainment, theatre from?"
Read more: New report warns of 'talent exodus' in classical music, as parents and carers struggle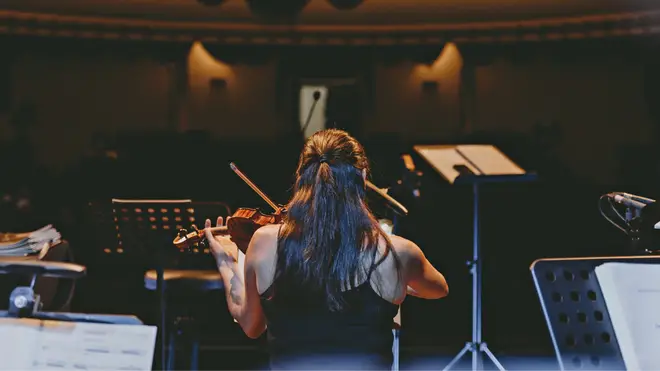 Alex Pipkin is a freelance oboist originally from Northamptonshire, and has been playing the oboe since he was eight years old.
With degrees from both the Royal Welsh College of Music and Drama and the Royal Academy of Music, Pipkin told Classic FM that the cost of living crisis and ever-rising inflation in his industry has made life "excruciatingly difficult".
"I'm not bothered about earning a lot of money," Pipkin elaborated. "[For me] it's more about making and sharing music with people, indulging in our cultural past and making lifelong friends along the way. But at some point money has to be a factor.
"I'm most worried that future generations won't have the opportunities I had as a child growing up. The English National Opera for example provides so much outreach work and free tickets for a younger age bracket, and yet they've had 100 percent of their funding removed – what happens if the cuts continue at their current rates?"
The English National Opera was one of many music institutions hit by funding cuts during the Arts Council funding announcement last November.
The oboist added: "Classical music is often seen as elitist but can you blame people for thinking this when schemes to go and see and experience it are removed with such force?".
Read more: English National Opera to receive 91 percent of original Arts Council funding – but for only one year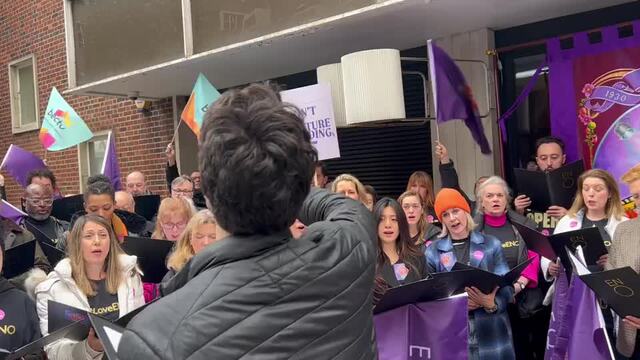 Members of the ENO Chorus sing 'You'll Never Walk Alone' outside Arts Council England's London office
Alongside audiences, Pipkin says it was "really hard" to watch institutions like the English National Opera and the Britten Sinfonia experience cuts, as he and other aspiring musicians had hoped to be employed by one of these, or similar establishments in the future.
"Of course I have thought about leaving," Pipkin responded when asked if these cuts alongside the economy had made him consider abandoning the industry.
"But it lasted about two seconds flat because I love music and I'm stubborn about following the career path I started when I began learning [the piano] aged four.
"It's a mockery for anyone to say musicians should retrain because you're belittling the industry for countrywide financial interest and supporting more the idea that it's just an elitist hobby."
While not retraining, Pipkin is working a second job to support his freelance job in music, just like 51 percent of musicians surveyed by Encore, who say they have taken on other work due to the rising living crisis.
Read more: 90 percent of musicians are worried about affording food due to the cost of living crisis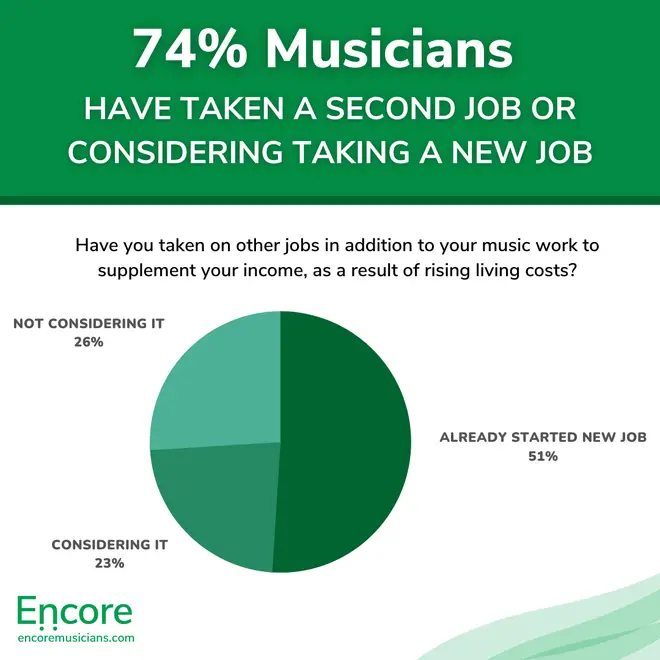 Campaigners hope that the spring budget announcement, presented to Parliament by the Chancellor on Wednesday 15 March, will include a lifeline for workers in the music industry.
Encore Musicians CEO and co-founder James McAulay described the budget this week as "one of the most important for musicians in recent times".
He continued: "The vast majority of musicians are still recovering from the devastating impact of the pandemic on their livelihoods, and Brexit has made touring significantly harder and significantly less viable for musicians.
"It's absolutely vital that [culture secretary] Lucy Frazer doesn't neglect the impact of the rising cost of living on our musicians. Energy companies are making record profits while our musicians are reporting skipping meals, taking on additional jobs, and switching off their heating."
Venvell also commented on a statistic from the report, which revealed that 90 percent of musicians surveyed do not have faith in the government's ability to handle the crisis. "Government confidence among the live music sector is low," Venvell added.
"Live music is one of Britain's greatest exports," he said. "Now is the time for strong and decisive action to ensure our thriving industry, which contributes so much to the economy, isn't left behind."