English National Opera to receive 91 percent of original Arts Council funding – but for only one year
17 January 2023, 17:22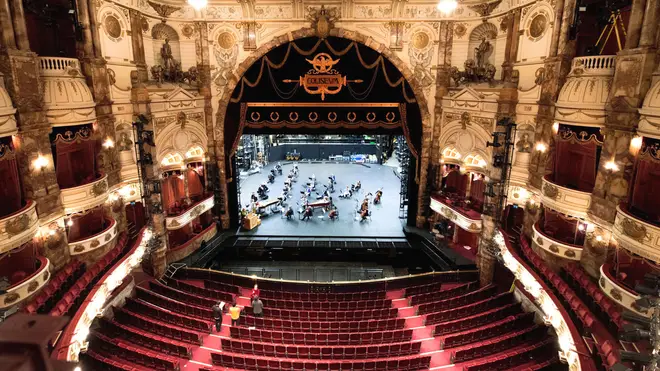 The English National Opera will receive 91 percent of its original Arts Council England grant, two and a half months after their shock funding cut.
The English National Opera has announced it will receive £11.46 million in National Lottery funding from Arts Council England for the next financial year, starting on 1 April 2023.
The news comes two-and-a-half months after the announcement that the Arts Council would be slashing the English National Opera's annual funding of £12.6 million by one hundred percent, and replacing it with £17 million for the next three years to "develop a new business model" and move to the north of England.
While the funding news is welcome to many who protested on behalf of and with the ENO's workers and performers over the last few months, the opera company has emphasised that this new funding is a 9 percent loss to its previous amounts, and is only guaranteed for the next financial year.
In a statement, the company said: "This level of funding will allow us to honour many of the contracts of the hundreds of freelancers we hire every year, and enable us to continue to make incredible opera available for everyone, in English, with hugely subsidised tickets.
"We do remain concerned that this only gives audiences and our workforce one year's reprieve, and still leaves a huge amount of uncertainty regarding the ENO's future."
Read more: Leading UK opera companies have funding slashed in Arts Council announcement
Following negotiations with ACE, we have received funding for the next year, but at a 9% reduction.

We remain concerned that this only gives one year's reprieve and that this still leaves a huge amount of uncertainty regarding the ENO's future.

Read more https://t.co/qLMyVUIiUD pic.twitter.com/MpnUx1DtCh

— English National Opera (@E_N_O) January 17, 2023
The opera company stated that both itself, and their audiences, "remain in the dark" as to why the Arts Council decided to removed its funding for the 2023-2026 period.
In a Guardian article published last November, chief executive of Arts Council England, Darren Henley, defended the decision to cut ENO's funding as "the Arts Council also needs to be focused on the future of opera".
Henley continued: "A new generation of audiences is embracing opera and music theatre presented in new ways: opera in car parks, opera in pubs, opera on your tablet."
Speaking to Classic FM, ENO's chief executive Stuart Murphy said: "For us the big issue was being told only 24 hours before it went public. Also, being told our funding was being pulled despite hitting all success criteria, and then being told we don't do things nationally, despite us being in 85 NHS trusts with ENO Breathe, despite us broadcasting across TV and radio for free, instead of having people pay for tickets to go to the cinema.
"We've had a big national impact for many years, and being told that we didn't by the Arts Council was just plain wrong."
Read more: ENO chorus sing 'You'll Never Walk Alone' outside Arts Council office as 300 jobs at risk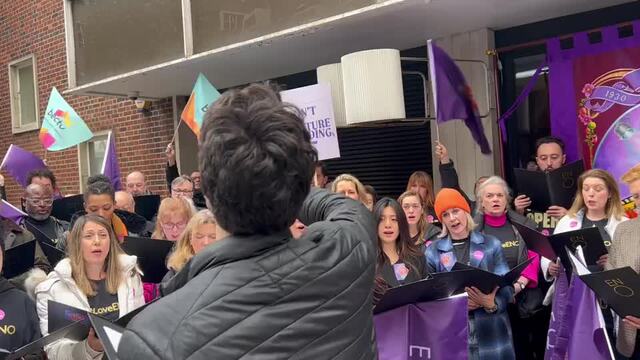 Members of the ENO Chorus sing 'You'll Never Walk Alone' outside Arts Council England's London office
While the ENO will continue to live on for at least another year in its current London home, the future remains uncertain.
Murphy added: "We've made really clear to them that to set up a dual-based model, partly in London and partly outside London, actually costs more than you average annual investment."
ENO's chief exec went on to criticise ACE for "setting us up to fail", claiming that shifting an entire company in three years was "not realistic".
The company's priority over the coming months, will be to continue ongoing negotiations for future investment and to find clarity as to why the original funding decision was made last year, along with scouting out new bases.
"What's going to happen now is, for the next few months we're going to investigate other areas around the country where we can set up a second base, that will ultimately become out headquarters, and we're going to try and move enough of the company outside London, while retaining a presence at the Coliseum, so we tick that requirement of the Arts Council to be mainly based outside London by 2026," Murphy said.
At the end of the company statement, the ENO passed on its appreciation to its audience, saying: "We want to thank everyone for their continued support during this difficult and worrying time for everyone at the ENO."