Grammys 2020: Nicola Benedetti and Yuja Wang nominated for classical music awards
21 November 2019, 11:48 | Updated: 22 November 2019, 15:15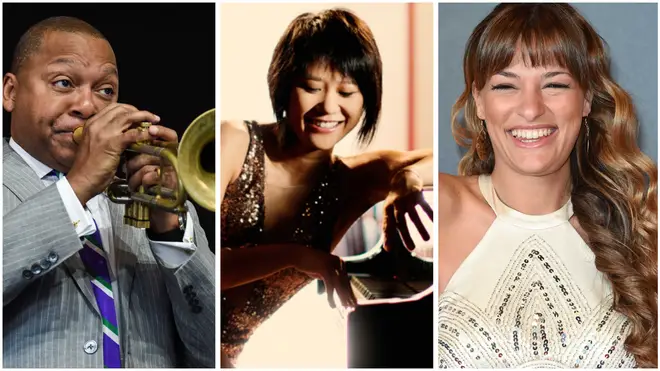 The nominations for the 62nd Grammy Awards are in, and classical virtuosos Nicola Benedetti, Wynton Marsalis and Yuja Wang have all received a well-earned nod.
Violinist Nicola Benedetti, trumpeter Wynton Marsalis and pianist Yuja Wang are among this year's classical nominees at the 62nd Grammy Awards.
Marsalis' Violin Concerto in D major, played by Nicola Benedetti, has scooped two nominations for contemporary classical composition and instrumental solo. This marks Benedetti's first ever Grammy nomination.
The Scottish-Italian virtuoso is competing in the solo category against Chinese pianist Yuja Wang, whose new album The Berlin Recital – which features some fiendish music by Rachmaninov, Ligeti and Prokofiev – is also nominated.
See the full list of classical nominees below.
Best Classical Instrumental Solo
The Berlin Recital, Yuja Wang
Higdon: Harp Concerto, Yolanda Kondonassis; Ward Stare, conductor (The Rochester Philharmonic Orchestra)
Marsalis: Violin Concerto; Fiddle Dance Suite, Nicola Benedetti; Cristian Măcelaru, conductor (Philadelphia Orchestra)
The Orchestral Organ, Jan Kraybill
Torke: Sky, Concerto for Violin, Tessa Lark; David Alan Miller, conductor (Albany Symphony)
Best Classical Solo Vocal Album
The Edge of Silence – Works for Voice by György Kurtág, Susan Narucki (Donald Berman, Curtis Macomber, Kathryn Schulmeister & Nicholas Tolle)
Himmelsmusik, Philippe Jaroussky & Céline Scheen; Christina Pluhar, Conductor; L'arpeggiata, Ensemble (Jesús Rodil & Dingle Yandell)
Schumann: Liederkreis Op. 24, Kerner-lieder Op. 35, Matthias Goerne; Leif Ove Andsnes, accompanist
Songplay, Joyce DiDonato; Chuck Israels, Jimmy Madison, Charlie Porter & Craig Terry, accompanists (Steve Barnett & Lautaro Greco)
A Te, O Cara, Stephen Costello; Constantine Orbelian, conductor (Kaunas City Symphony Orchestra)
Best Classical Compendium
American Originals 1918, John Morris Russell, conductor; Elaine Martone, producer
Leshnoff: Symphony No. 4 'Heichalos'; Guitar Concerto; Starburst, Giancarlo Guerrero, conductor; Tim Handley, producer
Meltzer: Songs and Structures, Paul Appleby & Natalia Katyukova; Silas Brown & Harold Meltzer, producers
The Poetry of Places, Nadia Shpachenko; Marina A. Ledin & Victor Ledin, producers
Saariaho: True Fire; Trans; Ciel D'hiver, Hannu Lintu, conductor; Laura Heikinheimo, producer
Best Contemporary Classical Composition
Bermel: Migration Series for Jazz Ensemble & Orchestra, Derek Bermel, composer (Derek Bermel, Ted Nash, David Alan Miller, Juilliard Jazz Orchestra & Albany Symphony Orchestra)
Higdon: Harp Concerto, Jennifer Higdon, composer (Yolanda Kondonassis, Ward Stare & the Rochester Philharmonic Orchestra)
Marsalis: Violin Concerto in D Major, Wynton Marsalis, composer (Nicola Benedetti, Cristian Măcelaru & Philadelphia Orchestra)
Norman: Sustain, Andrew Norman, composer (Gustavo Dudamel & Los Angeles Philharmonic)
Shaw: Orange, Caroline Shaw, composer (Attacca Quartet)
Wolfe: Fire in My Mouth, Julia Wolfe, composer (Jaap Van Zweden, Francisco J. Núñez, Donald Nally, The Crossing, Young People's Chorus Of NY City & New York Philharmonic)
Best Orchestral Performance
Bruckner: Symphony No. 9, Manfred Honeck, conductor (Pittsburgh Symphony Orchestra)
Copland: Billy the Kid; Grohg, Leonard Slatkin, conductor (Detroit Symphony Orchestra)
Norman: Sustain, Gustavo Dudamel, conductor (Los Angeles Philharmonic)
Transatlantic, Louis Langrée, conductor (Cincinnati Symphony Orchestra)
Weinberg: Symphonies Nos. 2 & 21, Mirga Gražinytė-Tyla, conductor (City Of Birmingham Symphony Orchestra & Kremerata Baltica)
Best Opera Recording
Benjamin: Lessons in Love & Violence, George Benjamin, conductor; Stéphane Degout, Barbara Hannigan, Peter Hoare & Gyula Orendt; James Whitbourn, producer (Orchestra Of The Royal Opera House)
Berg: Wozzeck, Marc Albrecht, conductor; Christopher Maltman & Eva-Maria Westbroek; François Roussillon, producer (Netherlands Philharmonic Orchestra; Chorus Of Dutch National Opera)
Charpentier: Les Arts Florissants; Les Plaisirs de Versailles, Paul O'Dette & Stephen Stubbs, conductors; Jesse Blumberg, Teresa Wakim & Virginia Warnken; Renate Wolter-Seevers, producer (Boston Early Music Festival Chamber Ensemble; Boston Early Music Festival Vocal Ensemble)
Picker: Fantastic Mr. Fox, Gil Rose, conductor; John Brancy, Andrew Craig Brown, Gabriel Preisser, Krista River & Edwin Vega; Gil Rose, producer (Boston Modern Orchestra Project; Boston Children's Chorus)
Wagner: Lohengrin, Christian Thielemann, conductor; Piotr Beczała, Anja Harteros, Tomasz Konieczny, Waltraud Meier & Georg Zeppenfeld; Eckhard Glauche, producer (Festspielorchester Bayreuth; Festspielchor Bayreuth)
Best Choral Performance
Boyle: Voyages, Donald Nally, conductor (The Crossing)
Durufle: Complete Choral Works, Robert Simpson, conductor (Ken Cowan; Houston Chamber Choir)
The Hope of Loving, Craig Hella Johnson, conductor (Conspirare)
Sander: The Divine Liturgy of St. John Chrysostom, Peter Jermihov, conductor (Evan Bravos, Vadim Gan, Kevin Keys, Glenn Miller & Daniel Shirley; PaTRAM Institute Singers)
Smith, K: The Arc In The Sky, Donald Nally, conductor (The Crossing)
Best Chamber Music/Small Ensemble Performance
Cerrone: The Pieces That Fall to Earth, Christopher Rountree & Wild Up
Freedom & Faith, PUBLIQuartet
Perpetulum, Third Coast Percussion
Rachmaninov – Hermitage Piano Trio, Hermitage Piano Trio
Shaw: Orange, Attacca Quartet
The 62nd Grammy Awards will air on 26 January on CBS. The live stream can also be watched in the UK on CBS All Access.