A deleted scene from Rocketman shows Elton John savaging classical music
9 August 2019, 17:31 | Updated: 13 August 2019, 14:58
In the newly released video, we see Taron Egerton as a young Elton John struggling to find his own identity – and he makes a brave decision that would change the course of music forever...
An exclusive deleted scene from the musical biopic, Rocketman, shows the moment a young Elton John chooses a life of rock 'n roll over classical music.
Despite being considered a child prodigy and receiving a scholarship to the Royal Academy of Music aged 11, Sir Elton (known in his early days as Reginald Dwight) struggled to find his own identity as a classical artist.
In the clip (watch above), we see Taron Egerton play the part of "Reggie" as he sits at a Yamaha grand piano and engages in a confrontation with his music teacher, Helen Piena (Harriet Walter), while preparing for a major recital.
Fearing that he may not be fulfilling his potential talent as a classical pianist, Piena tells him: "The Grieg concerto is next week. It couldn't be more important and you're obviously not practising.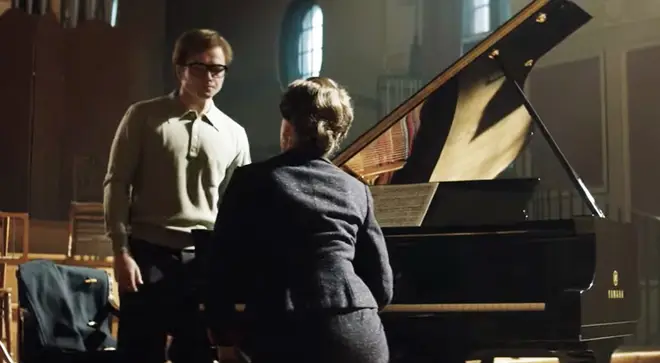 "You're throwing away all your hard work to dedicate your time to playing rock 'n roll in dirty pubs. Do you think that's a good use of your talent?"
"You've a very real future here, a great one. The Royal Philharmonic is a very real possibility for you."
But in a response that would see him walk away from the classical world, Reggie says: "Well, I don't want to just play dead people's music. If Grieg were alive now, he'd be playing rock 'n roll."
He holds his ground: "No, I've got to do this. I love rock 'n roll."
It's a bold statement from the rising star, (and one that we can't totally get on board with, of course), but a great example of the difficult decisions often made on the path to global success.
And, who knows, perhaps Grieg would have enjoyed the odd bit of Liam Gallagher...
Rocketman is available to Download & Keep on 14 September and 4K Ultra HD, Blu-ray, and DVD on 30 September, from Paramount Home Media Distribution.