Could Stormzy replace Mozart in the music curriculum?
22 May 2019, 16:36 | Updated: 23 May 2019, 14:00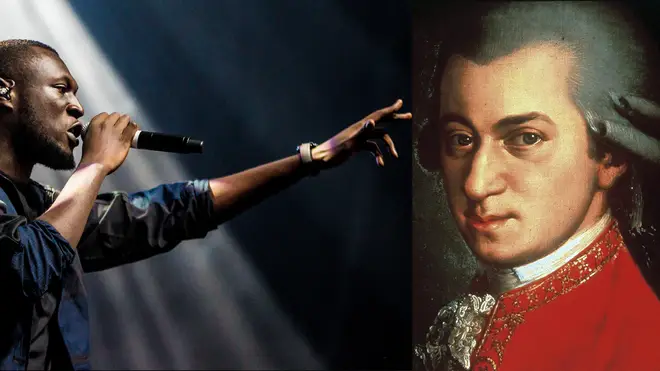 Grime should replace classical music in classrooms to increase inclusion and wellbeing, UK music charity Youth Music says.
Stormzy should be taught in schools instead of Mozart to prevent exclusion, says national charity Youth Music.
The thinking is that grime is more relevant to the lives of young people than Mozart, and that should be reflected in music education.
What's the context?
Today in an open letter to MP Nick Gibbs, Youth Music's CEO, Matt Griffiths, calls for "an urgent transformation of music in schools, to shake up the way it is perceived and taught."
Youth Music puts the replacement of traditional elements of the school music curriculum with new teaching methods and new genres at the heart of its vision for this shake-up.
The letter accompanies the conclusion and final report of Youth Music's four-year programme, Exchanging Notes, run in partnership with researchers at Birmingham City University to tackle young people's exclusion from music and, in turn, find out how music can lead to greater social inclusion and personal growth if made more accessible.
"We believed that bringing the expertise of teachers together with the expertise of music leaders from the charities had the potential to provide a diverse and modern music curriculum that they would be unable to provide on their own," Griffiths explains in his letter.
Following the successful partnerships between community music organisations and secondary schools in England at the heart of the Exchanging Notes program, Griffiths stresses that a new music curriculum should have "at its core a creative, participatory and social approach to music that gives young people the opportunity to shape their own curriculum – driven by the music they are passionate about."
So, what does this have to do with Stormzy?
Youth Music's Exchanging Notes final report essentially concludes that young people "love music" but "the curriculum doesn't deliver the kind of music they want to make" and that it's "disconnected from their lives".
The kind of music young people want to make is, in many cases, the genres championed by Stormzy, Cardi B and Avicii rather than those of Bach, Mozart and Wagner et al.
"We've seen the benefits of students exchanging Mozart for Stormzy as part of a re-imagined music curriculum," Matt Griffiths has said.
"Evidence shows that music-making is a strong contributor to young people's personal and social development. But despite school being the one place where everyone should be able to access music, we've consistently heard how it doesn't reflect their existing musical lives and passions. And their access is being restricted because school music departments are disappearing by the day."
Stormzy has since responded to headlines pitting him against Mozart in relation to the curriculum...
Read more: Katherine Jenkins covers Stormzy on her new album
With Exchanging Notes finding a strong correlation between young people's access to music and personal wellbeing, a diverse curriculum is vital for Griffiths.
95 per cent of the pupils who took part in the Exchanging Notes program maintained high attendance and demonstrated improved performance in other subjects, such as Maths and English.
"We urge the Department for Education, OFSTED, and DCMS to collaboratively develop an action plan to ensure a sustainable, innovative and diverse music curriculum in schools", he Griffith concludes in his open letter.
"School success measures must go beyond their current, singular focus on attainment to include, equally, outcomes for young people especially for their social and emotional wellbeing".
Less radical than they first appear, Youth Music's suggestions are logical when we consider that the likes of Mozart and Bach would have been consuming and learning from the music of their contemporaries. And a keen interest in Stormzy and other contemporary artists in no way prevents a future interest in music history and the works of classical masters like Mozart; indeed, it could make it happen.
Read more: Stormzy's freestyle at the Brits proves he's a true virtuoso
It'll be interesting to see what impact Exchanging Notes findings and Youth Music's open letter will have on recent concerns about, and plans in motion for, the UK music curriculum.
Youth Music is a national charity that aims to bring music to young people for the benefit of their personal and social development, endorsed by Classic FM presenter Myleene Klass.