Violinist plays for Italy's healthcare workers from Cremona hospital rooftop
21 April 2020, 15:39 | Updated: 21 April 2020, 18:01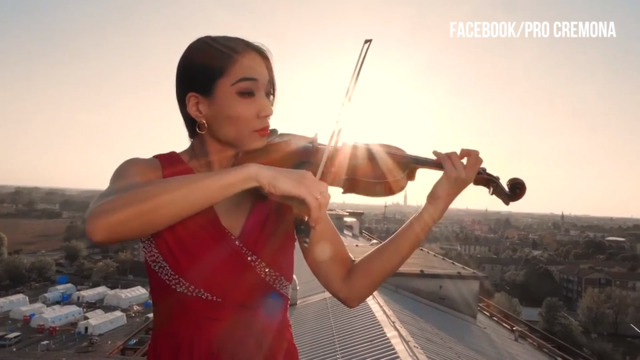 Lena Yokoyama plays Morricone above Cremona hospital's rooftop
As the Italian city famed for its violins continues its fight against COVID-19, a sweet-sounding solo echoes high above the rooftops.
A violinist has performed a heartfelt tribute for Italy's frontline heroes from a hospital rooftop, amid the coronavirus pandemic.
In the video (watch above), we see violinist Lena Yokoyama position herself several storeys above the ground at Cremona hospital in northern Italy.
Seemingly unfazed by heights, she lifts her violin and proceeds to play a mesmerising rendition of Ennio Morricone's 'Gabriel's Oboe', using her best vibrato.
As the soaring melody rings out during an unprecedented time of global crisis, hardworking hospital staff and groups of visitors pause for a moment to enjoy the beautiful music.
Click here to view the NHS's latest coronavirus advice >
Read more: To save the sound of a Stradivarius, this entire Italian city is keeping quiet >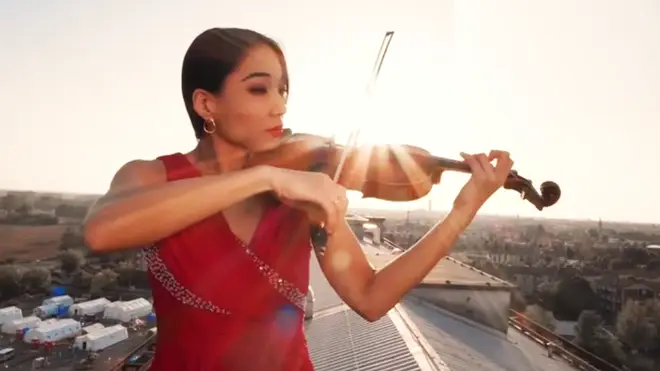 This isn't the first time Cremona has celebrated the sound of the violin – the Italian city is known for its exquisite violins and violas, all expertly hand-crafted by the Guarneri, Antonio Stradivari and the Amati family – during the 16th-18th centuries.
Now, Yokoyama is moving people with her art as she plays for those affected by COVID-19 – and since her inspiring clip was shared on YouTube last week, it has had over 143,000 views.
In the caption for the video, Italian sightseeing tour agency, Pro Cremona, wrote: "For a moment, the sound of a violin replaced ambulance sirens. To let everyone know that we are there. To let everyone know that Cremona continues to struggle.
"Hearing in Cremona, from the symbolic place of the fight at COVID-19, a tribute for all those who are fighting, for all those who have not made it, for all those who have won."