Ennio Morricone: Gabriel's Oboe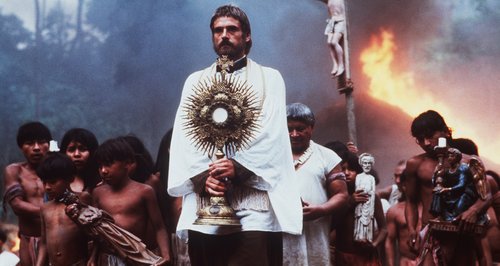 Given the number of transcriptions of this piece of music that exist, it could very well have been called Gabriel's Cello, Gabriel's Organ or even Gabriel's arrangement for four-piece boy band.
The contemporary Italian composer's music for the 1986 movie The Mission includes this beautiful two-minute piece, which manages simultaneously to be both lyrical and stately. No surprise, then, that over the last decade it's become an increasingly popular wedding processional.
The Academy Award-winning composer Ennio Morricone is an undisputed movie-music master, having written the scores for hundreds of films. Beginning his career in the 'Spaghetti Westerns' genre, it was Morricone's music for The Mission that really brought him worldwide fame. The music is an eclectic mix of styles. Within the broadly symphonic sound-world, there's also space for liturgical chorales and indigenous drumming. It was deliberately intended to reflect the mission of Spanish Jesuits in their attempt to protect a South American tribe from exploitation.
Morricone was honoured with both a Golden Globe and a Bafta for The Mission – although it wasn't this film score alone that won him an Oscar. Indeed, no one film garnered him that particular success; instead, the bestowal of an honorary academy award in 2007 ensured a well-earned gong found its way onto the composer's trophy shelf.
Recommended Recording
City of Prague Philharmonic Orchestra; Paul Bateman (conductor). Classic FM: CFMCD 46.