Meet the singers swapping stages for supermarket shelves
14 April 2020, 16:04 | Updated: 14 April 2020, 16:52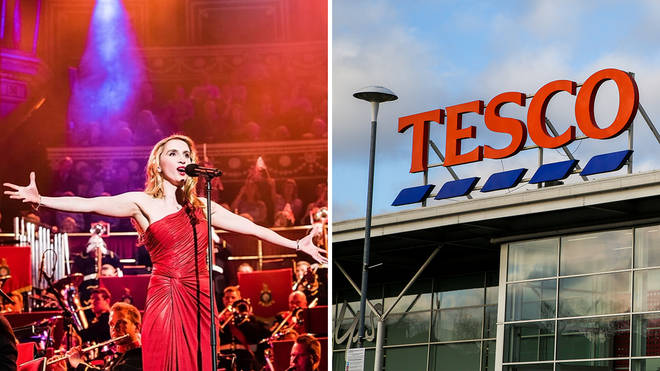 As music venues and theatres remain closed for indefinite periods due to the coronavirus pandemic, musicians are turning to in-demand frontline work to make ends meet.
As coronavirus continued to spread and showed no signs of abating at the beginning of March, more and more concerts were cancelled and venues were closed as the government enforced lockdown.
Musicians were suddenly faced with a loss of work – and income – and many turned to alternative types of work to make ends meet and help serve their communities.
Last week, we met musicians working on the NHS frontline and now there are freelance workers, singers, musicians and other people whose jobs are impacted by COVID-19 offering their services to supermarkets.
Read more: Meet the musicians working on the NHS frontline >
Click here for the latest coronavirus advice from the NHS >
One of the many singers whose work has been affected by COVID-19 measures is mezzo-soprano Lara Rebekah Harvey, who had landed a role at Opera Holland Park before the pandemic happened and recently told The Daily Mail about her experience working for supermarket Lidl.
"My first week was exhausting because it's very physical and there's a lot of heavy lifting," the 27-year-old mezzo told the Mail. "It couldn't be more different [from working as a singer]."
The singer said she feels "lucky to have a job", but "can't wait to get back to opera".
The new career landscape created by the coronavirus has seen supermarkets recruiting more staff than ever. Indeed, Tesco, Aldi and other UK supermarkets have been reported to be hiring for thousands of roles as the demand on supermarkets is so high.
Read more: Classic FM applauds for the NHS and front line workers >
Harvey joins soprano Milly Frost, who recently swapped concert hall stages for work as a hospital porter – a role she told Classic FM is "by far the most rewarding thing I've ever done."
Opera conductor and RPS Women Conductors director, Alice Farnham, has been volunteering for the NHS's 'check in and chat' service, and tenor Alex Aldren is also trained in medicine and has been working in A&E departments at several London hospitals.
Read more: The impact of coronavirus cancellations on classical artists >
As theatres remain shut, musical theatre actors are also taking to supermarket roles in their droves. Actor Thomas Inges recently told The Stage that he's now on the checkout at Tesco, and that "it felt like a great way to help out and also to earn some money." Apparently he tries not to think too much about all the long-term impact on theatres during this "scary time".
He's joined by cruise ship singer, Billy Lynch who told The Stage that "a supermarket job was a completely financial decision" and "it is nice to keep energy and spirits high on the shop floor and try to keep a sense of community."
Want more like this? Click here to subscribe to Classic FM's newsletter, Notes, and get news, quizzes, exclusive competitions and more to your inbox!