'I went from singing arias to being a hospital porter' – musicians working on the NHS frontline
3 April 2020, 16:10 | Updated: 3 April 2020, 18:31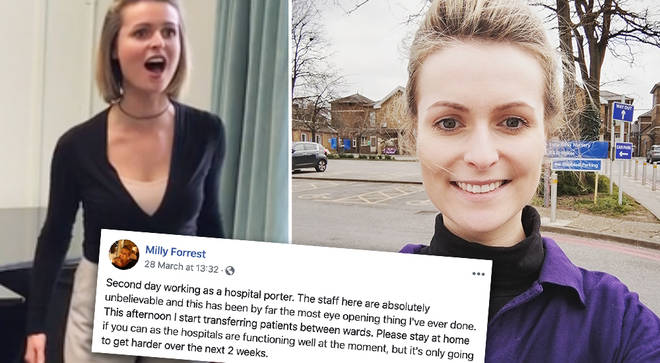 With concert venues closed and performances cancelled in the wake of the global coronavirus pandemic, a handful of courageous musicians have been volunteering their services on the NHS frontline.
As the coronavirus pandemic continues, hundreds of performances around the world have been cancelled or postponed and musicians have been left without work.
We share the stories of three musicians – soprano Milly Forrest, tenor Alex Aldren and conductor Alice Farnham – who have courageously volunteered their services for the NHS, at a time when hospitals are in desperate need of extra workers.
Milly Forrest, soprano

Milly, who first made headlines in 2017 when she was plucked from her job as a Wigmore Hall cloakroom attendant to perform on the world-famous stage, had been about to appear in the ENO's production of The Marriago of Figaro, when she fell ill. By the time she recovered, the show had been cancelled due to coronavirus measures.

Now, she's working as a hospital porter after answering an advert on a job site. She told Classic FM it's "by far the most rewarding thing I've ever done."

"As opera singers, we're used to working very long days and there's not really enough time to complain. Being a musician definitely teaches you patience. And I don't think anyone is acting as an individual here – there seems to really be a feeling of unity.

"I really do miss singing, but I'd rather be doing this than sitting at home for four months doing nothing!"

From opera singer to hospital porter.

Picture: Courtesy of Milly Forrest

Milly says a lot has changed in the week she's worked at the hospital.

"Now, they're treating every patient that comes into A&E as if they were COVID-positive. Everyone is now wearing protective clothing – because up until yesterday, porters weren't wearing protective gear unless they were transporting patients who had been confirmed positive.

"The hospital is calmer and there's a good rhythm to it now – no one's panicking quite as much. Everyone's really cheerful and smiley, and that's just been really lovely.

"I've actually really looked forward to coming in to work, which I was quite surprised about."

Alex Aldren, tenor

Tenor Alex Aldren originally trained as a doctor, but then decided to follow his first love: opera. Since training at the Royal Academy of Music Opera School, he has understudied roles at the Royal Opera House and the Garsington Opera Festival.

But for the last few weeks, Alex has been working in A&E departments at the Royal London Hospital, Whitechapel, Newham Hospital and Whipps Cross. Last week, he went viral for singing Puccini in his scrubs for a room of NHS staff.

"I was having a great time in the opera world, but then over the last few weeks something completely unprecedented in our lifetime came about – our first global pandemic in the last 100 years," he says in a video for Garsington Opera and the Royal Philharmonic Society (RPS).

Dr Opera talks to the RPS

You may well have seen tenor Alex Aldren on social media and even news programmes this week. We're so proud of him and all #HealthcareHeroes - thank you Alex! He trained as a doctor before embarking on a career in opera and was one of Garsington Opera's Young Artists. With performances cancelled across the world, he has returned to the NHS to help the fight against Covid-19. He's been working in A&E departments across in London. He took some time out of his busy schedule to talk to the Royal Philharmonic Society - watch it here!

Posted by Garsington Opera on Wednesday, 1 April 2020

"The opera world shut down and at the same time we were having this international health crisis, so it made perfect sense for me to go back to medicine and do my bit on the frontline.

"It's been a privilege to be part of the national effort against this horrible virus. Morale has been absolutely incredibly the professionalism of NHS staff is really, really inspiring.

"I'm missing my singing but every now and then I do a bit of singing on the ward anyway, just to keep people entertained and keep spirits up. I think that's our job as artists, we need to keep people inspired and happy, be the light at the end of the tunnel, and we'll get through this."

One of our SHO's today is Alex who's also an opera singer, returning to the NHS frontline during the COVID outbreak.

He's treating the team to some shows during quieter periods! Bravo! 🌹 pic.twitter.com/tVlsoYuVsm

— Russell (🧼 and 💧 and 🏡, k?) (@Medic_Russell) March 22, 2020

Alice Farnham, conductor

Opera conductor and Artistic Director of RPS Women Conductors, Alice Farnham, is volunteering for the NHS's 'check in and chat' service since all her concerts were cancelled.

"Like all of us, I find I have almost no work bar a little bit of online teaching that I'm doing, but there's a limit to what you can do as a conductor," she told the RPS.

"So, I've volunteered for the NHS. Obviously, I have no useful qualifications like nursing – but in fact, they need volunteers for non-specialist things like check in and chat. You can do it from your own home, calling up people who are very vulnerable, checking everything is OK.

"It's a useful thing and I guess as a conductor, hopefully I'm quite good at listening to people… let's hope.

"I know as musicians, we feel like we've been put on this world to entertain people, to make them happy and change their lives as performers.

"But unfortunately, at the moment that's really hard to do. So, let's try and do something completely different and get through it."
Want more like this? Click here to subscribe to Classic FM's newsletter, Notes, to get news, quizzes, exclusive competitions and more to your inbox!