Leading musicians pen open letter to Boris Johnson urging support for freelancers
25 March 2020, 13:08 | Updated: 25 March 2020, 13:42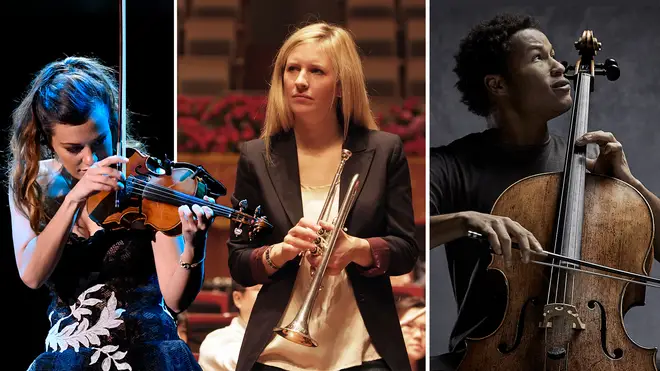 Alison Balsom, Nicola Benedetti, Sarah Connolly and Sheku Kanneh-Mason are among the leading classical artists and champions urging the UK government to rethink its approach to supporting freelancers.
Leading musicians have written and signed an open letter to prime minister Boris Johnson, urging him to support freelancers in the UK.
Writing in The Times today (Wednesday 25 March), trumpeter Alison Balsom, violinist Nicola Benedetti and mezzo-soprano Sarah Connolly have joined numerous other leading performers, composers and music industry champions to "highlight the devastating impact of COVID-19 on the lives of 4.8 million freelancers in the UK" and "urge the government to support" freelancers impacted by business closures, their own illness or self-isolation.
The letter points out that while the government has announced financial support packages aimed to help businesses and employed workers, the Prime Minister and chancellor Rishi Sunak have yet to take action to try and protect those who are self-employed or who work freelance.
It particularly draws attention to the plight of musicians, and reminds the prime minister that "music is integral to our human experience, and our creative industries are a significant force for good in our country."
Click here for the latest coronavirus advice from the NHS >
Read more: UK musicians have lost £13.9m in earnings due to coronavirus pandemic >
"Sir, We are writing to highlight the devastating financial impact of COVID-19 on the lives of 4.8 million freelancers in the UK, in particular the impact of musicians across our country," the letter reads.
"The chancellor has announced measures to protect employed works but there has as yet been no comparable action taken to address the challenges faced by the self-employed.
"In addition to the loss of income incurred while one is ill or self-isolating, there is also the huge loss of work itself. Extensive cancellations have resulted in a devastating loss of livelihood for thousands of artists, with, for many, projected income over the next six months plummeting to zero."
The letter goes on to say "freelancers are taxpayers too" and recommends that the government ensures temporary wage protection for the self-employed as "part of its emergency measures."
The letter cites Norway – where a crisis package has allowed workers to receive 80 percent of their average pay over the past three years – as an example of a country that has done this.
Ending with a reminder that music is "one of the fastest-growing parts of our economy", the letter is also signed by saxophonist Jess Gillam, soprano and conductor Barbara Hannigan, cellists Steven Isserlis and Sheku Kanneh-Mason, composer Anna Meredith, conductor Simone Young and 36 other signatories.
The letter comes after the Musicians' Union recently revealed that UK musicians have lost an estimated £13.9m in earnings – and counting – due to the impact of the spread of COVID-19 and measures taken in the face of the coronavirus pandemic worldwide.