UK musicians have lost £13.9m in earnings due to coronavirus pandemic
23 March 2020, 11:39 | Updated: 23 March 2020, 11:58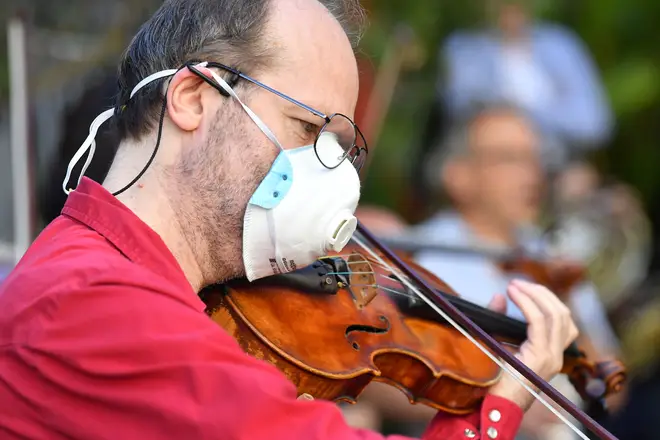 As UK musicians struggle to get by in the wake of COVID-19, the Musicians' Union is calling on the government to do more to support freelance workers.
UK musicians have lost an estimated £13.9m in earnings so far due to the impact of coronavirus, the Musicians' Union has revealed.
The organisation, which represents 32,000 people working in the UK music industry, surveyed more than 4,100 of its members, 9 in 10 (90 percent) of whom said they have already been affected. Job opportunities have also reportedly plummeted by 69 percent on the same time last year.
The union, which has pledged £200 grants for out-of-work musicians, is calling on the government to do more to support freelance workers.
General Secretary of the Musicians' Union, Horace Trubridge, said: "Music is one of the few certainties we can rely on to provide happiness and relief in tumultuous times. But musicians – whether they work in theatre, teaching, orchestras, gig-playing – will feel the full financial force of this global disaster.
"Already, we have seen job opportunities drop by more than two thirds, and sadly this will only accelerate. Whether it's the closure of venues, cancelling of events or closing of schools, there will be huge ramifications for musicians – many of whom are self-employed and have zero support to fall back on."
Click here for the latest coronavirus advice from the NHS >
Trubridge added: "We hope this fund goes some way to providing a small amount of relief to our members, but we urgently need the government to provide clarity on what wider support will be available and we call on the record industry to play its part too."
Read more: "Every musician I know is facing bankruptcy" – impact of coronavirus cancellations >
Musicians, who are heavily reliant on live gigs and teaching, have felt the deep financial impact of social distancing measures, concert hall closures and pupil isolation in the wake of the COVID-19 pandemic.
One member of the Musicians' Union surveyed said: "My livelihood has been wiped out. All my freelance tutoring in schools has been cancelled due to school closures and already I've lost all wedding gigs in April as a result of venues closing or couples postponing."
Speaking to Classic FM, British mezzo soprano Jennifer Johnston said most self-employed performs will face "major financial issues, even bankruptcy". She added: "Most performers live life on a financial knife-edge because if we don't work, we don't get paid".
Last week, the Chancellor of the Exchequer Rishi Sunak announced self-employed workers can now access statutory sick pay, which is £94.25 per week for up to 28 weeks.
Since the announcement, numerous online petitions have opened, calling for self-employed people to be included in the Chancellor's salary pledge which allows employees to access at least 80 percent of their salary.