'Uptown Funk' performed by this virtual orchestra is guaranteed to brighten your day
27 April 2020, 12:19 | Updated: 27 April 2020, 12:26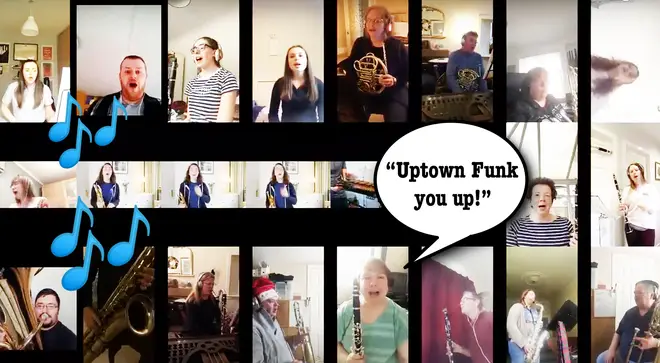 When in lockdown, an uplifting instrumental cover of one of the most cheerful pop hits of all time might be just what you need to stay motivated...
A Scottish orchestra is lifting people's spirits during the coronavirus pandemic with a cheery online rendition of 'Uptown Funk'.
Originally produced by DJ, musician and songwriter, Mark Ronson (who won the Academy Award for Best Original Song in 2019 for 'Shallow' from A Star Is Born), the pop-funk song became an instant hit with music fans thanks to its infectiously catchy melody, slick '70s style brass and Bruno Mars' unmistakeable vocal.
Now, the members of City of Glasgow Wind Orchestra have given us their own take on Ronson's 2014 release – and frankly, if it doesn't have you jumping off the sofa and dancing around your living room, we don't know what will.
In the video (watch in full below), the virtual performance kicks off with that memorable riff in the bass and steady foot tapping beat, courtesy of our friends in the percussion.
Click here to view the NHS's latest coronavirus advice >
Self-isolating choirs and orchestras are performing powerful at-home concerts during coronavirus outbreak >
Then, they're joined by the rest of the ensemble (and a few enthusiastic hand clappers) for a rousing cover of the jolly tune, which they've decided to rename 'Uptown Isolation' (we stan, guys).
At one point, they even set aside their musical instruments to belt out the words to Mars' popular lyrics: "Uptown funk you up, uptown funk you up".
Conductor Martin Thompson told The Glasgow Times: "We had all these shows planned and then suddenly they're cancelled. So we decided we'd put it together – 'Uptown Funk' is our encore song, so it was already in our repertoire.
Speaking about the recording, which took almost seven hours to edit, he continued: "It is quite time-consuming; we had to get everyone to film their own part because we're all in isolation and some people did it in one take, others took a few more. Not everyone is in the video and more would like to get involved, so we're looking at doing it again with another song.
"It's a bit of fun and an escape for people – we're bringing a little bit of joy! It's a way of keeping music going during these times."
Well Martin, we would have to agree. Excellent work, all!