A musical analysis of Lady Gaga and Bradley Cooper's 'Shallow' from A Star Is Born
6 January 2019, 08:43 | Updated: 24 June 2019, 09:53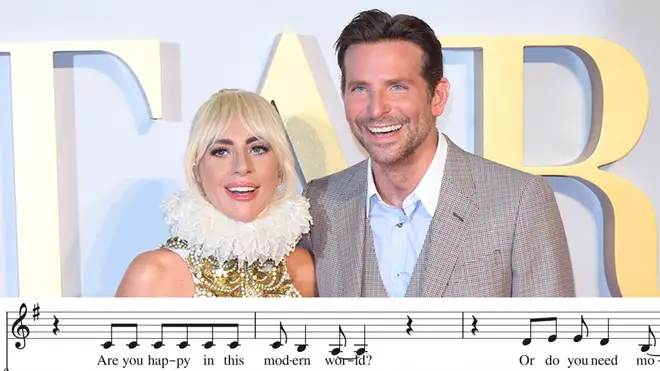 It's one of the biggest-selling songs of 2018 and has won a Golden Globe award, so let's take a closer look at why this hit single has struck a chord
Directed by Bradley Cooper and starring pop icon Lady Gaga, A Star Is Born is a heartfelt tale of addiction and doomed love.
The movie tells the story of country singer Jackson Maine (played by Cooper) and struggling songwriter Ally (Gaga), who after a chance encounter quickly form a close bond.
Jackson propels Ally to fame and we're led to feel hopeful for their future, but their relationship ends in tears as he struggles to fight his inner demons.
Since its release last October, the film and its original soundtrack have been topping charts all over the globe.
Sharing the same name as the movie, the soundtrack album includes the hit song 'Shallow' – a powerful pop ballad performed live on-set by Cooper and Gaga.
So, what is it about this moving melody that gives us all the feels?
Lady Gaga, Bradley Cooper - Shallow (A Star Is Born)
'Shallow' – a deeper meaning
This catchy song is the result of an epic collaboration between Bradley Cooper and Lady Gaga – but the duo's creativity didn't stop there.
Producer Mark Ronson, Dirty Pretty Things' Antonio Rossomando, Miike Snow's Andrew Wyatt and country music aficionado Lukas Nelson also contributed to the song's success.
Speaking to Zane Lowe on Beats 1 Radio, Gaga explained the significance of 'Shallow': "We made this for Ally and Jack. It's two people talking to each other about the need and the drive to dive into the deep end [of life and love] and stay away from the shallow area."
Verse one – and that unmistakeable intro
Inspired by Eric Clapton, the intro to 'Shallow' is a mellow acoustic guitar riff, providing a stunning musical contrast against Gaga's mighty vocals later on in the track.
Played at a gentle pace with frequent pauses and a time signature of 4/4, the song is relatively slow to start off with – mimicking the early stages of falling in love when a couple are still unsure of their feelings towards one another.
It lays the groundwork for Bradley Cooper's raw vocal, which appears in the first verse and complements his lyrics perfectly: "Tell me somethin' girl, are you happy in this modern world?"
Written in the key of G Major, the repeated rise and fall between notes G and E during: "Is there somethin' else you're searching for?" reflect Ally's ongoing struggle to make it as a musician.
At this point in the movie, Cooper's character Jackson questions Ally's ambitions and encourages her to follow her dreams.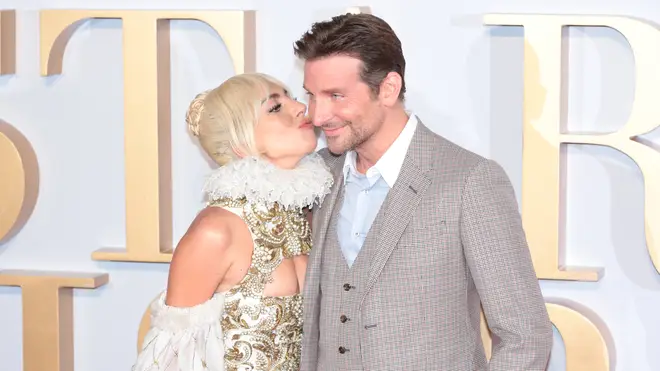 Now for the refrain
Next, we hear Jackson sing:
"I'm falling
In all the good times I find myself
Longin' for change
And in the bad times I fear myself"
Ironically, "I'm falling" is an ascending scale – but the lyric has a double meaning.
Although Jackson is beginning to fall in love with Ally, his hedonistic lifestyle will eventually be his downfall.
Find out more about all the nominees for Best Original Song at this year's Golden Globes >
Enter Lady Gaga…
For verse two, the main melody is repeated but the instrumentation changes – this time with added strings as a cello begins to play on the word 'void'.
The use of vibrato and sustained notes are intended to add warmth as Ally sees through Jackson's tough persona, while she asks him: "Ain't it hard keeping it so hardcore?"
Then, the refrain reappears but with rich piano chords building texture as both the song and the characters' emotions evolve.
That ALMIGHTY chorus
This is where Gaga really gives it some gusto.
Sung forte (loud), the chorus is where we truly appreciate the meaning of this song:
'I'm off the deep end, watch as I dive in
I'll never meet the ground
Crash through the surface, where they can't hurt us
We're far from the shallow now.'
Here, Ally compares falling in love to diving into water. The "deep" end offers hope and potential, whilst the "shallow" end symbolises trouble in her relationship with Jackson – an omen for the film's heart-breaking ending.
The hard-hitting reality of the story is portrayed in the post-chorus, with repeated lyrics "In the shallow, shallow" sung by both characters, and a descending figure in the main melody reflecting the ebbs and flows of water (and of life).
The grand finale
As the song draws to a close, we hear bass drums kicking in with crashing cymbals to echo Ally's powerful words: "Crash through the surface".
This is especially poignant here as before she meets Jackson, Ally is rejected by the music industry over her looks – but now we are reminded that love and talent are more than just skin deep.
'Shallow' won 'Best Original Song' at the Golden Globes, which recognises outstanding achievements in film and took place on Sunday, 6 January at the Beverly Hilton hotel in Los Angeles.