Legendary soprano Montserrat Caballé dies aged 85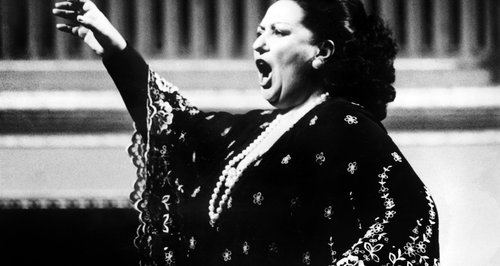 The Spanish opera star, known to her fans as La Superba, was famous for her performance of Italian opera and reached a wider audience when she duetted with Freddie Mercury for the Barcelona Olympics.
Born in Barcelona in 1933, Caballé graduated with a gold medal from the city's Liceu Conservatory in 1954. She moved to Basel in Switzerland, where she made her professional debut two years later as Mimì in Puccini's La bohème. With the Basel Opera company between 1957 and 1959, she sang Richard Strauss's Salome in German, an unusual role for a Spanish singer, but which led the way to her next engagement at the Bremen Opera, from 1959–1962.
Watch Montserrat Caballé's stunning performance of Bellini's 'Casta Diva' >
In 1962, Caballé returned to Barcelona and debuted as Strauss's Arabella at the Liceu. Her international breakthrough came in 1965 when she substituted for Marilyn Horne in a semi-staged performance of Donizetti's Lucrezia Borgia at New York's Carnegie Hall, which earned her a 25-minute standing ovation. While she had to learn the role in less than one month, her performance made her famous around the world. Later that year, she made her debut at Glyndebourne singing in Richard Strauss's Der Rosenkavalier and portraying the role of Countess Almaviva in Mozart's The Marriage of Figaro.
In 1967, she sang three Verdi heroines at the Met: Leonora in Il trovatore, Desdemona in Otello, and Violetta in La traviata. The last role in particular won her further acclaim with American critics and audiences. In 1969, she sang Elisabetta of Valois in an all-star production (including Plácido Domingo) of Don Carlo at the Arena di Verona. Her high B on the final "ciel" at the end of the opera lasted more than 20 bars – up to the final chord from the orchestra. What's more, Ii these performances she was forced to perform on crutches because of an accident earlier that year in New York City.
In 1972 she made her first appearances at Covent Garden and the Lyric Opera of Chicago, both in La traviata. In 1977 she made her debut with the San Francisco Opera in the title role of Puccini's Turandot. She returned there on ten more occasions over the next decade.
As her voice matured, Caballé moved into more dramatic roles, singing Tosca in San Francisco with Pavarotti, Norma in Madrid, and Adriana Lecouvreur at the Met opposite José Carreras.
Caballé recorded both the title role in Norma and later the role of Adalgisa - to Joan Sutherland's Norma. She is one of the most youthful-sounding Adalgisas on record, despite the fact that she was over 50 years old at the time.
Caballé's duet with Freddie Mercury of Queen, Barcelona, became a hit single in 1988, accompanied by an album of the same name. The title track later became the anthem of the 1992 Summer Olympics which was hosted by Caballé's native city, and appeared again in the pop music charts throughout Europe. She also performed the song live, accompanied by a recording by the late Mercury, before the 1999 UEFA Champions League football final in Barcelona. She also worked with Greek composer Vangelis in 1995 for his album El Greco, dedicated to the painter of the same name.
Caballé was committed to various charities. She was a UNESCO Goodwill Ambassador and had established a foundation for needy children in Barcelona.
She hit headlines in 2015 when she was given a six-month suspended jail sentence for tax fraud.
Her funeral will be held in Barcelona on Monday.