Almost half of working UK musicians earn less than £14,000 a year, shocking new census reveals
12 September 2023, 17:21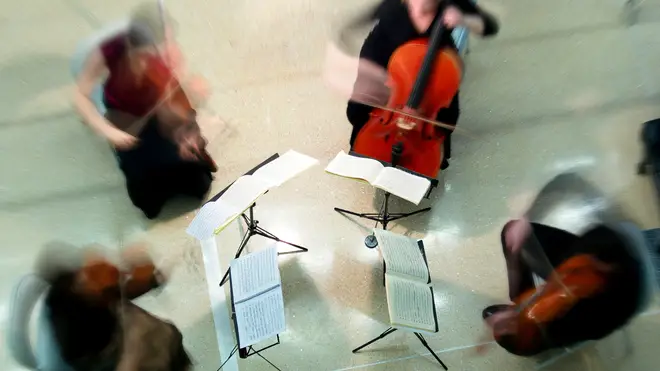 In the largest survey of its kind, almost 6,000 musicians reveal the difficulties they face working as performing artists in the UK today.
Almost half of all working musicians in the UK are earning less than £14,000 from music, a shocking new survey has revealed.
The Musicians Census, released on Monday 11 September, surveyed almost 6,000 musicians, making it the largest report of its kind.
Conducted jointly by Help Musicians and the Musicians' Union, the census provides a detailed insight into the industry's demographic makeup, as well as identifying entry and progression barriers.
One notable issue attained from the Census was that of musician's financial strain. According to the census, the average annual income working musicians make from music is £20,700; this is more than £12,000 less than the average UK salary of £33,402.
Sarah Woods, chief executive of Help Musicians, told Classic FM, "The results show us that over half of musicians need to sustain their career by sourcing other forms of income outside of music".
Read more: Nearly half of UK musicians have lost work in Europe following Brexit, stark report reveals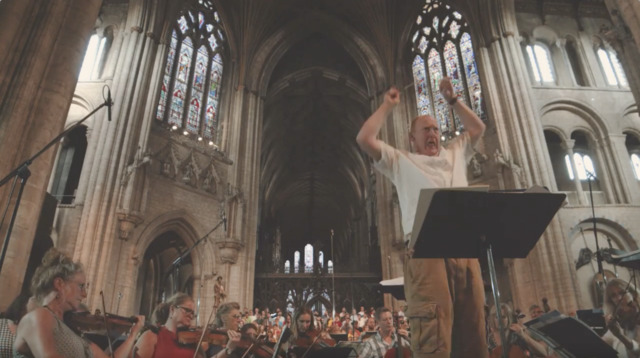 Parry's I Was Glad performed by over 400 musicians!
Breaking down the average earnings of UK musicians, the census found that 43 percent earned less than £14,000 from music, 28 percent earned between £14,001 and £34,000 and just 18 percent earned above £34,000 solely from music. The remaining 11 percent did not disclose their earnings.
Another stark statistic revealed from the census was the appearance of a gender pay gap in this top earning bracket.
While only 152 musicians (3 percent), reported earning £70,000 or more from music each year, 79 percent of these were men and only 19 percent were women.
Pay gaps were also found to be penalising LGBTQ+ professionals and disabled musicians. A pay gap of £1,700 was found between heterosexual musicians (£31,200) and LGBTQ+ musicians (£29,500) who earn their whole income from music.
Only a third of disabled musicians reported that they made all of their income from music, and a pay gap was found of around £4,000 between disabled and non-disabled musicians.
Read more: Pianist with congenital hand disability astounds with Einaudi melody in viral TikTok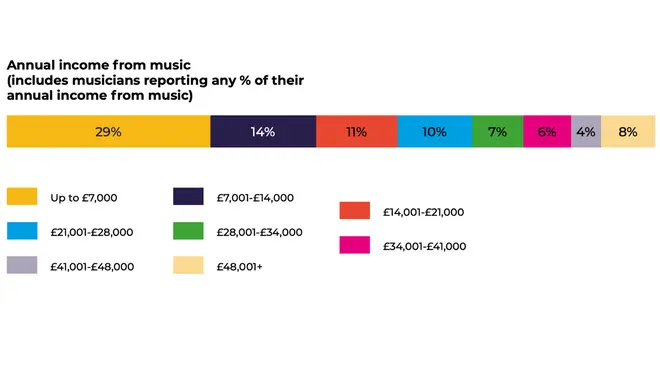 "Being a musician has always been a challenging career," Woods told Classic FM. "Life as a musician can be precarious and the Census has given us more information to better understand the issues that underpin that precarity.
"It's sadly not surprising that 46 percent of musicians reported cost-related barriers limiting their career."
The census found that over half (53 percent) of musicians needed to earn extra income outside of music to sustain their careers. The report also highlighted that this need to access other forms of work, could have a significant impact on musicians' long-term mental health.
17 percent of musicians reported being in debt, while 23 percent said that they did not earn enough to support themselves or their families.
Naomi Pohl, general secretary of the Musicians' Union, told Classic FM: "Musicians' pay has not kept up with inflation.
"This is particularly stark in areas of music where public funding has stagnated or reduced, along with work opportunities, such as in orchestras and music education."
Read more: One in four professional musicians are skipping meals due to the cost of living crisis, survey reveals
Epic 'Lord of the Rings'! Orchestra turns Royal Albert Hall into Middle Earth | Classic FM Live
Despite the challenges highlighted in this Census, the report ends by highlighting that 81 percent of respondents said they will still be in the music industry in five years' time.
In a statement released with the Census on Monday 11 September, Pohl wrote, "Even though the Musicians' Census paints a challenging landscape for musicians, I believe the MU has never been in a better position to tackle them head on."
Woods added that while the data shows some "big challenges" that musicians face, "it also highlights how committed musicians are in continuing to produce the music we all know and love, demonstrating how resilient our population of musicians truly is".