Alexander Armstrong completes his Musical Voyage charity challenge for Global's Make Some Noise!
25 September 2023, 11:30 | Updated: 6 October 2023, 20:53
Alexander Armstrong's week of classical challenges, for charity! | Classic FM
Our (very brave) weekday morning presenter has completed his epic journey of musical challenges!
In 2018, Aled Jones went 'Wing Walking in the Air'. In 2019, Tim Lihoreau of Classic FM's More Music Breakfast lugged a piano through the streets of London.
And this year, Alexander Armstrong has been challenged to an epic new fundraiser for our charity, Global's Make Some Noise!
Following his successful 24-hour music marathon in 2022, where he set a new world record for the most concerts given in 24 hours, this year Alexander took on a 'Musical Voyage' challenge sponsored by Viking.
Every day from Monday 2 October, during his midmorning programme on Classic FM, Alexander was presented with a brand new musical challenge, each representing a different location around the world, and each representing a new trial under time pressure.
It was all to raise money for Classic FM's charity, Global's Make Some Noise – with over £100,000 already raised!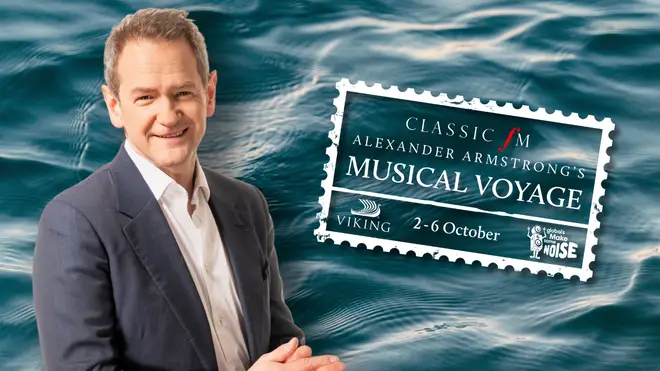 Day 1 – Norway
On Monday, Alexander's destination was Norway! He was challenged to conduct an orchestra playing some of Norway's most famous music – Grieg's magnificent 'Morning Mood'.
Here he is on the podium, with the London Choral Sinfonia at Cadogan Hall...
Day 2 – Antarctica
Tuesday saw Alexander challenged to face the frozen lands of Antarctica... by singing to an audience of penguins at London Zoo!
He serenaded the (very friendly) feathered friends with an ensemble of singers from leading choir and the Voices of Classic FM, The Sixteen.
Day 3 – Italy
Alexander was challenged on Day 3 to an Italian themed musical challenge... learning to play a piano duet with Classic FM's Composer in Residence, Debbie Wiseman!
Will he manage it?
Day 4 – Austria
On the fourth day of his Musical Voyage challenge, Alexander was sent to 'Austria' to learn how to waltz in just 30 minutes!
Here's a preview of his time at The Dilly, with the help of Inspiration 2 Dance London. One, two, three...
Day 5 – Homeward Bound!
Alexander was joined by the Sea Shanty Collective and Together Project for an epic sea shanty to bring him back on home soil at the end of his Musical Voyage. Drink up, me hearties...
These challenges will all be inspired by the incredible journeys offered by Viking, who take curious travellers on journeys across all seven continents, with music and cultural experiences at the heart of every voyage.
All funds raised by Alexander's challenge go to Classic FM's charity, Global's Make Some Noise, which supports hundreds of small and local charities across the UK providing shelter and safety, supporting physical and mental health, preventing isolation and improving life skills.
This year is our 10th appeal, and in that time you have helped us change the lives of over 175,000 people and be here for 440 critical projects in communities across the UK.
Make Some Noise is helping people with physical disabilities, homelessness and loneliness, as well as people living with serious mental health issues and tackling domestic abuse.
How to donate to Global's Make Some Noise
Phone: 0345 949 5000. Calls are charged at your local network rate.
Text: To donate £40, £30 or £20 text VOYAGE40, VOYAGE30 or VOYAGE20 (without a space) to 707 66.
Cheque: Post a cheque to Classic FM 30 Leicester Square London WC2H 7LA.
100% of your donation will go to Global's Make Some Noise. 16 and over only. Please seek bill payer's permission. Standard network charges may apply. T&Cs are at makesomenoise.com.