Watch Aled Jones wing walking in the air for Global's Make Some Noise
20 September 2018, 08:00 | Updated: 20 September 2018, 12:11
Our very own Aled Jones took to the skies for a very special challenge…
Classic FM presenter Aled Jones has faced his fear of flying by completing a white-knuckle wing walk challenge – and in doing so, has raised thousands of pounds for the charity Global's Make Some Noise.
Thirty-three years since the release of Walking in the Air, which launched Aled's multi-million selling career, the song took on a whole new meaning when he took to the skies above Gloucestershire for his hair-raising flight.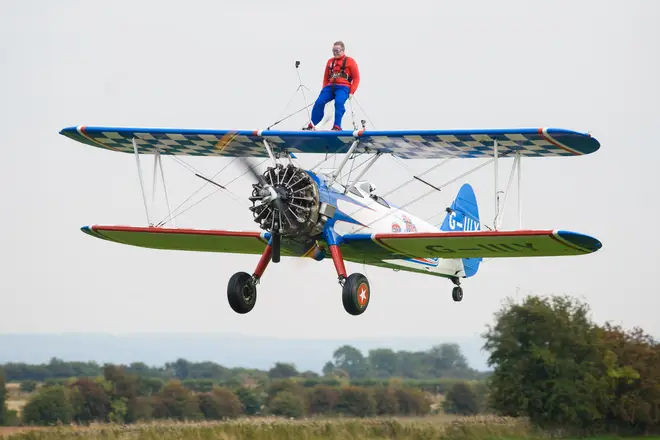 Aled put Classic FM's listeners in control of his nail-biting challenge which meant the more money he raised for Global's Make Some Noise, the higher, faster and steeper the pilot flew. With more than £14,000 donated so far, Aled was given a rollercoaster experience, as he reached a height of more than 6,500ft and speeds of 130mph, combined with 90 degree banks and low passes.
Aled said: "It was without doubt the scariest thing I have ever done in my life. Just before take off, I felt sick to my stomach, my heart was pounding and I thought, 'Why am I standing on the wing of a plane?'. The last time I was that nervous was my first week of Strictly!
"The flight was unbelievably windy and I began to relax until we did these 90 degree banks. I thought I was going to fall out! I tried to sing one line of Walking in the Air, but it was definitely the worst rendition I've given in my life. The whole wing walk was a mixture of fear and exhilaration and I've never been so relieved to be back on the ground. Thank you to everyone who has donated to Global's Make Some Noise."
To donate £5, £10 or £20 to Global's Make Some Noise text ALED5, ALED10 or ALED20 respectively to 70766. 100% of your donation will go to Global's Make Some Noise. Some networks may charge you a standard network rate to use this donation service. If you're under 16, then ask the bill payer's permission before texting. Read full 'Text to Donate' Terms & Conditions at makesomenoise.com