Alexander Armstrong sets world record for singing 24 concerts in 24 hours in charity Music Marathon
1 October 2021, 13:06 | Updated: 6 October 2021, 16:39
Alexander Armstrong challenged himself to sing at 24 concerts in 24 hours – all to raise money for Classic FM's charity, Global's Make Some Noise.
Classic FM's Alexander Armstrong just performed at 24 concerts in a row, setting the world record for the most concerts performed in 24 hours!
The presenter and number-one selling classical singer took on the tough challenge to raise money for Classic FM's charity, Global's Make Some Noise, which improves the lives of disadvantaged people by supporting small and local charities across the UK.
Powered by sheer determination and his bass-baritone voice, Alexander pushed himself to the limits – both physically and vocally – when he performed at a variety of locations across London and the South during his 24-hour marathon, which began at 12pm on Thursday 30 September, and ended at 12pm on Friday 1 October.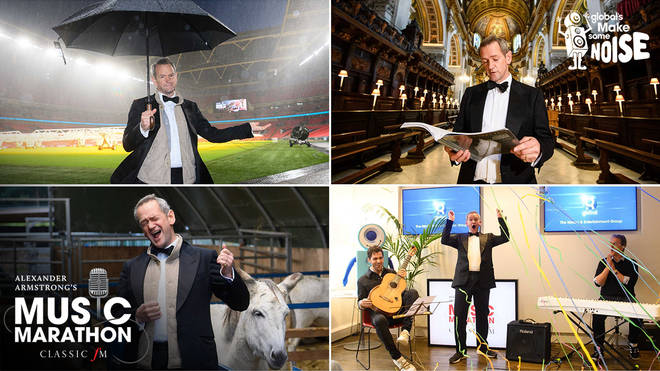 24. Duet with guitarist Miloš
24 concerts in 24 hours – rounded off with a duet with star guitarist, Miloš. And that's a wrap!
23. Forget Me Not Chorus
A virtual singalong for the penultimate concert!
22. London Arboretum
22 down, 2 to go...
21. London Transport Museum
Time is running short, with three concerts to go in the final hour...
20. Grimsdell, Mill Hill Pre-Preparatory School
Some enthusiastic young audience members were there to support, at Xander's 20th concert.
19. Belmont Farm
Starting to feel a little 'hoarse' at his 19th concert hall...
18. Wembley Stadium
Kicking off the second day in style, at one of football's greatest stadiums.
17. Luton Airport
Alexander's performance landed very well at his next concert hall...
16. Courtyard Hotels
A musical nightcap for a few unsuspecting guests...
15. Cadogan Hall
From the Royal College to Cadogan Hall, Alexander's challenge is taking him to music's most hallowed halls.
14. 6 Hamilton Place
Onto concert number 14, and Alexander's energy is showing now sign of waning...
13. Bel Canto singing restaurant
Into the darker hours of the day, and Alexander and Harry are officially past the halfway mark.
12. Addison Lee
Making music with a view!
11. Royal College of Music – Britten Theatre
Next stop, RCM's beautiful Britten Theatre.
10. Queen's Chapel of the Savoy
A stunning moment of choral and organ music from Master of the Music Philip Berg, organist Martyn Noble, Gareth Treseder, Edward Hughes, Timothy Hamilton – and of course, special guest, Alexander Armstrong.
9. Brydges Place Club
Next stop is Brydges Place Club. 15 concerts to go...
8. Roadside singalong
Serenading passers-by, all to raise money for Global's Make Some Noise.
7. McAleer & Rushe Construction Site
Hard hats on, for Alexander's seventh concert hall of the day!
6. The Postal Museum
Alexander's next envelope has sent him to a concert at The Postal Museum, with Harry the Piano on keys.
5. St Paul's Cathedral
Time for some music in the hallowed halls of St Paul's.
4. Uber Boat by Thames Clippers
All aboard! Alexander's fourth concert stage is a Thames clipper boat...
3. Branch Austin law firm
For his third concert, Alexander serenades staff at Branch Austin law firm during their lunch break...
2. Piccadilly Circus station
A quick number at Piccadilly Circus Station with Harry the Piano, thanks to Transport for London!
1. Voces8 at The Dilly London
Alexander begins begins his epic challenge with the incredible voices of Voces8 at The Dilly Hotel, London.
"I think it's only just dawning on me what I've signed up for," Alexander said, a couple of weeks before the beginning of the challenge. "There I was thinking it'd be quite fun to get out and 'do some singing' but the scale of the thing is only now becoming clear.
"There are some world famous venues on that list as well as some world firsts, I don't believe anyone's done the Luton Airside Apron for example, but 24 gigs in 24 hours is going to need all the strength and humour I can muster. The support I am getting is incredible though. It'll be my listeners that get me through it."
Philip Noyce, Classic FM's Managing Editor, said: "The past eighteen months have proved incredibly challenging for disadvantaged people across the UK, with many dependent on local community projects and charities.
"Alexander really does have a tough 24 hours ahead of him, which will test his endurance and strength, not to mention his vocal skills, but through his music marathon and the generosity of Classic FM's listeners, Global's Make Some Noise will continue to support small charities and improve people's lives."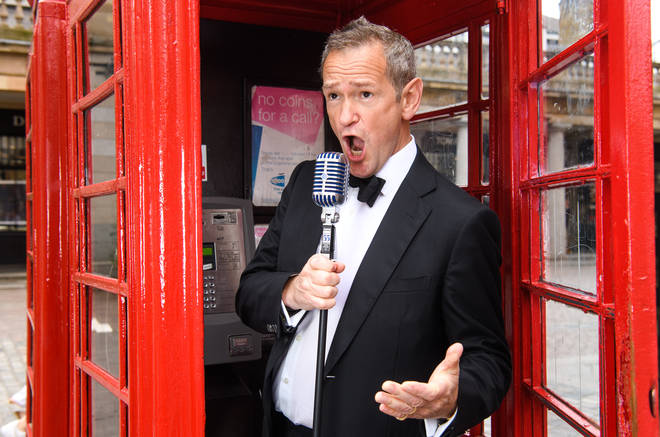 Show your support
You can help Alexander by donating, with every pound making a huge difference to the projects supported by our charity, Make Some Noise.
To donate £10, £20 or £30 to Global's Make Some Noise text SING10, SING20 or SING30 respectively to 70766. 100% of your donation will go to Global's Make Some Noise. Some networks may charge you a standard network rate to use this donation service. If you're under 16, then ask the bill payer's permission before texting. Read full 'Text to Donate' Terms & Conditions at makesomenoise.com.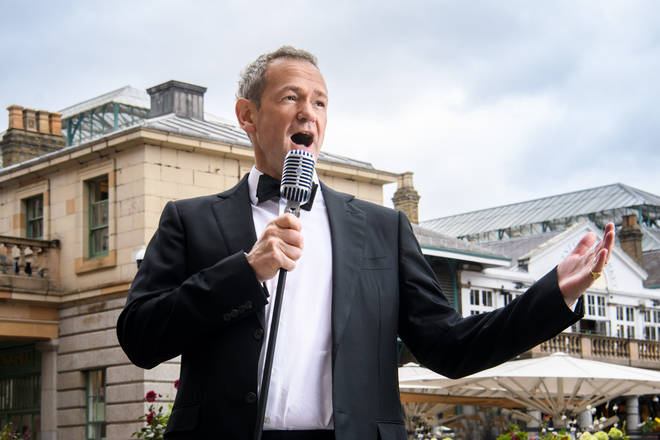 Classic FM's charity
Global's Make Some Noise improves the lives of disadvantaged people by working with small charities across the UK.
The money raised from Alexander Armstrong's Music Marathon will support crucial services at 100 small charities, including food banks, mental health and domestic violence helplines, carer support, community projects and employment programmes.
To follow Alexander Armstrong's Music Marathon, listen to Classic FM on 100-102 FM, DAB digital radio, on Global Player on your smart speaker ("play Classic FM"), iOS or Android device and at Classic FM.com. Follow on Classic FM's socials by searching for @XanderArmstrong's #MusicMarathon @ClassicFM. And you can donate and find out more here.