AGT violinist Tyler Butler-Figueroa blows judges away with Ariana Grande cover
4 September 2019, 11:47 | Updated: 4 September 2019, 13:48
The young violinist and cancer survivor received a Golden Buzzer from Simon Cowell earlier in the series – and now he's impressed everyone all over again with his stunning interpretation of Ariana's electro-pop hit.
AGT's Tyler Butler-Figueroa has blown the show's panel of judges and audience away with a spectacular cover of Ariana Grande's 'Break Free' for the violin.
The talented violinist is already a firm favourite with Simon Cowell, who gave him the Golden Buzzer earlier in the series – and yesterday, he returned to LA's Dolby Theatre for the semi-finals.
Read more: AGT's Simon Cowell praises 'extraordinary' 11-year-old cancer survivor violinist
Surrounded by flashing glowsticks and fellow cancer survivors, Figueroa lifts his bow and begins to play as he makes his grand entrance (see video above).
Walking towards the stage, he performs an energetic rendition of Ariana's 2014 electro-pop hit, which originally featured Russian-German music producer Zedd and made it to number four on America's Billboard Hot 100.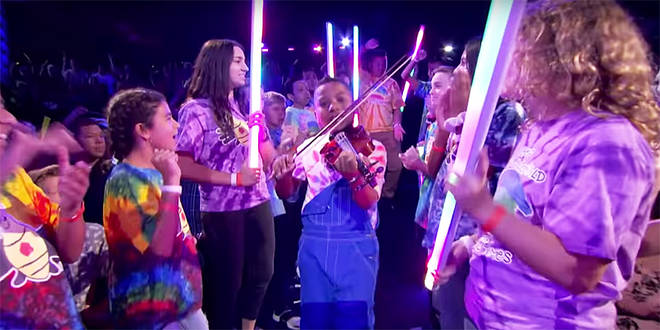 Guest judge Sean Hayes, known for his role as Jack McFarland on popular TV sitcom, Will & Grace, was clearly impressed by the young musician's vibrato and vigour, saying: "The fact that you can jump up and down and still hit the right notes while you're playing blew my mind away.
"I play the piano and when you play the piano the note you hit is the note you get. But I hope people understand how difficult it is to find the note on the violin and you make it look so easy. You're brilliant, absolutely."
Simon Cowell added: "Tyler, I just want to say something very, very quickly. Your story is unbelievable and we've talked about this a lot. But now I want to talk about your musicianship.
"Tonight you showed just what a brilliant musician you are, what a great showman you are, and just how gutsy you were just then to put on a performance which defines the word joy and talent. My huge congratulations. I think that's gonna put you in the final."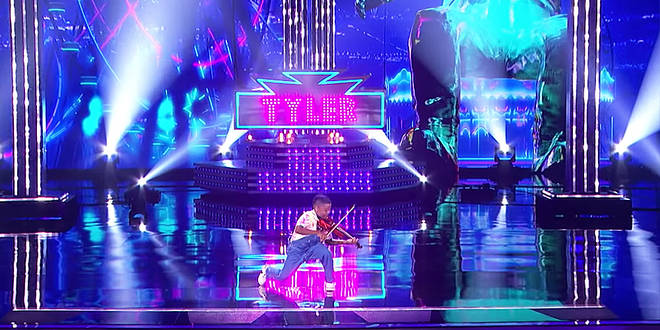 American actress, activist and author, Gabrielle Union, who joins this year's panel of judges, also enjoyed Figueroa's interpretation of the Ariana track.
She said: "Oh my gosh, Tyler, what you have done for this audience, to fill it with so many kids, survivors like you, this has been truly, truly magical. Everything you get you absolutely deserve. You are brilliant, young man."
Out of 11 acts, only five will make it to the finals of the show in their pursuit of becoming this year's AGT champion.
Watch America's Got Talent on NBC next Tuesday at 8pm.