Who is Tyler Butler-Figueroa? Meet the 11-year-old cancer survivor violinist on AGT
11 February 2020, 16:31 | Updated: 11 February 2020, 16:36
Young violinist Tyler Butler-Figueroa, a standout contestant in the 2019 season of America's Got Talent, is now competing in the finals of AGT: The Champions.
Tyler Butler-Figueroa is a young violinist on America's Got Talent, whose cover of Kelly Clarkson's 'Stronger' earned him Simon Cowell's coveted Golden Buzzer.
Hailing from North Carolina, Tyler was bullied by classmates after being diagnosed with leukaemia aged just four and a half.
Before his first AGT audition, Tyler said: "I just didn't want to be the kid with cancer. So now, I'm the kid who plays the violin."
According to TMZ, the 11-year-old musician is on the cusp of landing a record deal. He could allegedly get a $100,000 advance on his first album if he's declared the winner of season 14.
After his first audition, Simon Cowell tweeted: "I am always amazed every year who we meet on our Shows. And I would love you to meet Tyler and this is his Golden Buzzer moment."
Who is Tyler Butler-Figueroa?
Tyler is an 11-year-old American violinist and fifth-grader at Walnut Creek Elementary in North Carolina, US. He started playing his instrument when he was seven and a half years old.
"I wanted to start playing the violin because I was being bullied in school," Tyler said in his first audition for America's Got Talent. "It's because I had cancer, I almost died."
"The doctors treated me with chemotherapy. When I lost my hair, I was really sad and embarrassed at the same time to go to school. They used to make fun of me and laugh at me because I was different. They would spread rumours to say that my cancer was contagious, and they all wanted to stay away from me," Tyler continued.
Read more: 10-year-old opera singer Emanne Beasha wows AGT judges with beautiful soprano aria >
His mother, Kisua, added: "One day, Tyler saw a flyer at his school and it said, 'After school programme – free violin lessons.' He said, 'Mom, I want to do it.' But no one in our family plays an instrument… and the violin?!
"Once he started that class, it was like a sunshine. He was just full of energy and happy. I was like, 'I've got my son back.'"
Tyler, who has been in remission for four years now, received a standing ovation from the audience and four judges after his first audition.
"You are an extraordinary young man. We hear too many stories about people being bullied, but I can tell you one thing: most people are bullied because they're better than the people who bully them," Cowell told Tyler.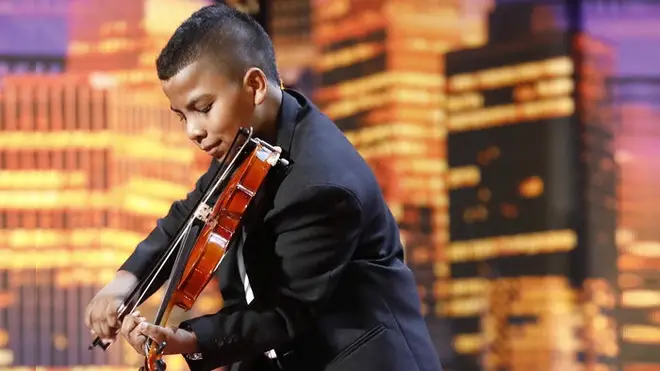 Will Tyler win America's Got Talent: the Champions?
Audiences love him – but Tyler is up against some stiff competition in the final.
The winner will be revealed next Monday (17 February).