6 incredible high G notes sung by mighty baritones
12 August 2019, 15:54 | Updated: 30 September 2020, 17:12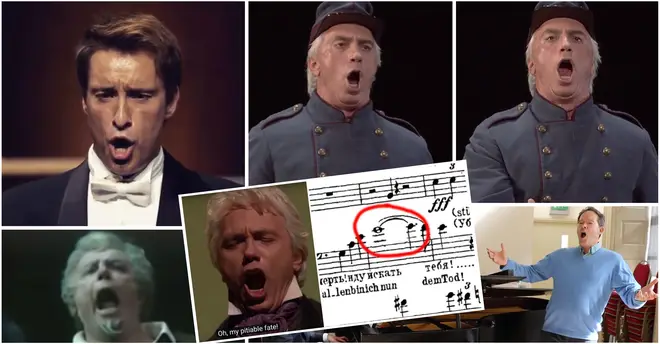 Forget those high Cs in the tenor lines, the real thrill comes from a bari-hunk clenching every muscle in their frame to power out a high G at the top of their register.
A high G in a Bel Canto cadenza

The Bel Canto operas of the early 19th century were characterised by beautiful, lyrical and highly virtuosic singing. Here's the young Ukrainian baritone Yuriy Yurchuk singing a glorious G in the cadenza to 'Ah, Per Sempre' from Bellini's I Puritani. He's worth a follow on Instagram too!

The incredible sound of Dmitri Hvorostovsky

Faust - 'Avant de quitter ces lieux' (Dmitri Hvorostovsky, The Royal Opera)

The late Dmitri Hvorostovsky had some of the best and most powerful high notes in the business. Valentin's aria from Gounod's opera Faust is an absolute show-stopper with an awe-inspiring tonal climax, and mighty Dmitri belts it out with awe-inspiring force and beauty. How he is missed.

A Rachmaninov belter from Gerald Finley

The Canadian singer is one of the finest baritones of our time. Here's a high G from an incredible video we made with him recently, in which he sings Rachmaninov's hugely virtuosic song 'Spring Waters' with finger-blurring pianist Alisdair Hogarth of The Prince Consort at Trinity Laban.

The devastating high notes in the finale of Verdi's Rigoletto

Sutherland & Pavarotti in Rigoletto III (Finale)

This title role is one of the best sings for a baritone and the ending, where he loses his beloved daughter, Gilda, is one of opera's most gut-wrenching finales. And of course it has a glorious host of high notes. Here's legendary Verdi baritone Leo Nucci, showing us how it's done.

The most brilliant baritone aria of all?

The Barber of Seville "Largo al factotum" aria | Lucas Meachem, baritone

Rossini gives us everything in this laugh-a-minute aria: huge jumps across the baritone's range, virtuosic runs, hilariously rapid-fire tongue-twister lyrics, and of course some huge high notes, reaching high Gs and even an A. Here's American baritone Lucas Meachem in an absolute belter of a show.

The finale of Tchaikovsky's Eugene Onegin

[SUB ENG] Evgenij Onegin - Final Scene: Dmitri Hvorostovsky & Renée Fleming

The heartbreaking conclusion to the great opera, and it all ends with a Onegin bellowing out an anguished high G. Power, emotion and some of the greatest music ever written. Just devastating.