Who is Idina Menzel? The Broadway singer and actor known for Frozen and Glee
9 February 2020, 23:30 | Updated: 10 February 2020, 09:19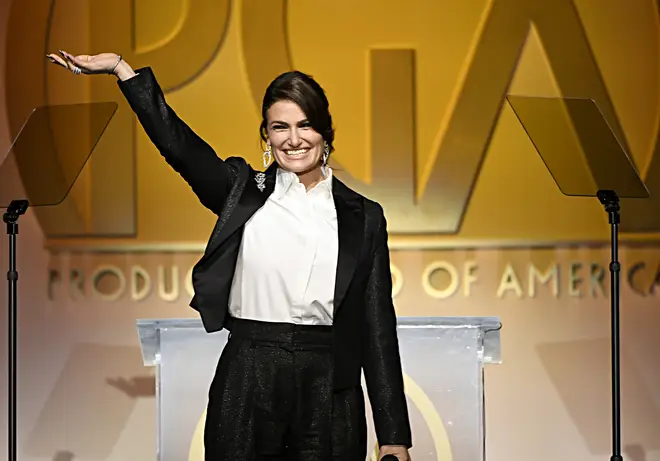 Meet the American actor, singer and songwriter known for her appearances on Broadway and in 'Glee' and 'Frozen'.
Idina Menzel is an American actor, singer and songwriter. She was born in Manhattan, New York City, in 1971, and grew up with her parents – Helene, a therapist, and Stuart, a pyjama salesman – and her younger sister, Cara.
When she was 15 years old, Menzel started working as a wedding and bar mitzvah singer, and continued this work throughout her student days at New York University's Tisch School of the Arts, where she studied Drama.
What Broadway shows has Idina Menzel been in?
Menzel rose to fame after appearing in the Broadway rock musical, Rent – her spectacular performance as Maureen Johnson earning her a Tony Award nomination in 1996.
She was later cast in the role of Elphaba in Stephen Schwartz's musical, Wicked, and she won Best Actress in a Musical at the Tony Awards 2004 for the role. She also performed the Wicked songs 'Defying Gravity' and 'What I Did For Love' for President Barack Obama at the White House in 2010.
Read more: Idina Menzel, Cynthia Erivo and Chrissy Metz among the artists performing at the Oscars 2020 >
Who did Idina Menzel star as in Frozen and Glee?
Moving on from her early career in musical theatre, Menzel starred on American musical dramedy TV series, Glee, between 2010 and 2013. She was cast in the role of Shelby Corcoran, the coach of rival show choir to New Directions (the show's main group), Vocal Adrenaline.
When first season aired, Glee became an instant hit with TV audiences, earning four awards at the Golden Globes and 19 Emmy Award nominations.
Then in 2013, Menzel sang the Oscar- and Grammy-award winning song, 'Let It Go', which reached number 5 on the Billboard Hot 100 chart, making her the first actor to reach the top 10.
The powerful song featured in Disney's CGI-animated movie, Frozen, which tells the story of fearless princess Anna who sets off on a journey to find her sister as she battles with the challenges her icy powers bring.
The film was a huge success – and in 2019, Menzel reprised her voice role as Elsa in Disney's charming sequel, Frozen II.
Read more: Here's why Defying Gravity makes your heart race every single time >
What other songs has Idina Menzel recorded?
In 2017, Irish songwriter Jimmy Walsh revealed that in 1992, Menzel had recorded a demo for him of the song 'In Your Eyes' – and the catchy tune went on to win the Eurovision Song Contest for Niamh Kavanagh a year later.
A keen songwriter, Menzel went on to produce and record her debut album, Still I Can't Be Still, via Hollywood Records in 1998, and has since released several other albums, including Here (2004) and I Stand (2008). Her latest solo album is idina, which she recorded in 2016.
She has also contributed to the soundtrack for TV show Desperate Housewives, and in 2007 was asked to record the duet 'What If' with X Factor runner-up, Rhydian Roberts.
Listen to Idina Menzel on Spotify:
Does Idina Menzel have a son?
In 2003, Menzel married actor Taye Diggs after they met on the original production of Rent, where Diggs played the role of landlord Benjamin Coffin III.
She gave birth to their son, Walker Nathaniel Diggs, in 2009.