VE Day 75: 14 pieces of music to commemorate the 75th anniversary of Victory in Europe
8 May 2020, 10:22 | Updated: 8 May 2020, 10:26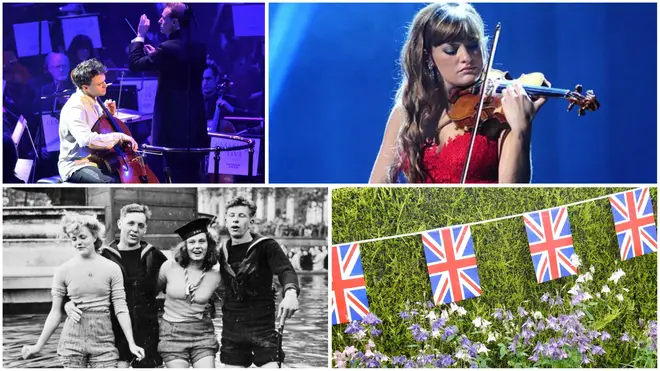 From rousing fanfares and popular hymns to beautiful ballads from some of the world's best-loved singers, here's the perfect playlist for celebrating VE Day 75.
This Friday (8 May) marks the 75th anniversary of Victory in Europe prevailing at the end of the Second World War.
Music is as powerful for evoking nostalgia and memories, as it is the right mood for celebration or sombre commemoration.
So we've put together a selection of the best wartime songs, military tunes, film soundtracks and nostalgic wartime music to help you enjoy the day.
Read more: Join Classic FM's 'stay at home street party' for VE Day 75 >
Beethoven's Symphony No. 5

Ludwig Van Beethoven's 5th Symphony in C Minor (Full)

Beethoven's majestic Fifth Symphony became a powerful symbol for the Allied forces during the Second World War. Its famous four-note intro and short-short-short-long rhythmic pattern corresponded in Morse code to the letter 'V' for Victory – a recognised symbol of the war effort made famous by Sir Winston Churchill.

Coates' 'The Dam Busters' Main Theme

"Dambusters Theme" - Royal Air Force March

Also known as 'The Dam Busters March', this catchy tune became instantly popular with audiences after featuring as the main theme to the 1955 British war film, The Dam Busters. Composed by Eric Coates, the music has become associated with military flypasts in the UK, during which it is often played, making it the perfect choice of song for VE Day 75.

Walton's 'Spitfire Prelude and Fugue'

William Walton's Spitfire Prelude and Fugue

Written in 1942 by English composer William Walton, this epic orchestral work was arranged from music he had written for British black-and-white biographical film, The First of the Few, which tells the fascinating story of designer of the Supermarine Spitfire fighter aircraft R. J. Mitchell. Walton's prelude is played during the opening credits for the movie, while the fugue depicts the making of the Spitfire.

Glenn Miller's 'Bugle Call Rag'

Glenn Miller LIVE - "Bugle Call Rag" - '42 - HQ

Written by Jack Pettis, Billy Meyers and Elmer Schoebel, this toe-tapping jazz standard was first recorded by the New Orleans Rhythm Kings in 1922, before it was covered by American big-band trombonist, arranger and composer, Glenn Miller, and his orchestra. With its bold brass and energetic percussion, it makes the perfect addition to any VE Day 75 playlist.

Dame Vera Lynn's 'We'll Meet Again'

Listen to Katherine Jenkins and Vera Lynn's 'We'll Meet Again' duet in aid of NHS

Sung by Dame Vera Lynn, 'We'll Meet Again' found its fame during the Second World War as it resonated with soldiers who had to leave their families and fight for England. Thanks to its moving melody and uplifting lyrics, it was often used on the radio during wartime broadcasts to boost morale after bombing raids. Lynn recently released the song as a duet with Welsh mezzo-soprano, Katherine Jenkins, to raise money for the NHS during the coronavirus pandemic.

John Williams' 'Hymn to the Fallen'

Cinema in Concert - 08 - John Williams - Hymn to the Fallen

This majestic piece of music was penned by John Williams as part of the score for Steven Spielberg's 1998 war movie, Saving Private Ryan, and was first performed by the Boston Symphony Orchestra. The soundtrack later won the Grammy Award for Best Instrumental Composition Written for a Motion Picture, and 'Hymn to the Fallen' is widely played on Veterans Day and Memorial Day in the US.

Judy Garland's 'Somewhere Over the Rainbow'

Renée Zellweger - Over The Rainbow (From 'Judy' / Lyric Video)

This heartwarming tune is the Harold Arlen classic written for the 1939 film, The Wizard of Oz. It was originally performed by American actress and singer, Judy Garland – and with its moving but hopeful lyrics, and beautiful melody, it's an ideal choice for any VE Day 75 celebration.

Copland's 'Fanfare for the Common Man'

Copland: Fanfare for the Common Man - National Symphony Orchestra

Aaron Copland's dramatic fanfare was written in response to the US entry into the Second World War and partly inspired by a speech made in 1942 by then American Vice President, Henry A. Wallace, in which he proclaimed the dawning of the "Century of the Common Man". First performed by the Cincinnati Symphony Orchestra and led by conductor Eugene Goossens, the stirring piece was intended as a musical contribution to the war effort.

John Williams' 'Schindler's List' Theme

Schindler's list - John Williams - NL orchestra

Williams makes a second appearance in our VE Day 75 playlist with the Main Theme for 1993 historical drama film, Schindler's List. Its defining string solo is played by Israeli-American violinist, Itzhak Perlman, in the film and has become a favourite on concert programmes around the world.

Dame Vera Lynn's 'White Cliffs of Dover'

Dame Vera Lynn 'The White Cliffs Of Dover' + 'We'll Meet Again' 1984

Famously sung by Vera Lynn, 'White Cliffs of Dover' is a song yearning for peace in a time of war. Lynn's beautiful voice, with the promise of 'love and laughter' and 'peace ever after', vows that in a time of darkness, something good will eventually happen.

Doris Day's 'Sentimental Journey'

Doris Day A Sentimental Journey

Written by Les Brown and Ben Homer, and with lyrics from Bud Green, the release of this pop-jazz song coincided with the end of World War Two in Europe, making it the unofficial homecoming anthem for many veterans. It became a No. 1 hit for Doris Day in 1945, and lasted 23 weeks on the US Billboard chart.

Billie Holliday's 'I'll Be Seeing You'

Billie Holiday - I'll Be Seeing You (1944)

With Billie Holiday's warm, undulating tones, 'I'll Be Seeing You' quickly became one of the most popular songs around during the Second World War. In an era of uncertainty and grief, its soothing sounds and nostalgic words resonated with audiences around the world.

Irving Berlin's 'This Is the Army, Mr. Jones'

"This Is The Army Mr. Jones" This is the Army 1943 HD

Directed by Michael Curtiz and starring actor George Murphy, American wartime musical comedy film, This Is The Army was designed to boost morale during WWII – and with its catchy soundtrack and humorous script, we can totally see why. At the time of its release, 'This Is The Army Mr. Jones' became a favourite with fans of the big screen, and it's still iconic today.

Glenn Miller's 'In the Mood'

Glenn Miller - In the Mood - Sun Valley Serenade (1941) HQ

And last but certainly not least, this utterly fabulous big band jazz standard recorded by Glenn Miller is enough to get any VE Day 75 party started. It first found its fame after featuring in the 1941 movie, Sun Valley Serenade, and decades later it still gets people dancing.