Oscars 2020 performances: watch highlights from this year's ceremony
10 February 2020, 13:51 | Updated: 10 February 2020, 14:56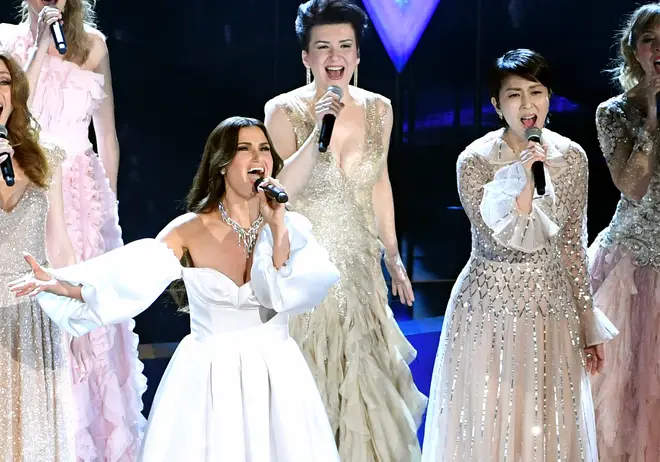 Watch Idina Menzel steal the show with her choir of nine Elsas, Randy Newman break hearts with a song from 'Toy Story 4', and Cynthia Erivo bring the Oscars house down with 'Stand Up'.
Idina Menzel, Eímear Noone, Randy Newman and Sir Elton John were among those on the star-studded performance line-up of last night's (9 February) Oscars ceremony.
A big highlight from the evening was Idina Menzel's performance of 'Into the Unknown' from Frozen 2, with back-up from a choir of nine fellow 'Elsas' – international stars who, like Menzel, have portrayed the protagonist.
And Randy Newman's moment at the piano was another memorable one. Watch and find out more about all of the performances below...
Read more: Hildur Guðnadóttir wins the Best Original Score Oscar for 'Joker' >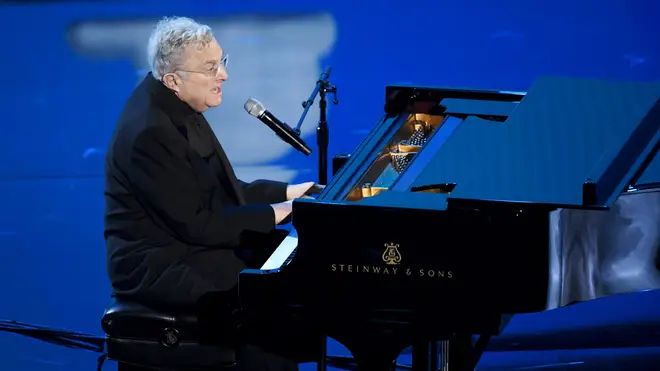 Idina Menzel performs 'Into the Unknown'
Best known for voicing princess Elsa on Disney's Frozen and performing in several hit Broadway shows – including Wicked and Rent – Broadway legend Idina Menzel paid tribute to her character in Disney's animated movie.
She was joined by nine Elsas to perform a powerful rendition of Frozen 2's 'Into the Unknown', alongside Norwegian singer Aurora.
Before the show, Menzel told E! News: "I feel a tremendous responsibility to relate to all of the young girls and boys who are singing the music and maybe taking the message in about their own self-esteem and empowerment. Tonight we are celebrating the global impact of the song."
Conductor Eímear Noone makes history
Irish composer-conductor Eímear Noone, known for her award-winning video game music, made history last night as the first female conductor in the award show's history.
In an interview with Vanity Fair beforehand, she said: "I can't wait to get to the music part. The red carpet is terrifying".
Watch Eímear Noone's performance on the Oscars website >
Randy Newman performs 'I Can't Let You Throw Yourself Away'
At 76 years old, American singer-songwriter Randy Newman tugged on our heartstrings at this year's ceremony with a moving performance of his Oscar-nominated song, 'I Can't Let You Throw Yourself Away'.
The song – which marks Newman's 13th Best Original Song Oscar nomination – featured on the soundtrack for Pixar's Toy Story 4, and tells the story of Forky, a white plastic spork that wants to stay in the garbage.
Cynthia Erivo performs 'Stand Up'
Cynthia Erivo blew audiences away with her Oscar-nominated song, 'Stand Up', which features in the critically-acclaimed movie, Harriet (2019).
It tells the story of heroic 19th-century abolitionist, Harriet Tubman (played by Erivo) – and last night, the 33-year-old actor gave a standout performance of the song from the film, surrounded by a circle of glowing lanterns.
'Stand Up' was also nominated for Best Original Song at the Awards, but lost to Elton John's 'I'm Gonna Love Me Again', from Rocketman.  
Sir Elton John performs 'I'm Gonna Love Me Again'
Following the resounding success of Rocketman last year, the Oscars wouldn't have been complete without an appearance from Sir Elton John.
Taking to the stage dressed in his usual jazzy attire, with a bright red Yamaha piano and full band in tow, Sir Elton pulled out all the stops as he sang the now Oscar-winning 'I'm Gonna Love Me Again', which he co-wrote with Bernie Taupin.
Elton John Performs '(I'm Gonna) Love Me Again' Live at Oscars 2020
Chrissy Metz performs 'I'm Standing With You'
Also taking to the stage at this year's Awards was This Is Us actor, Chrissy Metz, who delivered a stonking performance of 'I'm Standing With You' from 2019 drama Breakthrough.
In a touching moment after she sang her final note, the star said, "I love you mom".
Chrissy Metz Dedicates 2020 Oscars Performance to Her Mom | E! Red Carpet & Award Shows
There were also performances on the night from rapper Eminem and singer-songwriter Billie Eilish, who was recently announced as the singer of the new James Bond theme.