Who is Eímear Noone? Irish video games composer conducting the Oscars ceremony
9 February 2020, 12:36 | Updated: 10 February 2020, 12:51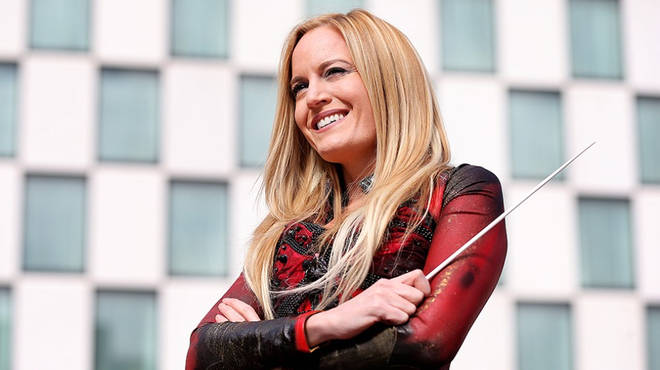 Don't forget the name Eímear Noone: you'll be hearing it a lot in the months to come.
Eímear Noone is an Irish conductor, and one of the video game industry's most recognised composers.
Noone, who presents Classic FM's video game music series High Score, has written award-winning scores for World of Warcraft and Warlords of Draenor and has been described as 'the Irish Queen of Game Music'.
And this year, Noone is making history as the first woman ever to conduct at the Oscars.
She'll be taking to the podium on 9 February to conduct segments from all five nominated soundtracks, including Hildur Guðnadóttir's music for Joker, and John Williams' new music for the latest Star Wars.
Where was Eímear Noone born?

Noone was born in Kilconnell, a small village in Country Galway, Ireland. She grew up playing music on the tin whistle but soon switched to flute and piano, travelling every Saturday to the Royal Irish Academy of Music in Dublin for lessons.

In an interview with JournalOfMusic.com, she recalls the time an army band played a concert at her school in Ballinasloe, and she was invited to sit in and sight-read with the band. Noone, a chipper young muso, decided to take a punt and switch to the piccolo.

During the performance, the conductor invited her to have a go at leading the ensemble. What he didn't know was that Noone had been studying scores in her spare time, "watching videos of conductors, anything I could get at the library, trying to figure out what on earth they were doing, looking at diagrams".

Eímear Noone conducts The Legend Of Zelda: Symphony of the Goddesses. Picture: Getty

After the concert – which Noone described as "a memorable moment" – several members of the army band were waiting to speak to her. "We were talking and we all thought we should tell you," they said, "we think you should be a conductor."

The budding young maestro graduated from Trinity College, Dublin, and went on to cofound the Dublin City Concert Orchestra and to co-create the Dublin International Game Music Festival with her husband.

Read more: Noone says "Video game music is 21st-century programme music" >

How do you pronounce Eímear Noone?

Eímear Noone is a Gaelic name, pronounced 'ee-mer noon'.

Eímear Noone has composed several film and game scores. Picture: Getty

What soundtracks has Eímear Noone composed?

Noone has recorded and composed the music for many video games, including World of Warcraft: Warlords of Draenor, StarCraft II and Diablo III.

She has also written music for film thrillers such as Mirrors (2008) and The Hole (2012).

Read more: Hildur Guðnadóttir makes history for female composers at BAFTAs >

Which orchestras has Eímear Noone conducted?

Noone has conducted performances of games music with the Philadelphia Orchestra, the Royal Philharmonic, Dallas Symphony, Sydney Symphony, the Danish National Symphony Orchestra and several other leading orchestras.

Noone, who will soon make history as the first woman to conduct the Oscars, was also the first woman to conduct at the National Concert Hall in Dublin, Ireland.

Who is Eímear Noone's husband?

Noone has been married to Emmy-nominated composer and music producer, Craig Stuart Garfinkle, since 2008. The pair have two children and live in Los Angeles.
Find out more about Classic FM's groundbreaking video game music series, hosted by Eímear Noone.