10 beautiful pieces of classical music for funerals
28 June 2023, 11:47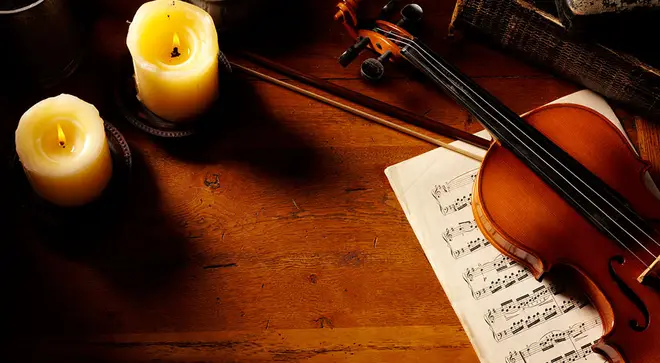 From Bach to Schubert, here are 10 pieces of classical music to provide moments of beauty and poignancy, during a funeral service.
Choosing the perfect music to remember a loved one can be challenging – but the right piece can bring peace and calm at a time when it is needed most.
Here are the most beautiful, touching pieces of classical music for funerals.
Read more: 10 most relaxing pieces of classical music
Barber – Adagio for Strings

The solemn sadness of this music has meant Barber's Adagio for Strings has been used to mark many important and sombre moments outside of the concert hall. The work was played at the funerals of Albert Einstein and Princess Grace of Monaco, and was also broadcast in memory of Princess Diana, US presidents John F. Kennedy and Franklin D. Roosevelt.

Read more: Princess Diana once sat in the pouring rain to hear Pavarotti live

BARBER Adagio for Strings

Mahler – 'Adagietto' (Symphony No. 5)

There's something incredibly calming about the exquisite 'Adagietto' movement of Mahler's Fifth Symphony. When the symphony emerged in 1901, Mahler had just been forced to resign as conductor of the Vienna Philharmonic after falling seriously ill. Perhaps it was this unexpected brush with mortality that makes the 'Adagietto' so moving.

Mahler: Adagietto Symphony 5 - Karajan*

Elgar – Nimrod

Thanks to its glorious swelling melody, 'Nimrod' has played a frequent part at weddings, sporting and even Royal events – but it's also become a much-cherished piece at funerals.

One of 14 musical compositions dedicated to Elgar's closest friends and family, 'Nimrod' was composed in honour of Augustus J. Jaeger, who supported Elgar during his struggles with self-doubt and depression.

Read more: 10 of Elgar's greatest pieces of music

Jonathan Scott performs his solo organ arrangement of Nimrod on the organ of WeiWuYing

Percy Grainger – Irish Tune from County Derry

It's impossible to resist the inevitable tear this piece brings to the eye. Its tender opening and glorious high notes echo moments of 'Danny Boy' – but it's the magnificent French horn section in this piece that gives Percy Grainger's 'Irish Tune' its character. Listen out for the high A at 3:32 – just stunning.

UNC Wind Ensemble - Irish Tune & Shepherd's Hey (Grainger)

Arvo Pärt – Cantus

Arvo Pärt's short canon for string orchestra and bell was written in memory of his great friend and fellow composer, Benjamin Britten. Pärt had a deep admiration for Britten. He once wrote that Britten possessed the "unusual purity" he himself sought as a composer.

The piece begins and ends with scored silence, and a single melodic motif runs throughout. It's relatively simple, but the emotions it evokes are profound.

Arvo Pärt, Cantus in memoriam Benjamin Britten

Vaughan Williams – The Lark Ascending

A goosebump-inducingly lovely piece of music, Vaughan Williams' most popular work for solo violin is an elegant musical description of the rise and fall of a bird's flight. It has a remarkable capacity to mirror your mood: in happiness, it emulates joy and freedom; and in sadness, it is wonderfully cathartic.

The Lark Ascending was inspired by a beautiful poem by George Meredith, which reads: "He rises and begins to round/ he drops the silver chain of sound/ Of many links without a break/ in chirrup, whistle, slur and shake."

Read more: 10 greatest pieces of music by Vaughan Williams

Jennifer Pike performs The Lark Ascending by Vaughan Willams

Pachelbel – Canon in D

It's hard to imagine a time when this piece wasn't a firm favourite at weddings, but its powerful crescendos and stunning harmonies also make it a poignant piece of funeral music.

Pachelbel created his 'Canon in D' using an ostinato (the same bass line repeated over and over again) and a canon (the same music repeated by the violin parts, in a round). As such, the steady, unchanging nature of this peace provides a perfect sense of calm.

Wedding String Quartet - Canon in D (Best Version) (Johann Pachelbel)

Bach – Air on a G String

A gentle, heartbeat-like pulse is the key to this beautiful piece – and because it's Bach, you can be sure the melody's going to be pretty good too. Composed for orchestral suite, the simple, swelling strings are completely haunting in the melody.

Read more: 10 of Bach's all-time best pieces of music

Air on the G String (Suite No. 3, BWV 1068) J. S. Bach, original instruments

Albinoni – Adagio in G minor

Arguably one of classical music's most beautiful Adagios, Albinoni's stunning piece has the power to evoke love, sorrow and happiness – and it's all in the strings. The melody rises and falls in the first violins, while the second violins mimic their melody, creating tension – until finally, the lines resolve in a beautiful G minor chord.

Tomaso Albinoni - Adagio (best live version)

Schubert – Ave Maria

Whether played or sung, Schubert's 'Ave Maria' is the perfect piece of music for remembering a loved one. A musical adaptation of the traditional Roman Catholic prayer, Schubert's tune is both calming and uplifting.

It has been performed by countless artists over the years – and after tenor Luigi Vena's performance at John F. Kennedy's funeral, it remains a beautiful choice of music for memorial services.

Andrea Bocelli and Aida Garifullina sing 'Ave Maria'