A brief and rather honest vocal analysis of ZAYN and Zhavia Ward's 'A Whole New World'
10 May 2019, 17:05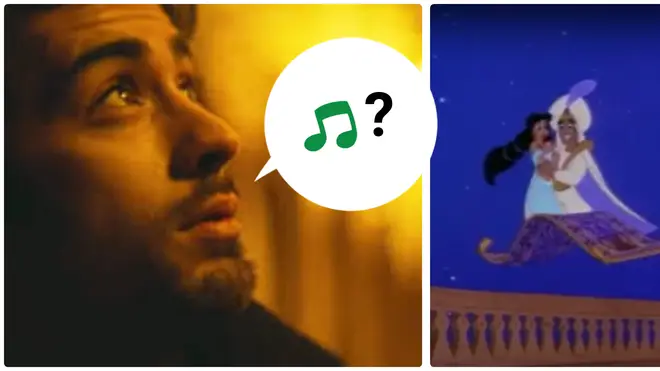 Zayn Malik and Zhavia Ward's reimagining of the best song in Aladdin is here, which means it's time for us to cast a critical eye over what they're actually singing…
The arrival of a reimagined version of Disney's classic animation Aladdin means that we are now celebrating the unlikely pairing of Alan Menken, Oscar-winning denizen of musicals and stalwart of Disney movie soundtracks, and Zayn Malik, erstwhile One Directioner and professional moody person.
Joining them is Zhavia Ward who, like Zayn, was literally not even born when the original movie was released. Despite her impressive career to-date (she's just 18 and has already signed a deal with Columbia), Zayn was sadly always going to be the headliner in this collaboration.
ZAYN, Zhavia Ward - A Whole New World (End Title) (From "Aladdin"/Official Video)
So, let's get this out of the way: there are some problems here. They're mostly vocal, and they're mostly Zayn-related.
This isn't an issue with the quality of Zayn's voice. As we've established previously, his pipes are comfortable enough with ad libs and rattling to the limits of his range. This is an issue with delivery.
Zayn's patented 'grumpy but also quite sad' persona demands a moody performance no matter the material, but this is an Alan Menken song from a Disney movie.
There's a perception that songs from Disney movies are steeped in the tradition of classic musicals. There are exceptions, but generally speaking this is a genre in which broad strokes of clear emotion are delivered brashly, so as to wring every possible feeling out of each line.
Getting Zayn to sing a song from a musical is like getting a basset hound to tap-dance: though he's undoubtedly lovely, he's not cut out for the discipline. What next? Justin Bieber sings 'I Am The Very Model Of A Modern Major General'? Post Malone tackles a Rodgers & Hammerstein medley?
On 'A Whole New World', Zayn's every single elongated syllable is basically "errr" or "uhhh", as if sung through the tiniest possible mouth shape. Listen to their final note, 'me' – while Zhavia manages to produce a full 'ee' sound, all Zayn can muster up is a 'mehrr'.
This not only suggests a troubling lack of expressiveness for a song which celebrates the untrammelled happiness, exhilaration and wonder of finding new love, but also a lack of direction in the studio. Why did no-one take him aside and say, "you know, Zayn, the line is 'magic carpet ride', not 'mujjy cerpert rerd'"?
Zayn's duet partner, Zhavia Ward, fares much better: her voice is naturally more powerful and athletic, and her enunciation is far clearer. Unlike Zayn, she actually sounds a tiny bit affected by the words she's singing. Her performative vocal gestures are possessive of much more varied personalities than those of her counterpart, who sounds as if he'd rather be anywhere other than a whole new world.
But perhaps the biggest sin committed here is nothing to do with Zayn and Zhavia: this is purely down to whoever arranged this particular version of the song.
In the original version sung in the movie by Brad Kane and Lea Salonga, you'll hear a stunning key change at the song's midpoint, heralded by a huge vocal leap from Kane which transports the song into another tonal vocabulary completely.
In Zayn and Zhavia's version, bizarrely, the huge leap from Zayn is there, but the key change just… doesn't happen? It's the ultimate 'lost my sneeze' feeling, and will genuinely confuse anyone singing along.
In the end, the success of this new version of a Disney classic rests on many different thing. Issues of nostalgia can be ignored: there's likely to be a whole new audience for this whole new world. Also, this isn't the first time a Disney film has been reimagined, and audiences are used to updating the classics.
But the technicalities of the performance are potentially derailing. Can you really, honestly say that Zayn Malik sounds like he's in love? Can you actually work out what he's saying in the song? The essence of a vocal work's success depends so much on clarity of expression: that's true whether you're Zayn Malik singing an Alan Menken song or Dietrich Fischer-Dieskau singing Schubert lieder.