An in-depth music theory analysis of Zayn Malik's 'Pillowtalk'
10 February 2016, 11:43 | Updated: 6 January 2017, 14:45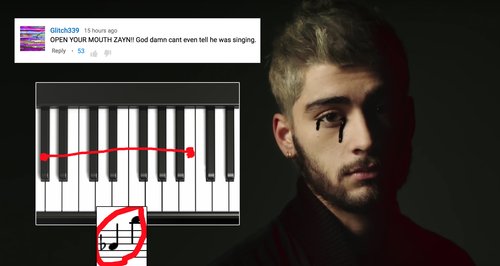 Zayn Malik's first solo single has crashed in at the top of the charts, but what's going on under the surface? We take a look at Malik's performance and the composition tools at play.
You can imagine them, can't you? Grumpy, lovesick Zayn Malik and sunny songwriter chaps Michael and Anthony Hannides (formerly of 4tune - remember them?), trying to knock together the perfect statement of intent, the perfect first single to take Malik to the top of the charts and effectively distance himself from all that capering with the 1D boys.
"Aargh, my emotions!" screams Zayn. "Calm down you massive millionaire!" the 4tune boys bellow back. A wrestle ensues, and Zayn emerges victorious - 'Pillowtalk' is a deliciously anguished affair, and one that shows Zayn's tenor voice off very effectively. But what's most striking from a musical point of view is its simplicity. This was clearly composed with live performance in mind, one that Zayn can belt out on GMTV or Live & Kicking or whatever it is people watch these days.
Verses
So, when we enter, we're centring around the comfortable chords of E major and F sharp major - delightfully easy chords for the guitarist that will inevitably accompany Zayn on 'tasteful' acoustic performances of 'Pillowtalk', with maximum opportunity for decorative fills. And even on piano, this will be no trouble.
Warning: video and lyrics are a bit NSFW
But back to Zayn's performance. The vocal melody in the verses is almost purely pentatonic, clinging desperately to those black notes and very rarely stepping beyond. It means that, in keeping with making this a simple song to sing, all he has to do is variously rattle up and down that pentatonic scale to achieve an impressive sound.
Ad-libs
Thanks to that easy bed, Zayn's ad-libs become super-playful. Listen to how he sings "Nobody but you, 'body but me, 'body but us, bodies together": he makes it skip with triplets against the prevailing tempo, reigning them in beautifully and hypnotically. Inventive, memorable, and precisely the kind of hook that makes a song sink into your head without you realising it.
Vocal range
When we hit the chorus, though, we get a glimpse of Zayn's range. The chorus melody deliberately plays close to the edge of his tenor range, shooting up to a top B. Placing the melody at this limit is a classic pop trick, as it ramps up emotional engagement and the illusion of real struggle - something that fits in perfectly with this new, angsty version of Zayn, no longer required to run around on command like The Monkees. We're calling this new breed of malaise 'Zayngst'. It's going to catch on.

In fact, the vocal range of the whole song is A flat up to that top B, just a smidge over a single octave. There's nothing wrong with that, particularly, but wouldn't it have been nice to hear Zayn really opening up his instrument? While it's a fine performance, it's not exactly Mariah. Or even Miguel, actually, with whom Zayn is going to have to compete in the vocal stakes as more singles trickle out.
Verdict:

Vocally, Zayn plays it totally safe, and he's very wise to do so. There's room for invention when he inevitably takes it to the arenas, and it's the perfect first single for a new step in his career. Musically, it's effective, sparse, classy and impactful. Perhaps the only disappointment is that Zayn doesn't experiment a bit more, but there will be time for that. Falsetto awaits.