The best classical football songs
14 June 2018, 14:51 | Updated: 9 August 2019, 16:22
Turns out football and classical music go together like a boot and the edge of a ball. From chants to arias, here are eight of our favourite pieces heard on the pitch.
1. Nessun dorma - Puccini
Opera? At a football match? Before July 7 1990, it might have been unthinkable – but this date changed the world of sport (and classical music) forever. When the three rival singers Plácido Domingo, José Carreras and Luciano Pavarotti joined forces to perform at a charity concert in Italy, their recital – particularly the emotionally charged 'Nessun dorma' – touched the hearts of millions and propelled Puccini's aria into the pop charts, alongside such timeless classics as 'U Can't Touch This' by MC Hammer.
The group, known from then onwards as The Three Tenors, were an instant hit, and went on to perform at the World Cup in 1994, 1998 and 2002.
2. Zadok the Priest - Handel
Any piece that combines the spirit of Freddie Mercury's 'We Are The Champions' with Handel's rousing Zadok the Priest is a fitting football anthem as far as we're concerned. Turns out UEFA share our view, after commissioning Royal College of Music graduate Tony Britten to write a piece in the style of Handel, with suitably 'champions'-based lyrics in English, French and German.
Granted, Handel might've done a better job of Google translating the hilarious text, but there's nothing that can't be cured with a generous helping of football-fuelled enthusiasm.
3. He Banged the Leather for Goal - Elgar
Compositional inspiration is unlikely to strike while you're leafing through the sports pages in the local rag. Unless, of course, you're a musically inclined football fan by the name of Edward Elgar.
After seeing the words "He banged the leather for goal" in a match report in 1898, he was so moved by the phrasing that he set the lyrics to music - creating the first football chant written by a great composer. The song didn't exactly catch on and has never been recorded... although Wolves fans can be regularly heard singing strains from Nimrod at matches instead.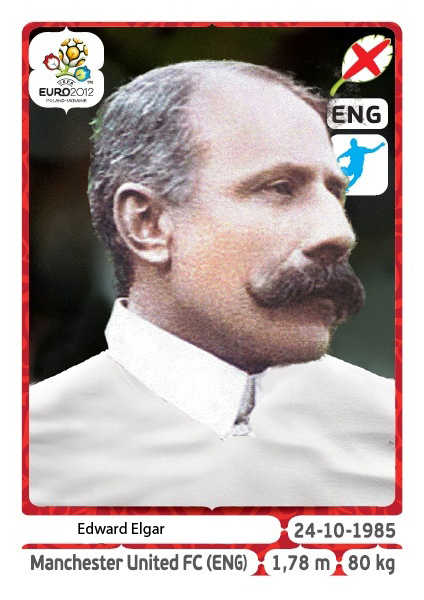 4. The Golden Age - Shostakovich
Football meets opera once again in this vigorous work by Shostakovich. It's a thrilling tale of international rivalries being smoothed over by a mutual love of sports - and there's even a musical football match in the second act.
5. Crowd Out - Lang
Clapping, cheering and singing all form the basis for this modern football chant by David Lang, inspired by an Arsenal match in the 1990s. Although it's somewhat more tuneful than a 60,000-strong stadium choir of vocal football fans (and probably slightly less beer-fuelled), this piece for 1000 voices attempts to capture the huge range of collective and individual emotions behind being in a crowd.
6. La donna è mobile - Verdi
It was only a matter of time before the footballing world caught on to this cracking tune by the great Italian composer, Verdi, and made it their own. The lyrics, however, may have been lost in translation; if you've ever heard Derby County's sweary tribute to Fabrizio Ravanelli you'll know what we're talking about.
7. Gloria - Poulenc
If you're looking for serious choral music with a hearty pinch of salt, look no further than Poulenc's dazzling Gloria. You can almost see the glint in the flamboyant French composer's eye as he packs his religious masterwork with colourful jazz chords and cheeky irregular rhythms - all inspired, so Poulenc said, by the sight of some serious-looking monks enjoying an aggressive game of footie.
8. Beckham Crosses, Nyman Scores - Nyman
If the reviews are to be believed, the name is about the only clever thing about this football-inspired piece of minimalist music, composed in just under three weeks during the 2002 World Cup. But football-loving Michael Nyman doesn't stop there: after a lifetime of supporting Queen's Park Rangers, he was inspired to create an entire album of football related pieces titled After Extra Time - and acting as a fitting tribute to the Juventus fans killed at the Heysel stadium in 1985.
Perfect Pitch, the new show celebrating the worlds of music and sport on Classic FM, kicks off at 9pm this Saturday 10 August.