Francis Poulenc (1899 – 1963)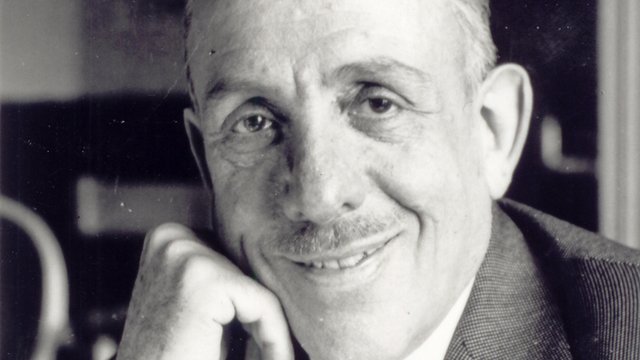 Biography
Born in Paris in 1899, Poulenc's mother was an amateur pianist who taught him to play.

As a young composer, he was influenced by musicians like Debussy, Satie, and Stravinsky - he caught the latter's attention with his first surviving composition, Rapsodie Nègre, written in 1917.

After performing several of his new pieces shortly before 1920, Poulenc met a gaggle of like-minded composers, with whom he formed Les Six. They reacted against the style of music composed by German composer Richard Wagner and French composers Debussy and Ravel, writing irreverent music and cheeky jazz-fuelled tunes.

The death of his close friend Pierre-Octave Ferroud led to a religious awakening in 1936. As well as composing light music, he turned to more sombre themes, and his newly fervent Catholicism influenced his first sacred pieces.

He continued to write in a range of styles, penning secular tunes alongside religious pieces. Even his sacred music had a cheeky edge: his Gloria caused a scandal due to its irreverence.

Poulenc was one of the first openly gay composers, who was at ease with his sexuality in the context of his religious faith. There's still debate among music scholars who see the diverse range of styles in his music as an outward representation of Poulenc's inner moral wrestlings.

During the completion of his opera, Dialogues des Carmelites, Poulenc suffered from severe depression, but his recovery led him to compose more serene music later in life.

He died of heart failure in Paris in 1963.

Did you know?

Poulenc once saw a group of solemn-looking Benedictine monks thrashing it out in an aggressive game of football. This unlikely scene amused the composer so much it inspired the cheeky tone of his Gloria - a serious religious piece with the odd light-hearted twist.
View more
Top Poulenc pieces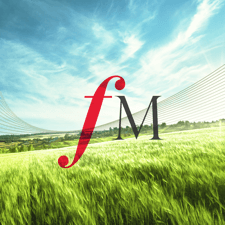 Gloria - Domine Deus
Francis Poulenc
Conductor: Georges Pretre
Ensemble: National Choir & Orchestra of the Office of French Television Radio
Record label: EMI Classics
Catalogue ID: 7243 5668422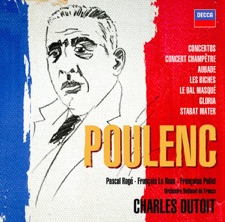 Les Biches - Final
Francis Poulenc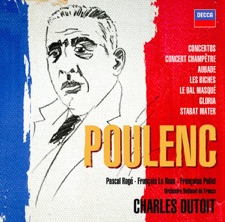 Les Biches - Rondo
Francis Poulenc (1899-1963 : France)
Conductor: Charles Dutoit
Ensemble: French National Orchestra
Record label: DECCA
Catalogue ID: 4605972