These are the best pieces of classical music for your dog
26 August 2020, 16:36 | Updated: 25 October 2022, 17:26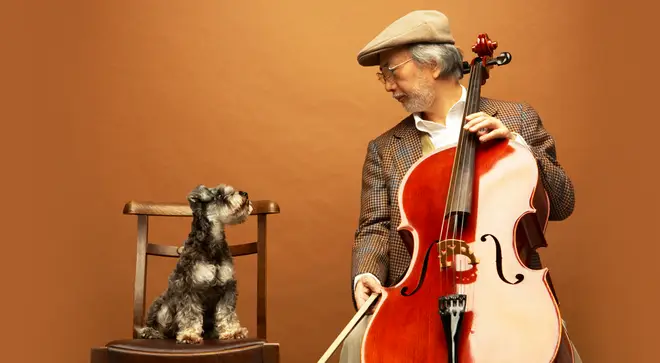 The joy of music isn't just limited to an audience with two legs. Here's some music that's set to get your doggo's tail wagging in delight.
It's not a rare sight to spot a dog completely entranced in a piece of classical music.
And they've also been known to sing howl along too – like this operatic Puccini-loving pooch.
So if you're curious to know exactly what pieces your own beloved four-legged friends might love to hear, we've got them all right here.
Read more: 27 classical music-loving dogs who deserve your full attention >
Ludovico Einaudi: L'onde

It should be no surprise that Einaudi makes the list. The calming simplicity of his music never fails to provide a moment of tranquility – and 'L'onde' is no exception.

The flowing nature of the piece, inspired by Virginia Woolf's novel The Waves, is like a soft lullaby to a pup's ears – and yours too.

So the next time you take your doggo for a seaside stroll, why don't you wrap up the evening with this soothing piece.

Ludovico Einaudi - Le Onde (Official Music Video)

Camille Saint-Saëns: Carnival of the Animals – 'Fossils'

It's no secret that our canine companions are partial to a bone or two.

So is there a piece of music more appropriate than 'Fossils' from Saint-Saëns The Carnival of the Animals?

The fun, upbeat melody might, however, get your pooch a little *too* excited...

Saint Saens: Carnival of the Animals~Fossiles (Fossils)

Camille Saint-Saëns: Carnival of the Animals – 'The Swan'

If we've made your pooch a little too energetic with Saint-Saëns 'Fossils' – worry not. We have just the remedy, and it's more Saint-Saëns.

'The Swan' is the perfect piece to help your charismatic canine feel a little more relaxed.

The graceful portrayal of rippling water through flowing chords will help them drift off to sleep, and might even slip their owners into a slumber too...

Gautier Capuçon – The Swan… on top of a mountain

Giacomo Puccini: Nessun dorma

Sometimes, a dog's just gotta howl.

So instead of waiting for them to spontaneously burst into chorus at what's usually a bad time (they have a sixth sense for conference calls, it seems), give them an operatic treat.

Just 30 seconds of 'Nessun dorma' will put your pooch-ini in their element (we had to) – like the Pavarotti-loving pup below.

Operatic dog duets perfectly with Luciano Pavarotti

Sergey Prokofiev: Peter and the Wolf

A symphonic fairytale featuring animals? Sounds like it'd be right up any pooch's street.

Now, a dog may not be able to understand the accompanying narration – but the instrumental storytelling of Peter trying to protect a duck, a cat and a bird from a threatening wolf is enough for a doggo to keep up with the story.

Read more: A step-by-step guide to Peter and the Wolf >

Prokofiev's Peter & The Wolf with Alexander Armstrong

Pyotr Ilyich Tchaikovsky: Sleeping Beauty Waltz

For those stormy evenings spent in front of a crackling fire, a waltz is the perfect choice for an uplifting musical tonic.

And Tchaikovsky's famous 'Sleeping Beauty Waltz' is just the right amount of merriness any doggo needs before slipping into a gentle snooze.

The recognisable melody was also used in the 1959 Disney animated adaptation of the story, for the song 'Once Upon a Dream'.

Tchaikovsky, Waltz from Sleeping Beauty

Igor Stravinsky: Firebird Suite – 'Lullaby'

Some nights your pup just doesn't seem able to settle.

Whether it's booming fireworks that's disturbing the peace, or simply an excess of excitement leftover from walkies – we've got another comforting lullaby to add to the pooch playlist.

From an opera centred around a magical glowing bird, Stravinsky's 'Lullaby' from The Firebird Suite also has a magical, warming feel to its rich instrumentation. Perfect for post-walk snoozes.

Read more: A maniac has synced the Teletubbies with Stravinsky's 'Rite of Spring' and I'm scared >

Stravinsky: Firebird (Lullaby) BPHO - Simon Rattle

Frédéric Chopin: Prelude in E minor

It's one of our more sombre suggestions, but still a beautiful piece of music for any four-legged listener.

Sit back and enjoy a slice of simplicity with this Chopin favourite, and watch as it prompts a moment of stillness from even the most energetic pup.

Read more: 27 classical music-loving dogs who deserve your full attention >

Eric Lu – Prelude in E minor Op. 28 No. 4 (third stage)

Ludwig van Beethoven: Symphony No. 6

A piece of music inspired by long walks through the countryside? It's as enticing to any doggo as those sacred walkies.

Bring nature inside the home with Beethoven's Pastoral Symphony, and transport your four-legged friend to a cheerful scene of freshly cut grass, burbling streams and an abundance of tennis balls to catch.

But be warned, Beethoven's composition is enough to get any pup scratching at the back door...

Beethoven Symphony No 6 Bernstein (Best Quality)

Johann Sebastian Bach: Air on the G string

We guarantee your furry friend will go from barking to Bach-ing with this beautiful air.

After a busy day of chasing squirrels and dashing through puddles, there's no better way to help your pup settle down for the evening than giving this a listen.

So get comfy and enjoy one of the Baroque composer's most soothing melodies...

Air on the G String (Suite No. 3, BWV 1068) J. S. Bach, original instruments

Ralph Vaughan Williams: The Lark Ascending

There's a reason The Lark Ascending has topped the Classic FM Hall of Fame chart more than once.

And we're now realising it could be because pups are persuading their hoomans to play it, so that they too get to enjoy the beauty of Vaughan Williams' famous composition.

Countryside scenes and chasing birds? It ticks all the doggo boxes. Atta very good boy!

Edward Elgar: Enigma Variations

The love and admiration we humans have for our four-legged companions can often be hard to put into words. Which is maybe why Elgar decided to express it through music.

The eleventh variation in the Enigma Variations supposedly depicts George Sinclair's (who at the time was the organist at Hereford Cathedral) bulldog, Dan, after it fell into the River Wye, paddled up stream to find a landing place, and then barked on landing.

It's pretty paw-some.

Elgar ~ Enigma Variations - XI
We already have a ready made playlist specially for your pets, which you can listen to whenever and wherever on Global Player here.