Distinguished dog dozes off to classical guitarist's solo serenade
1 November 2023, 18:16 | Updated: 6 November 2023, 10:21
Rescue dog relaxes to beautiful serenade by classical guitarist | Classic FM
Freddie the rescue dog reaches the ultimate relaxation after a personal performance from a star young classical guitarist.
It's been scientifically proven that classical music can help animals of all shapes and sizes to relax... and this fluffy pup is no exception.
Freddie (full name, Freddie the Cheddar) is an RSPCA rescue dog, who recently received a relaxing classical guitar serenade from rising star musician Alexandra Whittingham. And he reached the ultimate level of chill.
Nestled cosily amongst some cushions, Freddie was given an up close and personal performance of Francisco Tárrega's short guitar piece 'Lágrima'.
It didn't take long for our laid-back guest to relax, settling in by laying down with a satisfied lick of his chops.
Panting contentedly, Freddie enjoys the soothing guitar music with his cheeks pulled back in a grin, sporting a stylish Classic FM bandana.
Catch up with Classic FM's Pet Classics on 4 and 5 November >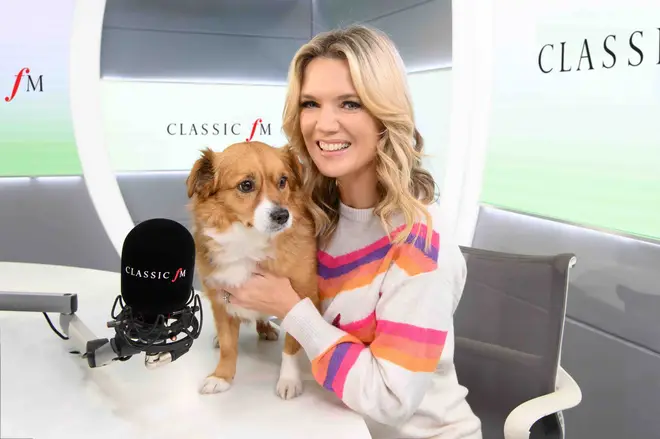 Freddie, who was rescued in 2021, visited Classic FM ahead of fireworks season for the VIP performance, a tour of the studios, and also met Classic FM presenter Charlotte Hawkins, who will keep pets across the nation calm and relaxed with Pet Classics on 4 and 5 November.
Charlotte also spoke to Freddie's owner, Lucy, who works for the RSPCA and shared some top tips for keeping pets safe during fireworks.
In addition to playing relaxing classical music from Classic FM, her advice included creating a safe spot for your pet, going on long walks during the day, and visiting your vet for some extra help if fireworks make your pet particularly anxious.
Read more: Classical music really does help calm pets during fireworks. Here's the proof…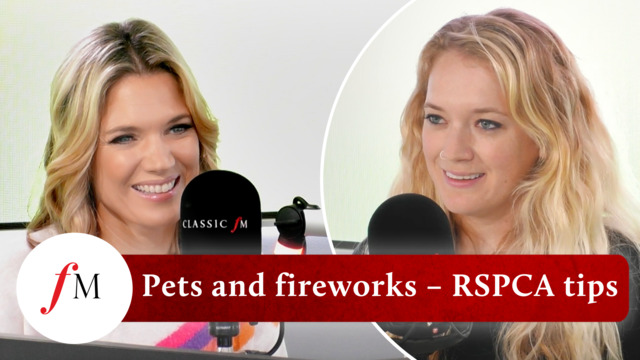 The RSPCA's tips for keeping your pets calm on Bonfire Night
Classic FM's Pet Classics with Charlotte Hawkins will be broadcast on Saturday 4 and Sunday 5 November, 5pm to 9pm, on Classic FM – available across the UK on Global Player.