The 10 most bizarre Viennese waltzes and polkas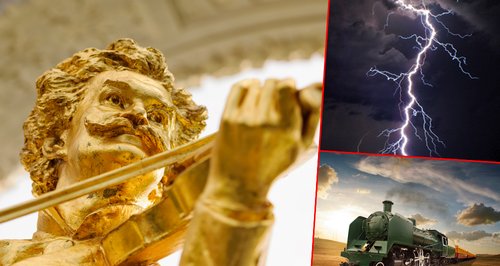 Every year the Vienna Philharmonic greets the new year with its annual celebration of the music of the Strauss family. And every year, the orchestra lets its collective hair down with one of the more bizarre pieces in the Viennese canon. Here are some of our favourites…
Unter Donner und Blitz (Thunder and Lightning) by Johann Strauss II
The thunder and lightning effects in this Polka are not exactly realistic, but full marks to the composer – and percussion section – for enthusiasm.
Feuerfest (Fireproof) Polka by Josef Strauss
Josef Strauss clearly felt he'd exploited all the possibilities of the standard orchestra – so in the 'Fireproof' Polka, he introduced a new instrument… anvils. A part played – again, enthusiastically – here by Mariss Jansons.
Copenhagen Railway Steam Gallop by Hans Christian Lumbye
Today's commuters might find it hard to credit, but in the 19th century, composers were so inspired by trains, they wrote music in homage to the new mode of transport.
Eisenbahn-Lust Walzer (Railway Joy Waltz) by Johann Strauss I
And if that blew your whistle, try this 'Railway Joy Waltz' from Johann Strauss.
Pizzicato Polka by Johann Strauss II and Josef Strauss
Who needs bows anyway?
Jockey Polka by Josef Strauss
Listen out for the crack of the whip – that percussionist is having a great time.
Plappermäulchen (Chatterbox) Polka by Josef Strauss
The Strauss family wrote music for society dances – and of course no dance would be complete without the gossips and chatterboxes. This Polka is dedicated to them – and comes complete with chattering percussion effects.
Elektro-magnetische Polka by Johann Strauss II
Strauss II showing he's up on his current affairs, with this Polka celebrating the latest scientific developments:
Recollections of Ernst or The Carnival of Venice by Johann Strauss I
So many questions: who was Ernst? Why Venice? But, most pressingly, what's with the soft toys?
Explosions Polka
Like Haydn's 'Surprise' Symphony, the secret of this piece is sort of given away in the title… listen out for the big finish.