BAFTA music: Hildur Guðnadóttir is first solo woman to win Best Original Music
3 February 2020, 17:44 | Updated: 3 February 2020, 17:46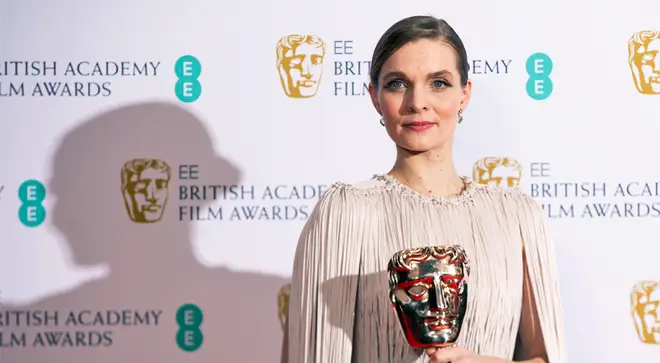 Guðnadóttir has made history once again with her original score for 'Joker'. She described working on the film in her BAFTAs acceptance speech as the "journey of a lifetime".
Hildur Guðnadóttir is the first solo woman to ever win the Best Original Music BAFTA, taking home the award for her original score to Joker.
The Icelandic composer made history at last night's ceremony when she received the award for her original score to Todd Phillips' award-winning film.
Guðnadóttir is the first solo woman to win the category, after Lady Gaga received the award last year together with Bradley Cooper and Lukas Nelson for A Star is Born.
Read more: Hildur Guðnadóttir first solo female winner of Best Score Grammy >
"Working on Joker was a journey of a lifetime really, and Todd [Phillips] is a master for having steered that ship," Guðnadóttir said in her acceptance speech.
"And it was such an incredible honour to work on this film and create it with so many amazing artists that are here tonight, who did such an incredible job. And I just really would like to share this with all of you," she continued, holding the award in her hands as she looked into the audience.
Read more: What's that eerie 'cello' theme from the Bathroom Dance scene in Joker? >
"I am such a fan of your work, and you are incredible. Thank you so much."
Joker faced tough competition in this year's Best Original Music category, competing against some of the biggest cinematic scores, including 1917 (Thomas Newman), Jojo Rabbit (Michael Giacchino) Star Wars: The Rise of Skywalker (John Williams) and Little Women (Alexandre Desplat).
Guðnadóttir has already won a Golden Globe for her composition to Phillip's eerie psychological thriller, and has also been nominated for the Academy Award for Best Original Score.
Read more: 'Joker' composer Hildur Guðnadóttir is first woman to win 'Best Score' at Golden Globes >
Her original score to the award-winning TV series Chernobyl was also celebrated with two awards – a Primetime Emmy and a Grammy Award.